Nigella is convinced that Mexican food is the next big food trend. I'm not 100% sure I agree with her wholeheartedly but it is nevertheless a delicious and easy to make cuisine. I saw an episode of Nigella Express where she made the following dishes and the sweetcorn chowder, normally not something that would really peak my interest looked so ludicrously easy I decided to make it. Nigella prefers frozen corn but if I am not having fresh white corn, I prefer Edgell's super sweet canned or organic. But as she is the chef, I followed her lead. And regretted it. Perhaps frozen corn is tastier in England but the bag I bought here was abysmally awful and reminded me why I dislike all frozen vegetables bar peas.
I also have been having numerous problems with my Breville Wizz food processor. Namely that it decides when it wants to work and when it doesn't. Tonight it was sulking, only working when cajoled (I am secretly dreaming of a Magimix or something a bit better so perhaps it sensed it). So my chowder was a litte chunkier that I would've ordinarily liked. Having said that, it was very healthy and flavoursome and would have been better if it weren't for the hideous frozen corn.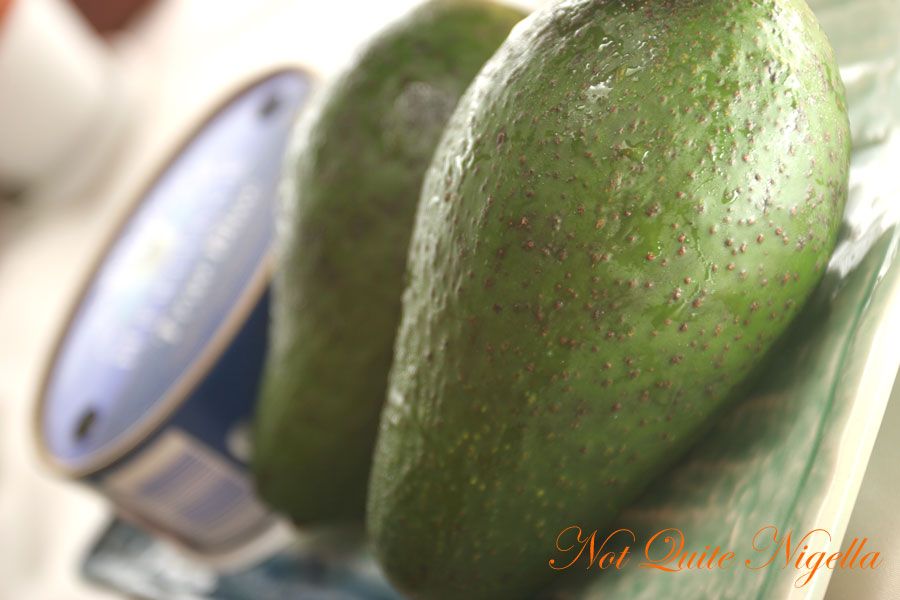 The Roquamole on the other hands was easiness personified and whilst I was mixing it, I thought I may have made too much. Not so - when it's this delicious. It was quickly demolished amidst much satisfied chip dipping.
The Margarita ice cream is a revelation. It's absolutely sublime and has the perfect consistency even without using an ice cream churner: soft and easy to scoop. And I do think that sugar rimming the margarita glasses adds an extra special touch to the presentation although it's so good you may find yourself eating it straight from the container.
DID YOU MAKE THIS RECIPE? Share your creations by tagging @notquitenigella on Instagram with the hashtag #notquitenigella
Roquamole
• 1 cup crumbled Roquefort or St Agur at room temperature
• 60ml sour cream
• 2 ripe avocados
• 35g sliced pickled green jalapenos from a jar
• 2 spring onions, finely sliced
• ¼ teaspoon paprika
• 1 packet Blue-corn tortilla chips
Step 1 - In a bowl, crumble or mash the blue cheese with sour cream.
Step 2 - Mash in avocados. If they are ripe, a fork should be all you need.
Step 3 - Roughly chop sliced jalapenos and stir them into the mixture along with finely sliced spring onions.
Step 4 - Arrange in the centre of a plate or dish, dust with the paprika and surround with tortilla chips. Dive in.
Serves 4 to 6
Sweetcorn chowder
500g Frozen sweetcorn defrosted (please escape my fate and don't use frozen, use super sweet canned or freshly shucked steamed white corn kernels totaling 500g once shucked)
3 spring onions, each one debearded and halved
1 clove of garlic, peeled
1.5 litres of hot vegetable stock made from concentrate or cube
150g lightly salted tortilla chips
2 long red chillies, deseeded and finely chopped, optional
Step 1 - Preheat the oven to 200c/gas mark 6
Step 2 - Drain the sweetcorn and put into a food processor with the spring onions, garlic and semolina. Blitz to a speckled primrose mush, unless you have a big food processor you may have to do this in two batches.
Step 3 - Tip this mixture into a large saucepan, add the hot vegetable stock and bring to the boil, then turn down the heat and let the chowder simmer, partially covered for 10 minutes.
Step 4 - Meanwhile, spread the tortilla chips out on a foil lined baking sheet and sprinkle the cheese over. Warm in the hot oven for 5-10 mins or until the cheese melts over the chips.
Step 5 - Ladle the soup into bowls and put a small mound of cheese molten chips into the middle of each bow. Sprinkle some of the red chili on top, if you feel like it, and serve immediately to very grateful people.
Margarita ice cream
2x15ml tablespoons tequila
3x15ml tablespoons orange liqueur or triple sec
Method
Step 1 - Pour the lime juice, tequila and orange liqueur (or triple sec) into a bowl and stir in the icing sugar to dissolve
Step 2 - Add the cream and softly whisk until the mixture is thick and smooth, but not stiff.
Step 3 - Spoon into an airtight container to freeze overnight. This ice cream doesn't need to be taken out to soften before serving, as it won't freeze too hard and melts speedily and voluptuously.
Step 4 - Rim Margarita glasses with lime juice and dredge in sugar. Add three or four scoops per glass and freshly grated lime rind.
Recipes by Nigella Lawson from Nigella Express