Do you love Mexican street corn? This Mexican street corn salad or Esquites is summery goodness in one dish. It's easy to make and requires just 5 minutes of cooking. It has a wonderful balance of cheese, fresh corn and lime and is definitely a pushy recipe Dear Reader!
Esquites or elote en vasoor (meaning little corn cup) corn salad is usually sold in cups as the name suggests. I remember eating this outside Elotes La Esperanza outside the Fuel City petrol station in Dallas, Texas. Elotes is the name for grilled corn on the cob while Esquites is the corn off the cob and served in this fashion.
Inside the Fuel City is a taco shop called Fuel City Tacos which sells delicious tacos 24/7. The tacos and the fresh corn salad go so well together. Esquites is usually made with older, mature corn that has been boiled and is then cooked in butter and seasonings. Then it is served with layers of crema or sour cream or mayonnaise, lime juice, cotija cheese and chilli.
How To Choose Sweetcorn: The best corn to buy is one that is completely wrapped in the silks and husk. I'm finding nowadays this is how corn is sold although it used to be topped and tailed with a strip of the husk removed to show the yellow kernels. This corn has a shorter fridge life and corn with the silks and husks can last up to 2 weeks in the crisper. I store them there loose, not in a plastic bag.
The corn should be heavy for its weight with firm kernels when you grab it. The husk should be a bright green. As the corn gets older the outer husks fall off and yellow and some develop spots of mould and the kernels are less plump. One of my favourite types of corn that you sometimes see is white corn which is so sweet and juicy. There's also Peaches and Cream Corn which is a hybrid with yellow and white kernels.
Easy substitutes for Cotija cheese: Cotija cheese is very difficult to source in Australia. It is an aged cow's milk cheese from Mexico. You can use ricotta salata, halloumi or feta cheese in its place.
A quick way to remove the silks from a raw cob of corn: a friend told me about this trick. Get a dry brush (even a toothbrush) to brush the silks off the kernels!
This is such a delicious salad and a great way to serve corn. It pairs perfectly with meat tacos or a meat main. I rushed this recipe up because when I put it on my Instagram stories I got so many messages asking me when it was going up. And in lieu of being able to travel overseas I'm consoling myself with dishes like this. At the moment it feels like it will be such a long time until we can travel overseas again.
Last week we cancelled all of our outings. After my close call with COVID and testing it felt far too close to home. Dog play dates were cancelled and outings eating out and exchanging presents were switched to home visits and exchanging presents. I brought Teddy over to Laura's house and he smelt his very first real pine Christmas tree.
Teddy feeling at home at Laura's house
We ordered in yum cha and milk tea and opened our presents. We had set each other a $100 limit for presents and I had lots of fun buying her gift for her (Laguoile bright pink trio cheese knife set and Mr Black Negroni mix and some bubble tea goodies). I actually love buying presents for people about the same as receiving them. Laura's handed her gift to me. It was a big bag emblazoned with "Givencheese" on it, a pun on Givenchy and my love of cheese. "This is you in a bag. It's 50% cheese, 50 lush glam designer!" she said. It was the PERFECT gift!
So tell me Dear Reader, how are you going with the COVID restrictions? Are you in a city or country that has it under control? Are you allowed to travel or go out or are you under lockdown? And what cool presents did you receive this Christmas?
Did you make this recipe?
Share your creations by tagging @notquitenigella on Instagram with the hashtag #notquitenigella
Esquites or Mexican Street Corn Salad
An Original Recipe by Lorraine Elliott
Preparation time: 10 minutes plus 10 minutes cooling time
Cooking time: 10 minutes
Serves: 4 as a side dish
3 corn cobs or 450g/1lb corn kernels
60g/2ozs. butter or oil
1 clove garlic, peeled and diced
1 red chilli, diced
1/2 cup chopped chives
2 tablespoons sour cream
2 tablespoons mayonnaise
1/2 clove garlic, grated
100g/3.5ozs. cotija or halloumi
3 tablespoons coriander or cilantro leaves
2 limes, one halved and one quartered
Salt and pepper
A few drops hot sauce
Smoked paprika to season
Step 1 - First remove the kernels from the corn. Remove the husks and silks from the corn, brush well to ensure that there are no remaining silks and then stand the cob vertically thicker side down on a large plate and remove the kernels with a sharp knife. You should end up with around 3 cups or 450g/1lb of kernels.
Step 2 - Heat a frypan and add half of the butter or oil. Fry the corn, garlic and chilli adding more if needed. Cook for 5-6 minutes.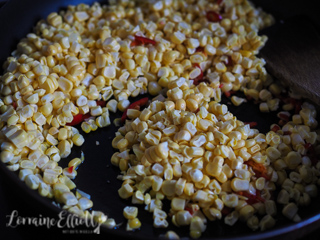 Step 3 - While it is cooking, in a bowl make the garlic and lime crema. Add the sour cream, mayonnaise and garlic together and squeeze in half the lime juice and stir. Allow the corn mixture to cool for 5-10 minutes. Stir in the crema and add the other half of the lime juice, grated cheese, coriander/cilantro and season with salt and pepper and hot sauce (I sometimes add a pinch of sugar if the corn isn't sweet enough). Finish with smoked paprika and serve with quartered limes so that people can add more lime juice if they want.