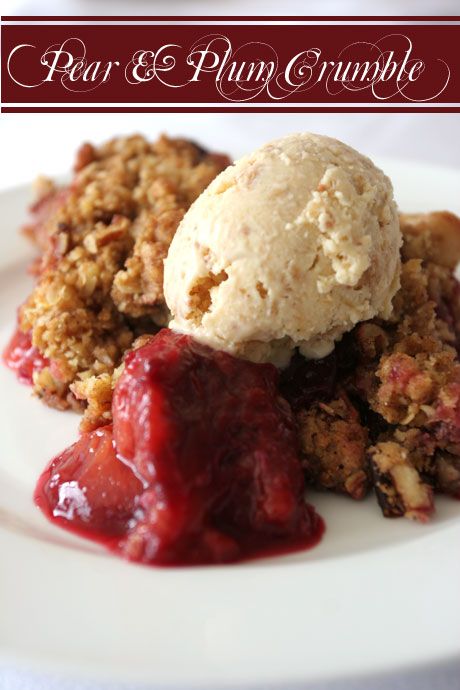 With the decidedly frosty weather lately, it seems an appropriate time to take out the winter foods, aka comfort foods , aka the foods to eat under the doona or quilt (if I actually let my husband do that). I am not a big fan of Winter. Indeed, my husband and I would love to "migrate" to warmer weather during Winter if we had the bank account to match. So the only thing I look forward to in Winter is wearing hats and gloves and eating warming comfort food. This helps me bide my time until Spring and Summer.
I love crumbles but at the risk of sounding unhealthy, if I am to be honest, I prefer the topping so I always make sure that there is plenty of buttery, nutty, oaty topping on my crumbles. Crumbles are also great for fruit that isn't as sweet or luscious as one would like. I suggest ice cream for this as plums can be a little tart and I find that clotted cream by itself isn't quite sweet enough. And I also love this recipe as you get something in the "Bonus Round". That is, you get a bonus cupful of fragrant plum and pear flavoured syrup to mix with some sparkling mineral water.
DID YOU MAKE THIS RECIPE? Share your creations by tagging @notquitenigella on Instagram with the hashtag #notquitenigella
Plum and pear crumble
Rated 5.0 out of 5 by 1 readers
1 tsp ground cinnamon or 1 cinnamon stick
1/2 teaspoon ground nutmeg
120g (2/3 cup, lightly packed) brown sugar
800g plums, quartered, stones removed
2 pears, cored and cut into pieces
For topping
80g nuts (I used macadamias and pecans) coarsely chopped
1 teaspoon ground cinnamon
Step 1 - Preheat oven to 180°C.
Step 2 - Combine the water, vanilla essence, cinnamon, nutmeg and brown sugar in a medium heavy-based saucepan and stir over medium heat until the sugar dissolves. Bring to the boil and simmer, uncovered, for 6-8 minutes or until mixture is slightly syrupy. Add the plums and pears and simmer for 3-4 minutes or until the fruit are just tender.
Step 3 - Cool and drain the plums of most of the syrup - you don't need the fruit to be bone dry, some syrup is still nice and helps to have the claret shaded juice to bubble up at the edges.
Step 4 - Place plums in the base of a 20cm pie plate
Step 5 - To make crumble topping, combine butter and flour in a medium sized bowl. Mix with your fingers until it is combined, then add in oats. At first, it won't be like fine breadcrumbs as there is a bit more butter but once you add the oats it will be like coarse breadcrumbs. Add brown sugar, nuts, cinnamon and baking powder. Mix well.
Step 6 - Top fruit in dish with this rubbly mix. Bake for 20-25 minutes until golden.
Step 7 - Serve with ice cream
For a refreshing drink, mix 1 part spiced plum and pear syrup with 4 parts sparkling mineral water.