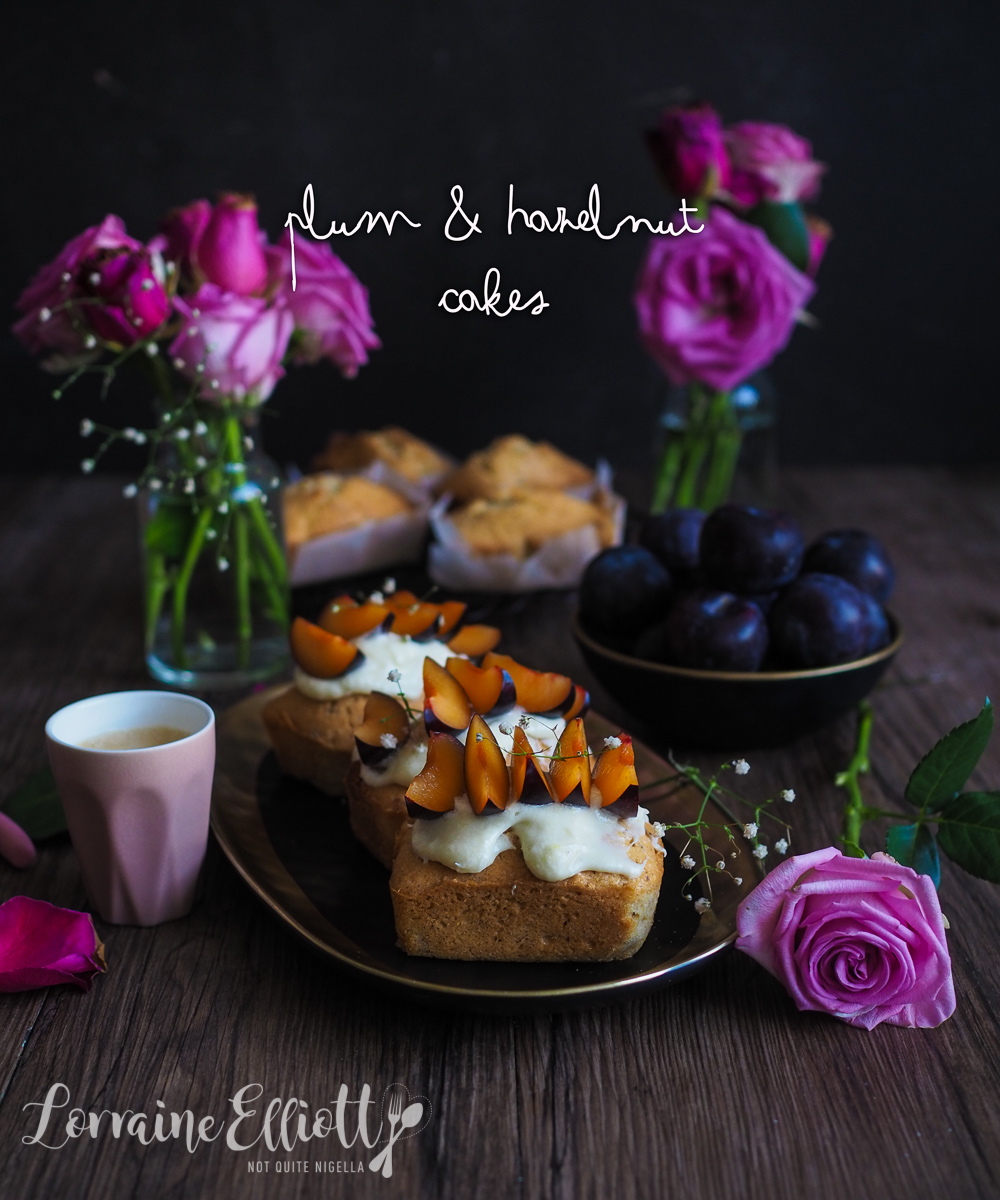 These plum and hazelnut mini cakes are just delightful. The nuttiness of the hazelnuts is echoed in a browned butter cake base and browned butter frosting with diced plums inside and on top!
Browned butter is one of the most versatile, delicious ingredients in your baking and cooking arsenal. It's also a cinch to make and just involves heating butter up until it becomes fragrant. Browned butter adds both aroma and flavour to your food and is a clever chef's tip on how to elevate any dish. See my recipe on how to make browned butter here.
I always have browned butter in my fridge, in the same way that I always have butter in my fridge. In this cake the nuttiness of the browned butter is echoed in the toasted hazelnuts. It also works in the buttercream too.
Can this be baked in another tin? This can also be made in a small 500g/1lb/18x9 cm loaf tin or 20cm/8inch round, springform tin. Bake the round 20cm/8inch cake for 35 minutes and the loaf tin for 40-45 minutes. You can also double the mixture for a larger 1kg/2lb loaf tin and bake it for 1 hour and 20 minutes.
No nuts? Replace the nuts with more cake flour or desiccated coconut. You can also make these gluten free by subbing the flour with gluten free flour.
I know I'm a total browned butter pusher but it adds so much flavour to both sweets and savouries. I've also got some TV recommendation as I am also a bit of a TV pusher. These four tv shows are not my typical sorts of viewing either.
Snowpiercer (Netflix) - okay confession: I'm not into futuristic or science fiction. Having said that, Queen Viv got me onto this post apocalyptic show where earth has frozen over and the only survivors are on board a train called Snowpiercer that circles the planet housed in four classes on the train 1,034 carriages long. I've gotten all my friends onto it and they love it too (and they're not usually into this genre either). Oh and I forgot to mention that the tv series (and movie) are directed by Bong Joon-ho, the Korean Oscar award winning director for Parasite?
Formula 1: Drive to Survive (Netflix) - I'm not a sports person. I mean I like watching tennis and ice skating but all the balls (football, cricket, AFL, rugby) are a complete mystery to me. But this series about Formula 1 is amazing. There is an art to documentary making and this series presents the sport with such a compelling narrative and shows you the different personalities on the track. You don't need to know anything about F1 to get into it. I binged each season over 2 days.
I May Destroy You (Binge) - This British show has a trigger warning for sexual violence. It's completely compelling for both the main protagonist (creator, writer, co-director and executive producer) Michaela Coel and the mystery storyline where a woman tries to unravel what happened to her one night.
Naked Attraction (9Now) - What is with Brits and nudity? Haha! This show is bonkers. It is a dating show where everyone on the show is completely naked. Like NOTHING is blurred and Mr NQN and I often find ourselves watching it and saying "I can't believe this show is real". It's not all perfect bodies and there is a variety of people which is one of the best things about it. The best episode involves 57 year old Christian Judith who uses clotted cream not just on scones and who plays My Lord Is My Shepherd on a Casio organ while the naked men swing their bits around. And obviously don't watch this with your parents...
So tell me Dear Reader, do you have any tv recommendations for me? Have you watched any of these shows?
DID YOU MAKE THIS RECIPE? Share your creations by tagging @notquitenigella on Instagram with the hashtag #notquitenigella
Little Plum & Hazelnut Butter Cakes
Rated 5.0 out of 5 by 1 readers
An Original Recipe by Lorraine Elliott
Preparation time: 30 minutes
Cooking time: 30 minutes
Serves: 8
120g/1 stick browned butter, room temperature
130g/4ozs. caster or superfine sugar
3 eggs, room temperature
150g/5ozs. cake flour
2 teaspoons baking powder
60g/2ozs. finely ground hazelnuts, toasted
150ml/5flozs. buttermilk
1 teaspoon vanilla extract
Pinch salt
3 plums, diced
For frosting:
75g/2.5ozs. butter, softened
50g/2.6ozs. browned butter, room temperature
3 cups icing or powdered sugar, sifted
Finely grated zest and juice of 1 lemon
6 plums, sliced
Step 1 - Preheat oven to 160C/320F and line 8 mini loaf tins (9x5.5x4cms or 3.5x2x1.5inch each) with parchment on the base and sides. Beat the butter and sugar together for 3-4 minutes on medium speed. Add the eggs one at a time on medium high speed until incorporated (add eggs slowly, adding them too quickly will cause the cake mixture to curdle).
Step 2 - In a jug or bowl whisk the flour, baking powder and ground hazelnuts together and in a jug whisk the buttermilk and vanilla. Fold in the flour mixture into the wet mixture alternating with the buttermilk until just incorporated (do not overmix). Add diced plums.
Step 3 - Spoon into the prepared tins and bake for 20-25 minutes or until the centre springs back when gently pressed down. Cool completely.
Step 4 - To make the frosting place the icing sugar in a food processor and blitz until there are no lumps. Add the two butters to a stand mixer fitted with a beater attachment and beat for 1-2 minutes until smooth. At low speed add the icing sugar, lemon zest and juice and once incorporated increase speed to high and beat until smooth (around 6-8 minutes). Allow to firm up in the fridge for 15 minutes if the mixture is too wet. Spread on top of the cakes and add slices of plum just before serving. These cakes without the plum can be stored at room temperature in an airtight container.