Baking is more pleasurable in Autumn or Spring or when the temperature settles and the oven doesn't feel like an intrusion. And for those of you after a simple but knockout recipe, may I offer you these simple but fancy looking fruit muffins. Don't be put off by the cheddar - pear and cheddar makes for great partners on a fruit plate and bake up beautifully too. And adding jewels of glistening fig and persimmon make for a simple but effective topping.
I usually gravitate more towards cupcakes than muffins because I like decorating them but muffins are easier to make. For starters they're all just mixed in a bowl and require no creaming. But I did manage to get my decorator on for these in the most basic way. I wanted to make a batch of them decorated with the fresh fruit that we had. The fruit was too pretty to bake inside and I wasn't sure how persimmon baked up (and I am a bit hesitant to experiment when making large batches). So instead I topped the muffins with glistening fig sections and half moons of vermilion persimmon.
In the last few years there was a trend where people would shame their dogs by writing notes about what the dogs do. It was pretty funny and mostly dogs do really funny things that just shos that they are far more entertaining than humans could ever dream up being.
I thought about what sort of sign would hang around my neck. And one of the most terrible things I do to Mr NQN is something I'm a bit ashamed of. It all stems from my love of soda water. I love a freshly opened bottle, glass preferably and I like to finish every day with a glass of it. The only thing is that it is more economical to buy it in 1.25 litre bottles. And after it has been drunk half way it's not the same crisp fizziness that I like.
So I give it to Mr NQN. I offer to fix him a drink and and mix some with some fruit cordial mixer and hand it to him. The man probably hasn't tasted a properly fizzy water in some time (I'm sort of joking there, he does at restaurants) but I've been carrying on this charade for ages now. My sign would read, "Gives husband drink scraps."
I do try bribe my way back into his heart with food and this recipe was one that I made using some fruit that we had an excess of and a cheddar cheese that was about to go beyond its expiry date. We had a fridge and fruit bowl bursting with fruit and I wanted to make sure that none of it went to waste. I also wanted to make a big batch of muffins to take to the Asylum Seeker Resource Centre that wouldn't take too long as I was also bringing curry and rice too.
These muffins are low effort but honestly you wouldn't think so by looking at them. They look fancy (sorry if that sounds like I'm blowing my own horn). The muffin itself is also baked at a low temperature so that they are very moist and the added pear inside takes care of that too. And the cheddar? It adds a wonderful flavour to it but it is never out of place.
So tell me Dear Reader, have you ever baked persimmon? Do you gravitate more towards cupcakes or muffins? Do you do anything else shameworthy? ;)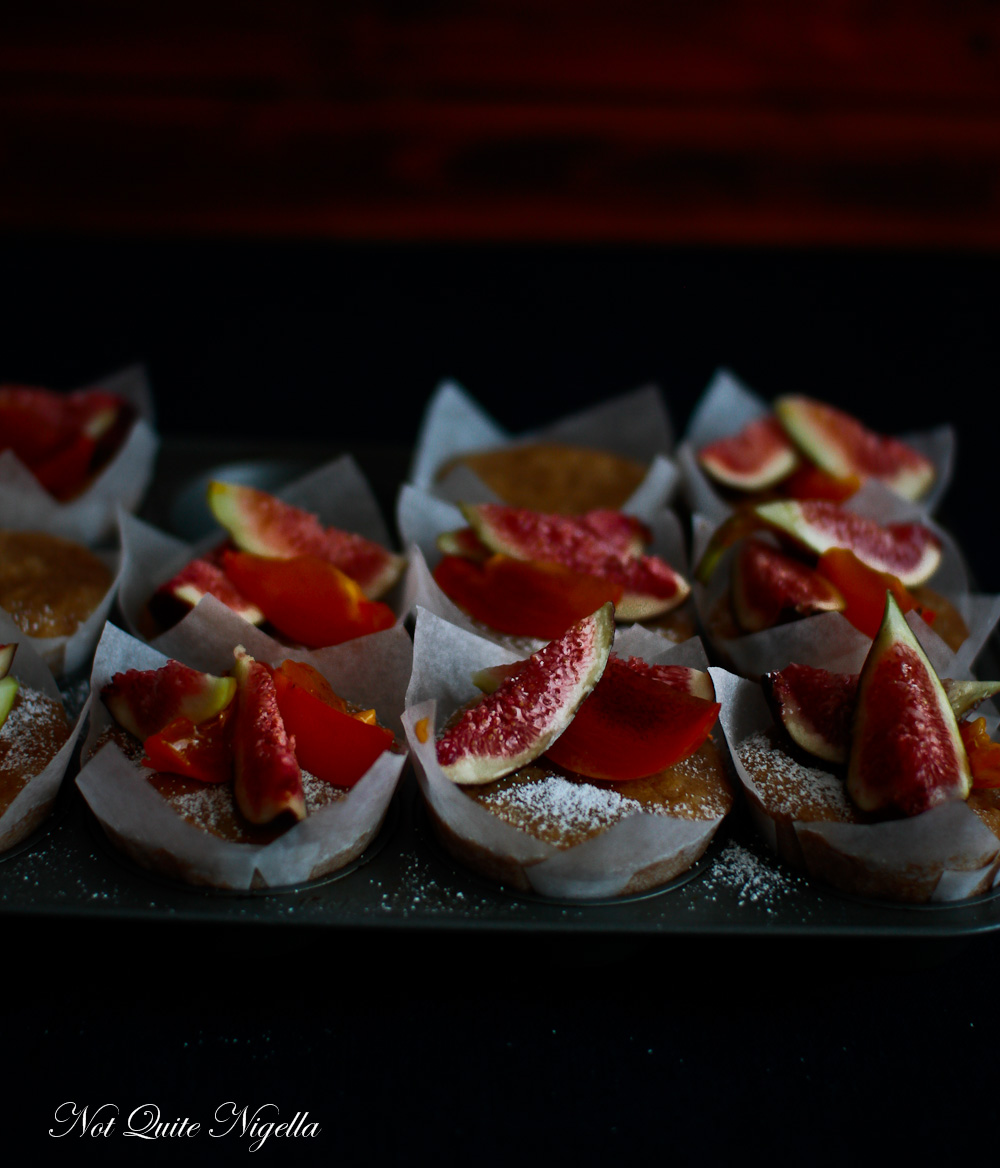 DID YOU MAKE THIS RECIPE? Share your creations by tagging @notquitenigella on Instagram with the hashtag #notquitenigella
Autumnal Pear, Fig & Cheddar Muffins
An Original Recipe by Lorraine Elliott
Preparation time: 10 minutes
Cooking time: 30 minutes
230g/8.12ozs. plain all purpose flour
20g/0.7ozs. cornflour/fine cornstarch
2 teaspoons baking powder
1/2 teaspoon bicarbonate of soda
100ml/3.5fl oz. flavourless oil
150g/5ozs. brown sugar
75ml/2.65ozs. buttermilk
2 eggs
4 smallish pears, cored and diced (you can also replace half the pears with figs if you want)
200g/7ozs. cheddar cheese, grated
3-5 figs, quartered or cut into sixths depending on size
2 persimmons, cut into sections
Icing or confectioners sugar to decorate
Step 1 - Preheat oven to 130C/266F (yes very low). Line a 12 cup muffin tray with liners. In a large bowl, whisk the flour, cornflour, baking powder and bicarb. In a jug measure the oil, brown sugar, buttermilk and eggs and whisk to combine. Make a well in the flour and using a spatula gently mix in the wet mixture but do not overmix.
Step 2 - Fold in the pears and cheese and mix to combine. Scoop into the prepared liners using an ice cream scoop. Bake for 30 minutes or until a skewer inserted comes out clean. Cool.
Step 3 - Slice up the figs and persimmon and place on top of the muffins. Sift icing sugar over the top.