My husband and I used to go through whopping great jars of S&W mayo. I admit I was a tad unhealthily obsessed with it, in both mind and body. I used to literally dip crackers in it and use it as a dip. Yes seriously. Until I tried making my own. The secret is good, fresh eggs and a mild flavoured oil. I made this once with a really strong fruity Greek olive oil and we couldn't eat it. Something like a Grapeseed oil or mildly flavoured Olive oil is ideal. And by Mayonnaise I mean that lovely creamy stuff like S&W, Hellman's or Kewpie mayonnaise. Not that awful tangy Praise or Kraft stuff that calls itself Mayonnaise.
Forget hand whipping and beating which will only give you a sore wrist and arm. In this case, the food processor is your best friend and within 3-4 minutes you'll have your own batch of freshly made mayonnaise, no preservatives or additives. The fast motion of the food processor will help ensure that that it won't curdle as opposed to using a slower hand beating motion. The only thing that you may find annoying is the sound of the food processor (my dream, a silent food processor) but for a few minutes of noise, I hope you'll find the reward is well worth it.
DID YOU MAKE THIS RECIPE? Share your creations by tagging @notquitenigella on Instagram with the hashtag #notquitenigella
Food Processor Mayonnaise
1 teaspoon seeded mustard
1 1/2 cups of mild flavoured oil (grapeseed or mild olive oil) in a pouring jug
Step 1 - In food processor, blitz mustard, lemon juice and vinegar for 3-4 seconds until combined. Then add in egg and egg yolk and blitz for 3-4 second.
First adding the oil in, a runny yellow consistency
1/8 cup of oil left in the jug, now a thicker paler shade
Step 2 - Through the pouring funnel, pour olive oil in a thin, steady stream. The first half of the oil is the most important to add in a thin steady stream to avoid it curdling. It will take about 2 minutes to add in all of the oil and it will turn from a runny yellow to a thick pale cream shade.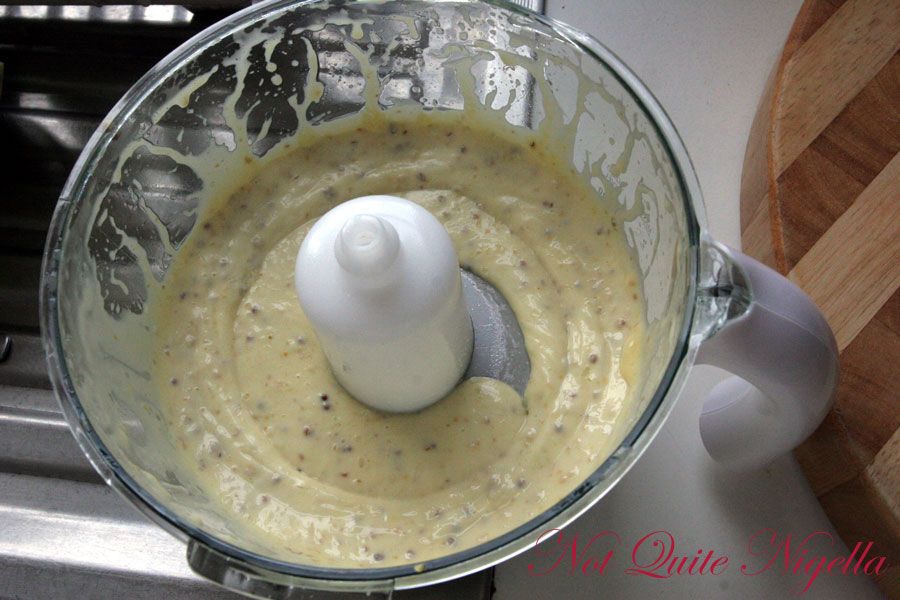 3 . Store in airtight jar for up to two weeks. I always use a clean, fresh spoon when using this. And I have stopped dipping my crackers into it in an effort to be healthy!
Variations:
Roasted garlic-stick a whole unpeeled head of garlic, top 1/3 chopped off in the oven for 20 minutes in medium heat until it's soft inside. Blend from a few cloves to half of the head depending on how garlicky you like it with the mayonnaise at the very last.
Chili mayo: blend with 1/2 teaspoon of cayenne pepper
Honey to make honey mustard (add extra teaspoon of mustard to balance the sweetness