Once upon a time I had a lot of Rouge de Marmande tomatoes (it was summer so my vege box was filled with tomatoes). And so I did what many cooks in the South did and made Southern Tomato Pie! And do you know what? It was DAMN delicious and easy! It uses up almost half a kilo or a pound of tomatoes to make an easy, tasty pie. This is a pushy recipe Dear Reader!
What struck me about this recipe apart from how tasty it was, was how it made use of everyday ingredients. Often American recipes are simple and use shortcuts so they're quite easy to whip up. Take the Ritz crackers in place of cheese or mayonnaise instead of eggs.
Tips for making Southern Tomato Pie
You can go ahead and use a pre-bought pie crust or use shortcrust pastry to line a pie dish.
You want the base to be golden brown on the first blind bake. The tomatoes can add moisture to the base so make sure that it fully baked and golden brown.
There is also an alternative pie crust using Ritz crackers instead of a pastry crust. The Ritz cracker crust works in a similar way to a cheesecake biscuit crust. To make this process 180g/6ozs and mix with 8 tablespoons melted butter to form a crust. Then bake in the oven at 180C/350F for 20 minutes. The crust will puff up a little and you can press the tomatoes into the crust to flatten. It will obviously make a buttery, crunchier pie.
Americans can use grated cheddar cheese but in Australia, tasty cheese works perfectly for this.
Make sure to drain the excess juice from the tomatoes. I placed the sliced tomatoes on double layered paper towels for an hour or so just while I was making the crust.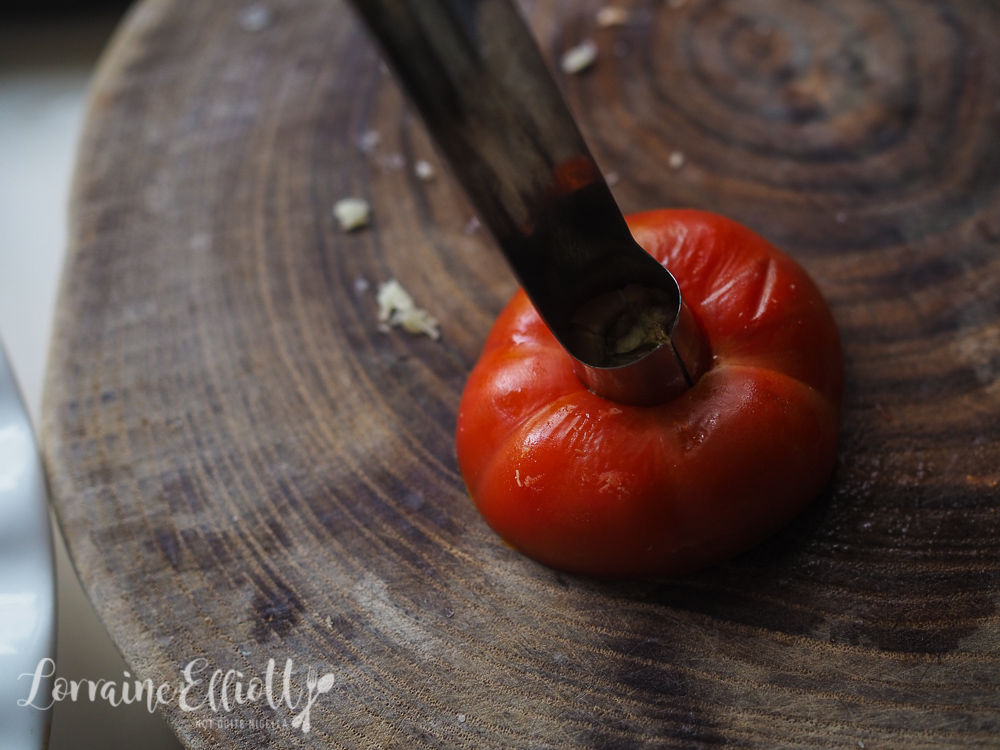 The quickest way to cut out the top of the tomato is by using an apple corer (see above).
If your tomatoes aren't very sweet, add a pinch of sugar to them before after layering them in the pie.
Make sure to season your tomatoes well. Tomatoes, like potatoes need and adore salt.
The crumbled Ritz crackers on top give it a bit of flavour much like parmesan cheese on top.
Wait an hour or so before cutting into the pie so that the filling has time to cool and set so that you get clean slices.
I used Rouge de Marmande beefsteak tomatoes which are such a pretty heirloom variety. They're beautifully sweet too and are for a wonderful salad tomato although I couldn't resist using them here too. If someone is to give me a gift please let it be vegetables, especially interesting ones. Oh and flowers too!
I once met a food writer while travelling overseas and I spent a few hours with her. She was really interesting and nice and I was delighted that she took the time to show me around her hometown.
We were walking down a main street past a florist and her lips tightened. She murmured something under her breath and I looked at her questioningly. "Flowers are useless!" she said passionately, her mood turning suddenly dark.
"Um what?" I said, thinking that I had misheard her. She repeated what she said explaining that flowers existed for no purpose and died and made a lot of waste and that it was a completely wasteful industry. I have never anyone so passionate about something so lovely but I guess it showed me that people can hate on almost anything! I once heard a line from Dita Von Teese that said, "You can be the ripest, juiciest peach in the world, and there's still going to be somebody who hates peaches."
I found the whole conversation quite baffling and wanted to know whether something had happened to her with some flowers at some stage. I never got to the bottom of her hatred for flowers and quite frankly I was a bit afraid to ask!
So tell me Dear Reader, is there something that you passionately dislike but other people love? Have you ever tried Southern tomato pie?
DID YOU MAKE THIS RECIPE? Share your creations by tagging @notquitenigella on Instagram with the hashtag #notquitenigella
Southern Tomato Pie
Rated 5.0 out of 5 by 4 readers
An Original Recipe by Lorraine Elliott
Preparation time: 20 minutes
Cooking time: 65 minutes (25+40 minutes)
Serves 6-8 with a salad
450g/1lb tomatoes (I used Rouge de Marmande tomatoes)
1 savoury frozen pie crust (or you can make your own as I did)
200g/7ozs. bacon, grilled
1 medium onion, peeled
2 cloves garlic, peeled
2 cups/250g/8.8ozs tasty or cheddar cheese, grated
1/2 cup/125ml/4flozs. sour cream
1/2 cup/125ml/4flozs. mayonnaise
6 Ritz crackers, crumbled
Salt and black pepper to season
Step 1 - Slice the tomatoes and lay them on a double layer of paper towels to remove excess liquid.
Step 2 - Bake the pie crust at 180C/350F for 25-30 minutes until golden brown. Make sure that the pie crust isn't pale in the centre, you want it to be thoroughly baked.
Step 3 - Place the cooked bacon rashers, onion, garlic, cheese, sour cream and mayonnaise in a food processor and blend until it becomes a spreadable mixture.
Step 4 - Once the base is cooked (keep oven on 180C/350F) layer the tomatoes on the base reserving 5 or so of the best looking slices for the top. Season with salt and pepper. Then scoop the cheese and bacon mixture on top. Sprinkle with the crumbled crackers and then add the reserved slices of tomato. Bake for 40-45 minutes until golden on top. Cool for 1 hour and then serve.