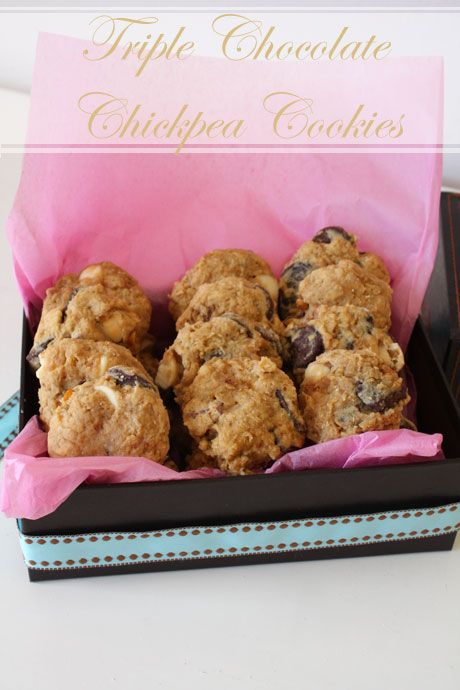 No, it's not a rather major typo or a poor attempt at alliteration at all costs. I actually did make cookies made with choc chips and chickpeas. They were from Jessica Seinfeld's Deceptively Delicious, a book that I received for Christmas but haven't cooked from lately.
I can see why chickpeas work, they're like a soft, very mild tasting nut. But the _idea _of chickpeas in a cookie is somewhat jarring. And given that there are 2 whole cups of chocolate chips, 1 cup of brown sugar and 3/4 of a cup of butter in them, I can see why it would work. I'm sure there's a rule in baking: just add 2 cups of chocolate, 1 cup of brown sugar and 3/4 cup of butter to anything and it will be fine.
So whilst these aren't the lowest fat or healthiest cookies, they taste fantastic. You absolutely cannot taste the chickpeas in these at all so if your loved one (I include husbands in this, not just kids as I know many a wife who tries to get her husband to eat more veges), is at all resistant to vegetables, give him or her this. They won't even guess that they've got dreaded vegetable bits in them!
DID YOU MAKE THIS RECIPE? Share your creations by tagging @notquitenigella on Instagram with the hashtag #notquitenigella
Chocolate Chip Chickpea Cookies
Makes 24-26 cookies
Jessica warns: If using a standing mixer, partially cover the bowl wiht a dish towel to keep the chickpeas from flying out. I didn't experience this myself although I might have liked to!
1 cup firmly packed light or dark brown sugar
3/4 cup trans fat free soft tub margarine spread or butter
2 large egg whites (I used 1 egg)
2 teaspoons pure vanilla extract
15oz/450g can chickpeas drained and rinsed
2 cups (12 ozs) semisweet chocolate chips (I used a mixture of white, milk and dark chips)
1/2 cup old fashioned oats
1/4 teaspoon salt (I omitted this)
Step 1 - Preheat oven to 350f/180c. Line 2 baking trays with non stick parchment
Step 2 - In a large mixing bowl or the bowl of an electric mixer, beat the sugar and margarine with a wooden spoon or on medium speed until smooth. Beat in the egg whites or egg and vanilla, then the chickpeas and chocolate chips. Add the flour, oats, baking soda and salt and mix on low speed until a thick dough forms.
Step 3 - Drop the dough by the tablespoonful onto the baking sheet, spacing hte cookies about 1 inch apart. Flatten slightly with a fork. Bake for 11-13 minutes, do not overbake. Leave on cookie sheet to cool and then transfer onto wire rack until completely cool. Do try one in the process of cooling as the gooey chocolate is wonderful in the cookie.
Step 4 - Store in airtight container for up to 3 days.
By Jessica Seinfeld from [_Deceptively Delicious
_](http://www.amazon.com/gp/redirect.html?ie=UTF8&location=http%3A%2F%2Fwww.amazon.com%2FDeceptively-Delicious-Simple-Secrets-Eating%2Fdp%2F0061251348&tag=nqn03-20&linkCode=ur2&camp=1789&creative=9325)