Do you ever think that the universe is trying to tell you things? When I recently baked a batch of delicious biscuits, I tried one - you know, for testing and research purposes ;) . It was so good that my knees almost collapsed in butter induced bliss. Slightly alarmed at my physical reaction, I wrapped as many as I could fit into a cellophane bag for my hairdresser friend Elly hat I was seeing that day. The remaining four went into a box for my mother who adores buttery cookies.
Except like the tell-tale heart beating under the floor, I could think of nothing else. My father usually stops by every couple of days or so on his daily walks but it has been raining and he hadn't stopped by. And I had those sorely tempting cookies just calling out to me. So one afternoon, I snaked my way over to the box and looked around. Surely nobody would notice if I took one of the cookies. After all my mother didn't even know that they were coming to her. I took a plate, made a cup of tea and tiptoed back towards me desk.
On my way the cookie slid to the ground and smashed into hundreds of pieces. It was as if I weren't supposed to eat it. I grabbed a dustpan and brush and swept it up. A step ladder came crashing to the floor along with two baking trays in an almighty cacophony.
"It's a sign Lorraine," I said to myself. Yes it's both a sign of madness when you talk to yourself and when you refer to yourself in the third person.
But then a minute later I was back at the cookies helping myself to another one and guess what? It too fell on the floor and shattered! Muttering about curses, I swept up this lost moment of joy and regarded the last two cookies. I decided that it was too sad to give just two cookies to them so I ate one on the spot. I couldn't risk it falling again!
Anyway, these are those incredible cookies inspired by Jessica's post. When I looked at the dough, the first thing I thought of were dalmatians. I used Hersheys Cinnamon Chips in them. Although I'm not a huge Hershey's chocolate eater the cinnamon chips are something else altogether as they're addictively good. Every time I go to America I pick up a few bags although they are available at specialist candy stores here in Australia. If you can't get these, get your favourite chocolate chips or chocolate chopped up.
The cookies are so buttery soft that they remind me of a melting moment cookie but the studs of chocolate give it a fantastic texture. If you are a fan of biscuits with tea or shortbread I urge you to give these a go. Use your best chocolate and best butter and you will be richly rewarded. Pinky swear!! x
So tell me Dear Reader, do you listen to signs? Is there a food that is so tempting that you cannot be alone with it in the house?
DID YOU MAKE THIS RECIPE? Share your creations by tagging @notquitenigella on Instagram with the hashtag #notquitenigella
Dalmatian Shortbread
An Original Recipe by Not Quite Nigella
Preparation time: 8 minutes
Cooking time: 12 minutes
160g/5.65ozs. butter, softened
50g/1.7ozs. icing sugar
150g/5.3ozs. plain all purpose flour
50g/1.7ozs. cornstarch
1 teaspoon baking powder
2 teaspoons vanilla extract or paste
Fat pinch of salt
100g/3.5ozs. cinnamon chips or chocolate chips
Step 1 - Beat the butter and icing sugar together in an electric mixer for 2 minutes. In a jug measure out the flour, cornstarch, salt and baking powder. Fold half of the flour mixture into the butter and add some vanilla. Fold in the remaining flour and three quarters of the chocolate chips. Refrigerate for 20 minutes.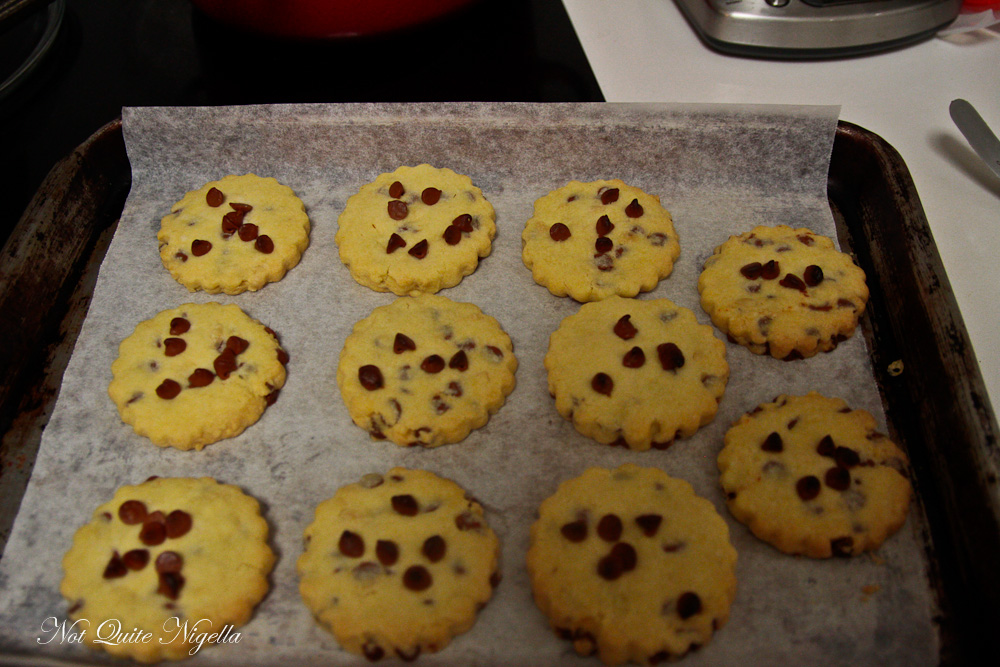 Step 2 - Preheat oven to 170C/340F. Line a baking tray with parchment. Roll out the dough between two sheets of parchment and cut out circles using a cookie cutter. Mine were about 6cms or just over 2 inches in diameter. Sprinkle the tops with the remaining quarter of the chocolate chips. Gently place on the parchment and bake for 12 minutes. Allow to cool on tray.