A few days ago I woke up with a start, let out a strangled "Arrrrrrgghhh", partially woke up Mr NQN and then scrambled out of bed as if I had found a horse's head in it.
Do you ever have those times where you forget about things? I just realised that in the chaos of the last few months I had completely forgot to put the Anthony Bourdain Medium Raw copies up for auction as promised! "How on earth did I let that slip?" I wondered chewing on my bottom lip urging my computer to turn on. But then sage, half asleep Mr NQN suggested that now was possibly a better time than any because people could buy them as Christmas gifts. So I took photos and here they are, your very own copy of Medium Raw, signed by the man himself during his recent time in Australia for the Sydney Writer's Festival, all proceeds going to Tony's charity of choice, Médecins Sans Frontières! Click here to bid on any of the copies. 
The other thing that I almost forgot was Christmas. Well I couldn't forget it completely, after all there were the telltale decorations everywhere but I was being forced at gunpoint or spousal sad face point into using google calendar after about a year of resisting. I love my paper calendar and although this means that I have to bring said paper calendar with me when I make appointments inevitably garnering some odd looks, I am still quite  beholden to it. Mr NQN promised me something good in my Christmas stocking if I stuck to an online calendar (it's like bribing kids to do their homework). I was flicking through the calendar, which he had populated for me deciphering my messy scrawl, and then I realised that we only had about a month to go until Christmas which necessitate another strangled "Arrrrghhhh"!
Every year for Christmas, I like to make some form of edible gift but this year I thought I'd show you how to put together a few items to complete your own Christmas hamper. There are some items that you can and should start now. These are the Christmas pudding vodka and the home made vanilla extract (both worth their weight in gold), both easy and absolute crowd pleasers. And then there are things like this chocolate crunch cake which you can make up easily and quickly at the last minute. This is from a recipe from the Manna from Heaven cookbook Rachel Grisewood and is as she describes, the very item that she built her whole business from. The clincher is that it takes about 5 minutes to prepare, a bit of time in the fridge and only has four ingredients!
You can slice this up into pieces and place it into cellophane bags or give a whole chocolate crunch cake to a very lucky recipient, just be sure to place it on a disc of foiled cardboard (bought at cake supply stores) as it needs a base as chocolate in this hot weather is not an ideal combination. But as far as chocolate goodies go, it is delightfully addictive-the crunch, the rich chocolate, the nuts and the coconut should you wish to use it conspire to make this one of those things that people will ask you the recipe for. And why not just pop a copy of the recipe in the box too?
So tell me Dear Reader, what do you want in your Christmas stocking this year? And do you make edible gifts and if so, what do you like to make?
P.S. In some fun news, I was interviewed for 48 food in Hawke's Bay Today when I recently visited New Zealand! Click to expand the article :)
Chocolate Crunch Cake
Adapted from Manna from Heaven by Rachel Grisewood published by Allen & Unwin $59.99
The quantity below is for a full batch-I made a half batch so mine was thinner, yours will be double the thickness if using the quantities below.
500 g (1 lb) dark chocolate, roughly chopped
150 g (5 oz) golden syrup
300 g (10 oz) ready-made macadamia nut shortbread,broken into small pieces
Optional: add 3-4 tablespoons of shredded coconut
Step 1 - Line a 20 x 30 cm (8 x 12 inch) baking tin with baking paper for thinner slices or a 21cms round spring form tin for thicker slices.
Step 2 - In a large saucepan over low heat melt the chocolate, golden syrup and butter until the butter and chocolate are just melted and well mixed but do not boil. Add the biscuit chunks and coconut if using, and stir until well coated.
Step 3 - Pour the mixture into a baking tin and use the back of a spoon to flatten the mixture. Tap the tin against the bench to get rid of any air bubbles-pop these with a skewer before the chocolate sets.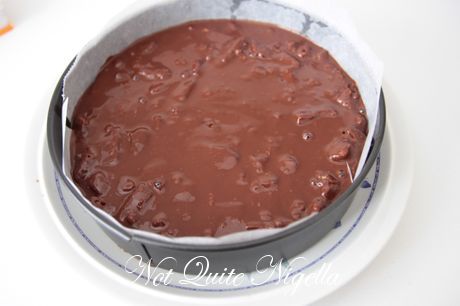 Step 4 - Refrigerate for 1 hour, or until set. Turn out onto a clean chopping board and, using a serrated knife, cut into bar shapes.
Christmas tea towel by Dandi