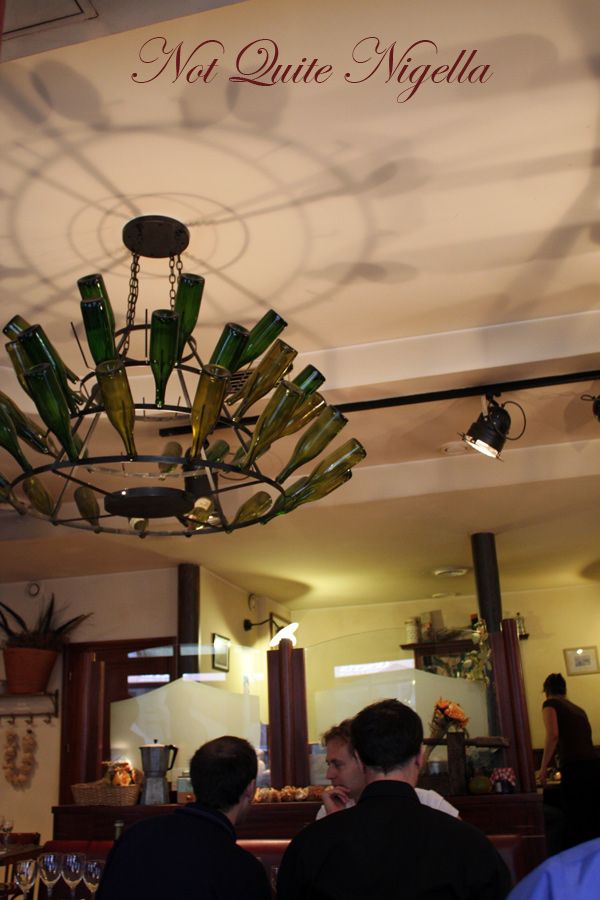 After an afternoon at the Louvre, the only possible thing we are in any shape to do is walk a little down the road from the hotel for dinner. You see, our eyes were bigger than our brains so we thought that we could see everything that we wanted to although we did see the Mona Lisa (along with it seems half of Paris), Vermeer's "The Lacemaker", Michaelangelo's sculptures and Napoleon III's apartment (crazy gorgeous, especially the dining room). So we stumbled down the road from our hotel and that's where we were welcomed warmly at Le Mesturet, a bistro serving traditional French food. It seems they're used to overseas visitors, they ask us where we're from and then smiling, hand us English menus. I get the feeling that they have a stash of other menus in a variety of languages.
Menu
For dinner, they have a menu formule: 2 courses for €19.50 or 3 courses for €25.50 and one is allowed to choose any of the dishes from the menu. We ask what is good and they point out what they're known for. It's hard to choose but we finally settle on the our selections, one that has our host worried, the Calves' head. "Have you tried this before?" he asks hesitatingly. "No but we want to" we answer firmly. He laughs and says "Well I love this, it's very good. It's a Parisian only dish. Most chefs in Paris come from from all over but this one is originally from Paris itself. Tell me if you don't like it though". We promise to.
Amuse Bouche-pork and egg omelette
We pop in some of the complimentary appetisers, a pork and egg omelette. It's tasty, and we're glad that we tried this as other tables received olives. The crunchy French bread arrives just before our entrees do.
House specialty: grilled eggplant, tomato and goat's cheese from Artisanal cheesemaker Lethielleux
The eggplant salad is enormous for a starter and our eyes widen when it approaches the table. The eggplant is soft and the tomato and goat's cheese good although this is a fairly safe dish and similar to one that we've had at home often.
Slowly simmered rabbit terrine
The rabbit terrine is lovely, full of rabbit meat and delicious with the toasted baguette. It doesn't have that strong rabbit smell which I dislike and I am glad that we ordered this.
Slow cooked duck from the Jeansarthe farm, shredded, topped with a layer of puréed potato
The shredded duck "pie" topped with mashed potato is lovely and heady with a judicious amount of red wine added to it. We often find that red wine is often abused and overused in cooking but this has just the right amount added to it.
Tête de veau (calves' head)
And of course the dish that you've been wanting to know about, the Tête de veau is soft and unctuous, simmered until fall apart soft. The meat and soft jelly like ring of fat is mild tasting and when the cornichon remoulade added, gives it that added extra. It's said to be a favourite dish of Jacques Chirac and takes about 5 hours to cook and must be fully cooked (never undercooked) and allowed to cool completely once it has finished cooking, otherwise it will explode.
We desperately wanted to order the Baked Apricot and lavender dessert with violet ice cream but they're out of Violet ice cream which was the component that really intrigued me. No matter anyway, we're both stuffed from the delicious meal and hearty serves. We're given a friendly farewell, if only we lived locally (we don't!) this would be our local restaurant.
Le Mesturet
77 Rue de Richileu, 2nd arrondisement Paris
Open: Monday - Saturday 12pm-3pm, 7-10.30pm