On my last trip to Paris, Laduree was one of my fondest memories. The Salon de Thé was an elegant, Belle Epoque place to stop by when shopping at the huge LV store on the Champs Élysées gets too much and all you want to do is rest your weary legs and feet. Unlike last time, which was on a Saturday, there isn't a line although there is a sign in French that I think means that for the comfort of other patrons, cameras aren't allowed. So as any good food blogger does, I bought an array of cakes to take away with me, to be savoured in the hotel room where eating these delicate morsels and licking cream off your hands and moaning and groaning with pleasure won't be frowned upon.
I can't choose so I just keep choosing and before I know it I've amassed a €76.46 bill of cakes, macarons, pastries and petit fours. I will admit that two of the purchases were cooler bags, one for me and one for my sister so don't think I'm mad ordering that many cakes and pastries.
Taking these goodies back to the hotel we eagerly take these out of the boxes (and please tell me I'm not the only bag lady that saves these lovely boxes-clean ones only obviously!).
The St Honore is a devoted poem to whipped cream and strawberries. The cream is a little excessive but the strawberry choux underneath is perfectly dry, not soggy in the slightest and filled with strawberry gelee and dipped in a deep strawberry icing.
My favourite last time was the Religieuse de la Rose but as I am also a Violet fan, I choose this one. Out of the two, I admit I favour the Rose purely for the flavour but the Violet is sweet and lovely and the choux remains dry whilst still filled with the violet flavoured custard (unlike the variations of this I've found in Australia which are a soggy mess).
The Ispahan, a creation I believe was masterminded by Pierre Herme, is a raspberry macaron sandwich, filled with lychee and raspberries and a lychee/rose custard and topped with a perfect rose petal and raspberries. It's squidgy, divine perfection.
The challenge for me was remembering which macarons I had bought in my selection. Luckily, the flavours are strong and I have ordered strawberry licorice, coconut, blackcurrant, citrus, lime, raspberry, licorice with just one macaron unnamed (pale cream with pale jade filling). Of course being macarons I love them and eat each one with small bites to prolong the taste.
The mango topped domed tart is delicious and moist and filled with sweetened, dessicated coconut as is the pineapple mint tart. The second from left, the biscuit sandwich is less successful with the biscuit soggy against the raspberries and smear of buttercream. The coffee walnut dome is strongly flavoured with walnut and coffee although this has suffered in transport and the icing has stuck to the paper.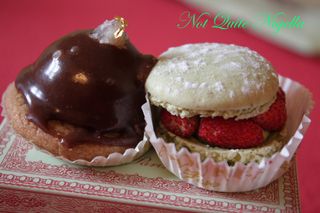 The issue with icing and transportation has also occured with the chocolate chestnut dome with the chocolate icing sticking it to the pistachio and wild strawberry macaron sandwich. The macaron sandwich is delicately sweet and delicious.
Not the most glamorous sounding, the girl behind the counter asks whether I really want this and I do most certainly. She says it's just sugar flavoured but having had this before, I need to have another. The only two flavours are sugar and butter but the texture is crisply gorgeous and layered. I find this way too easy to eat in one go despite my best intentions to share this with my husband.
The mini nut croissant is glazed with sugar and features a small smattering of chopped nuts. It's a bit more exciting than your regular croissant although I don't think I'd buy one again, instead favouring the other divine pastries.
The chewy spongey Cannele is well liked my husband. I find the outer a littel too caramelised for my taste but apparently these are a national obsession.
This delicate layered pastry with strong with sweet apricots with a touch of pistachio. Absolutely delicious and a lovely alternative to a cinnamon snail.
And don't worry, I didn't eat these all in one day and I did share these with my husband. After all there is clothes shopping to be done tomorrow!
Laduree
75, avenue des Champs Elysées, 75008 Paris
Tel : 01.40.75.08.75 - Fax : 01.40.75.06.75
The Restaurant is open daily from 7.30am to 12.30am - The shop is open daily from 7.30am to 11pm except on Saturday 8.30am to midnight and on Sunday 8.30am to 10.00pm