Even when traveling I find comfort in being able to prepare a meal. For me, cooking all afternoon in a kitchen unfamiliar to me is not a tiresome task, it's quite exciting, particularly when I have fantastic or different ingredients to work with. So we hosted a dinner party for my sister's friends and I received a fabulous hostess gift, an absolutely tailored to me gift of a box of 5 delicious cucpakes. I was so excited when I saw the logo'd box, obviously a lot of care had gone into choosing the gift and I was very chuffed.
So with a knife handy I managed to sample each of these adorable cupcakes (I didn't eat all 5 myself although I wanted to).
The vanilla cupcake with vivid pink icing streaked with a fruit gelee streak is delicious. The cupcake is a plain vanilla buttercake but the icing, my oh my! I forgot my low sugar resolve readily-it was gorgeous.
The one with a hazelnut on top is a chocolate hazelnut cake, a little drier than the others, perhaps that's the point of it. it's like a hazelnut chocolate macaron in a cupcake form.
The yellow cupcake with the sprinkles was my favourite along with the raspberry icing'd cupcake, the lemon flavour perfectly balanced for sweetness and tang.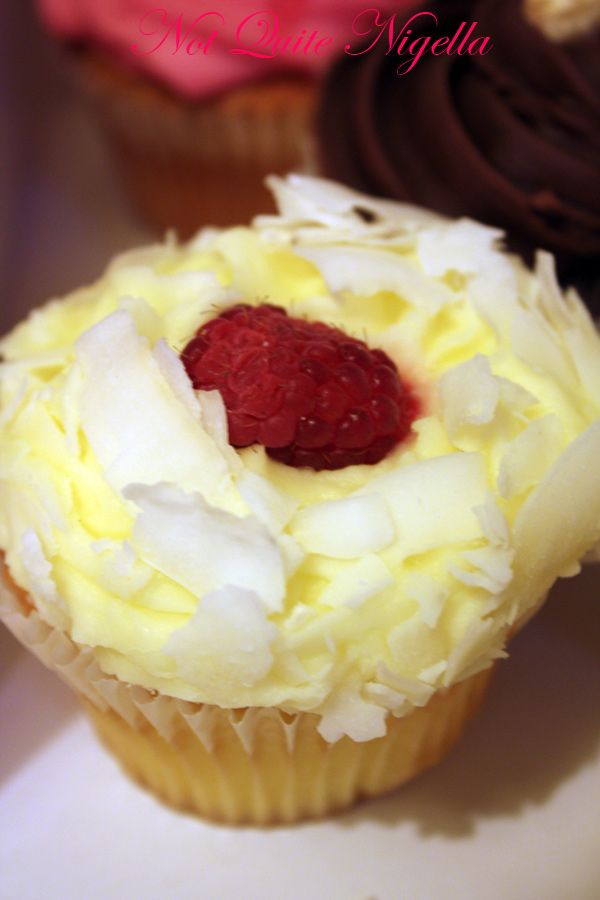 The raspberry and flaked coconut one is thick with cream cheese icing on top of a vanilla cupcake. It's very much like the Frou Frou cupcake I've made in the past.
The chocolate mud is good and thick and studded with chocolate.
Full of sugar, unlike children, it makes us soothed and calmed and happy.
Peyton & Byrne at Heals
196 Tottenham Court Road, London W1T 7LQ
T 020 7580 3451
E info@peytonandbyrne.com
OR
Peyton and Byrne
at The Wellcome Collection,
183 Euston Road,
London NW1 2BE
T 020 7 611 2138
E info@peytonandbyrne.com
Mon -Wed 8am - 6pm
Thu 8am - 8pm
Fri 8am - 6.30pm
Sat 9.30am - 6pm
Sun 12pm - 6pm
http://www.peytonandbyrne.com/index.asp