We do not celebrate Thanksgiving as it is am American Holiday, despite John Howard's best efforts ;) However who am I to let borders stand in the way of celebrating, or more to the point, making something delicious to eat? A dish that doesn't turn out as expected can ruin a day. A much anticipated package not arriving can also do the same. Online shopping is one of those things that I love in theory but when it takes over a week for a package to arrive to me from another large capital city in Australia I get mighty peeved. I'd rather drive down to the shops and buy it myself. But I couldn't, for what I was after was the Dexter Season 2 DVD with evidence kit and tshirt. All of the stores had their supply of tshirts depleted (allegedly by ardent Dexter fans on the staff) so I dutifully put in an online order and waited. And waited. And waited. I let my frustration out the only way I know how - rolling pastry.
Pies are also things that I love in theory and if they work out. When I made the filling for this pie, I thought "Uh-oh" it looks like it has curdled. More specifically the filling looked like it has dessicated coconut in it which it didn't.
However the pie came together in the end and the addition of rum and molasses gave what is normally a eggily sweet pudding, a caramelised coconut tone to it, not so much so that you'd think it was a different flavour at all, just enough to be distinct and have people murmuring that it was one of the best Sweet Potato Pies they'd ever tasted. And I was put out of my bad mood when the pie was baking in the oven, the buzzer sounded and it was the delivery guy with my Dexter DVD.
DID YOU MAKE THIS RECIPE? Share your creations by tagging @notquitenigella on Instagram with the hashtag #notquitenigella
Sweet Potato Pie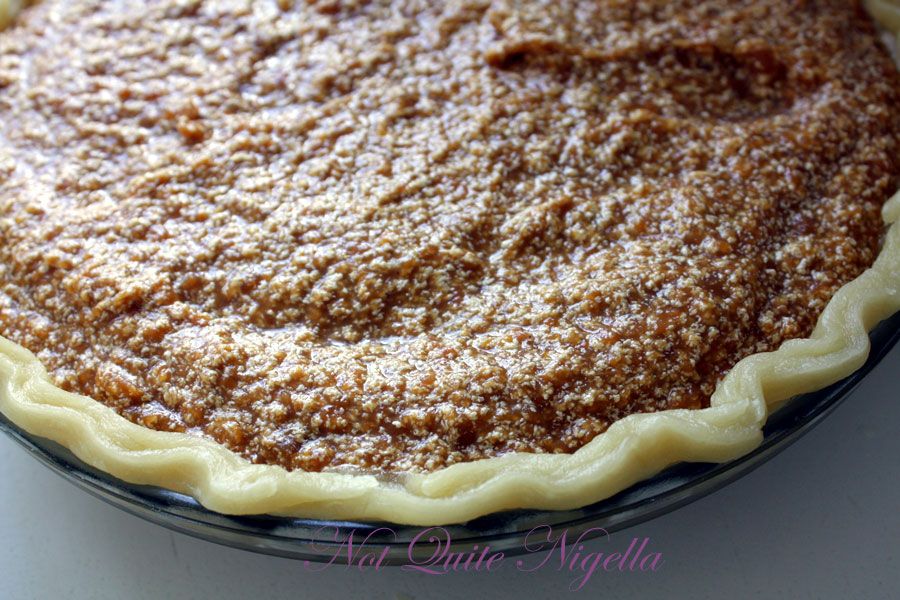 Filling
1 tablespoon molasses or golden syrup
1/2 teaspoon ground cinnamon
1 teaspoon vanilla extract
Pie Crust
1/2 cup plus 1 tablespoons vegetable oil
4-5 tablespoons of cold milk
1 9 inch pie dish, greased with butter
plus 1 tablespoon of milk for milk wash
Or 1 9inch unbaked pie crust
DIRECTIONS-make step 1 of filling first as this takes 40-50 minutes to cook. Whilst cooking you can prepare the pastry.
To make pastry:
Step 1 - Mix flour, salt and sugar. Measure oil and milk together but don't stir together. Pour the milk and oil into flour until combined and resembling a pastry. If it doesn't come together add a little more milk.
Step 2 - Roll out pastry on greaseproof paper with a rolling pin (it will be hard to roll as small bits flake off, the greaseproof paper is the best thing to combat this) and roll out pastry to fit pie tin. Carefully lift pastry into greased pie dish. I found it difficult to get the fluted edge as I couldn't roll the pastry out enough so if you want to get the edge which always looks nicer, roll out your remaining pastry and then cut into 1cms strips, Pinch the strips together down the length of the strip to make them 1/2 cms thickand then pinch it to make the fluted pattern. Lift lengths of this onto the edge of the pie crust and neaten the job. Do this until the whole pie crust edge has a fluted edge. Place pastry in freezer while you get the filling together.
To make filling:
Step 1 - Boil sweet potato whole in skin for 40 to 50 minutes, or until done. Run cold water over the sweet potato, and slip off the skins.
Step 2 - Break apart sweet potato in the bowl of an electric with a fork, it will be mushy so this will be easy. Add the butter, and mix well with mixer. Stir in sugar, milk, eggs, nutmeg, cinnamon and vanilla. Beat on medium speed until mixture is smooth. Pour filling into an unbaked pie crust. Brush pastry edges with milk wash.
Step 3 - Bake at 350 degrees F (175 degrees C) for 55 to 60 minutes, or until knife inserted in center comes out clean. Pie will be puffed up but will sink down as it cools.