Today we delve into the deliciousness of Portuguese pastry with this simple but delightful Jésuita pastry. The triangular shaped puff pastry is filled with an almond egg cream and topped with either a meringue icing or a sprinkling of flaked almonds. These are also ridiculously easy to make!
The Jésuita is a "Doces Conventuais" or a convent sweet. In Portuguese cuisine these convent sweets play a large part of in the desserts and were often made of a combination of egg yolks and sugar and or pastry or cake. History goes that the nuns and monks used to use the egg whites to starch their clothing so they would have a surplus of egg yolks (tip: save this recipe for when you have a surplus of egg yolks eg. when you make a pavlova). When you eat Portuguese sweets you'll be amazed by how many ways they use egg yolks (and perhaps wonder at how many egg whites they must have needed to starch their clothes!).
Jésuitas originate from the North of Portugal and we ate some of the pastries in Porto which is the largest northern Portuguese city where you can sample some of Northern Portugal's delights. They're said to be shaped like the frocks of Jesuit priests hence the name and truth be told, I didn't love the one I tried as the pastry was quite dry and I couldn't even detect any almond cream filling.
However I've had others since made with butter puff pastry and with more filling and they were wonderful. Like a simpler version of an almond croissant really. I've even seen these made with chocolate (for a version of a pain au chocolat) or chocolate custard. I'd even say Nutella would be gorgeous but don't tell anyone I suggested that ;)
Biting into these reminds me of our holiday in Portugal and the fun that we had travelling across the country eating pastries and sweets. But although I love travelling, at the end I'm always glad to be home, especially when I'm travelling in a cooler climate and home is warmer. When we got back to Sydney I opened the balcony door and I swear the words of The Castle's Daryl Kerrigan came out of my mouth. "I love Australia, why would you live anywhere else?" I said about the sunny 24°C/75.2°F weather outside.
Later in bed that night, slightly jetlagged I had no idea where I was. I had fallen asleep pretty much straight away. Mr NQN was reading on his phone when I suddenly woke up.
"Where are we?" I said startled awake.
"We're home," he answered.
"No we're not," I said to him.
He turned on his phone light, "Look. See we're home," he said.
The worst part is that I looked around confused and even with everything illuminated I didn't recognise our own bedroom. I think my mind was still in Portugal and perhaps on these jésuitas!
So tell me Dear Reader, have you ever tried a Jésuita? Do you suffer badly from jetlag when you travel?
DID YOU MAKE THIS RECIPE? Share your creations by tagging @notquitenigella on Instagram with the hashtag #notquitenigella
Jésuitas Portuguese Pastry
An Original Recipe by Lorraine Elliott
Preparation time: 20 minutes
Cooking time: 30 minutes
100g/3.5ozs. sugar
50ml/1.7flozs. water
2 egg yolks (tip: try to make sure that there aren't any egg whites in this)
75g/2.7ozs. almond meal
1 tablespoon finely grated lemon or orange zest
1 teaspoon ground cinnamon
Pinch of salt
3 sheets butter puff pastry (550g/20ozs.), defrosted in the fridge
Egg wash and 1/4 cup flaked almonds
Step 1 - Preheat oven to 220C/440F and line two baking trays with parchment. Bring the sugar and water to a boil and boil for a minute until sugar dissolves. Remove from the heat and whisk in the egg yolks off the heat. Place back on the heat on a low heat to cook through for 10 minutes. Add almond meal, citrus zest and cinnamon and allow to cool.
Step 2 - Take each square of pastry and fold it in half creating a double layered rectangle. Cut out even sized triangles out of the pastry-I used a ruler just because you do want them to be the same size. Repeat with the rest of the pastry. Take half of the triangles and spread with the almond filling leaving a 1cm/half an inch border.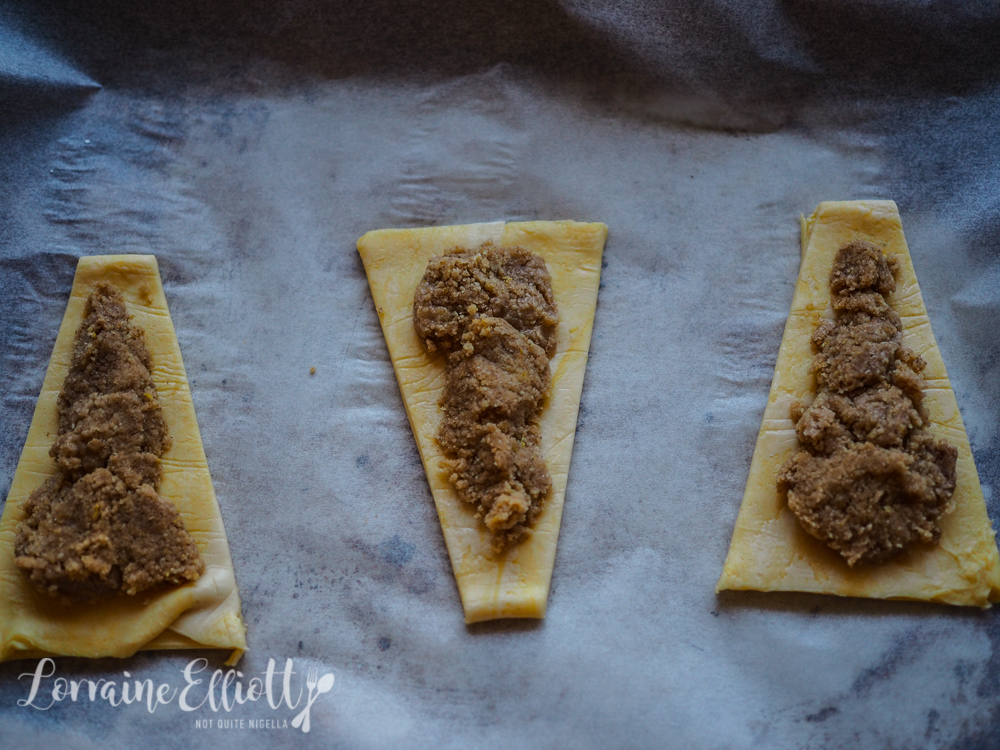 Step 3 - Take the egg wash and brush around the edges. I find it a bit helpful to roll out the other triangle halves a bit so that they fit over the bump in filling so I roll them out slightly. Press down gently to seal and then brush the tops with eggwash and scatter almonds. Bake for 15 minutes or until golden brown. Sprinkle jésuitas with icing sugar and serve warm.