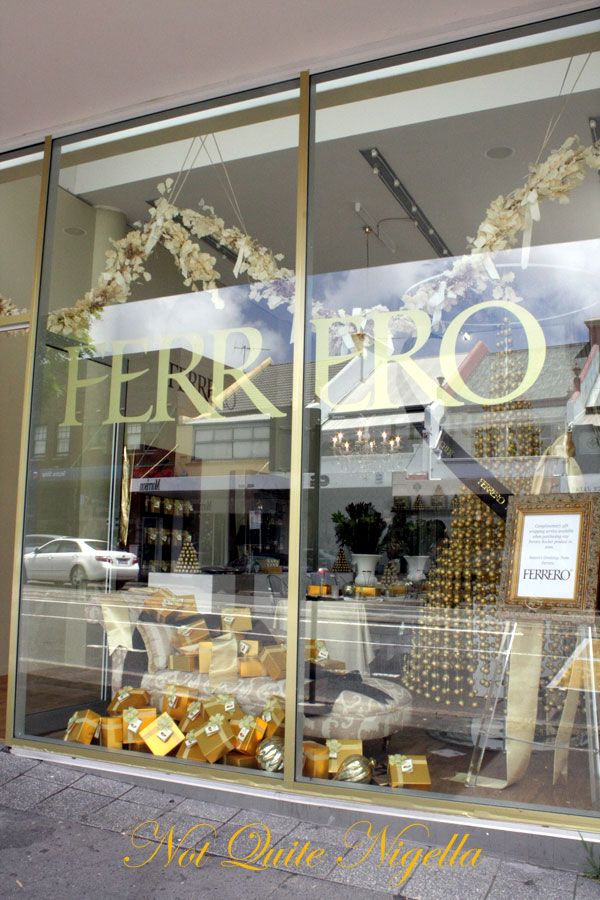 They say there's no such thing as a free lunch, and whilst I usually maintain that this is true, at times like these, I have to disagree. For what was to greet me when I drove past the Woollahra end of Paddington but a Ferrero Rocher Wrapping store. Part of the new PR trend of Pop up stores, that is, stores that open up for a short period of time to display a new product or launch a new concept, the Ferrero Rocher Wrapping store is one where you can purchase Ferrero Rocher chocolates but also get your Christmas Wrapping done for free. Yes no matter which store you buy the item from, the lovely girls will wrap it for you for free. And if you buy an item from the Ferrero store, you can get up to 3 items wrapped for free.
Complimentary samples
For those male readers out there and this includes my husband who once used a whole roll of wrapping paper to wrap up a book for me (wrapped up about 15 times around the book), this is a godsend for you. And for those who are just interested in chocolate, there are samples of their Ferrero Rochers, Rondnoirs (dark chocolate) and Raffaelos.
Boxes of Raffaelos for $15.99
Box of 24 Rondnoirs for $14.99
Limited Edition Gold boxes of 24 Ferrero Rochers $19.95
Also on sale are the limited edition gold boxes of 24 Ferrero Rochers for $19.99, boxes of 24 Rondnoirs for $14.99, Mini Christmas trees containing 60 Ferrero Rochers for $39.99, Raffaelos for $15.99 and the Special Assorted box featuring all of the flavours including the white Ferreros for $29.99.
Gold register-me wanty! For what I have no idea...I just want
There's a gorgeously styled table in the centre of the store with to die for Philippe Starck chairs that I would love to have in my dining room. The space itself previously housed another pop up store and before that a long term clothing store that shut down. During the time I am there people wander in, drawn in by the new store and it's luscious golden hues. Most are in awe of how quickly the space has been transformed and how pretty it is and others sample the chocolates and make notes to come back with gifts to wrap.
Wrapping the presents
I explain my predicament to the girl who greets me in this golden hued shop, that I haven't finished my Christmas shopping and if I come back later with the goods once I purchase them and she says that it is not an issue at all, I can come back at any time to get the goodies wrapped up together.
I purchase a box of Rondnoir's for a friend who I know is partial to Dark Chocolate. They're crisp dark chocolate covered chocolates, with a smooth filling and a dark chocolate centre.
Trying one at first bite it reminds me of a Kit Kat mixed with a Milo bar which is a very nice combination indeed (especially since they discontinued the original, beloved Milo bar). Apparently not even available in Italy, these are the first I am seeing of them which no doubt will please my friend and I won't even have to lift a finger to wrap it.
Ferrero Rocher Wrapping Store
461 Oxford Street Paddington Sydney NSW
Open 7 days until December 24th at 8pm
Wednesday-Saturday 10am-6pm
Thursday 10am-8pm
Sunday 12pm-5pm