When I first tried Plan B's Wagyu burger I became somewhat of a blathering fool. Everyone that I knew was harassed into trying it. When I'm onto a good thing I like to let people know and indeed the Wagyu burger that I had was certainly a thing of sensory beauty: a thick delicious coarse ground beef patty, moist and mouthwateringly delicious, with a come-hither-and-consume-me aroma and a burnished bronze brioche bun. It was probably the best burger I've ever had (and I've tried many). When I lamented that because I don't work in the city I find it hard to get my Plan B Burger fix, fellow blogger Reem linked me to the Gourmet Traveller website that had the recipe for their burger. Like one of Pavlov's dogs I instantly started salivating at the memory. Yes, I could have it again!
The perfect day to have this was of course Australia Day. Our friends Gina and Hot Dog have a pool which usually means a visit there every Australia Day where the mercury reaches Simpson Desert levels. So together with Teena and Phillippe we headed over to their house and we brought the Wagyu burgers.
I saw the recipe stipulated Brioche rolls and I do recall how well they went together - the sweet, buttery golden bun going so well with the moist, flavoursome Wagyu patty. The French patisserie near me had brioche rolls but at over $5 per roll (and I needed 6), I figured I could take this chance to make my own. It was fiddly and high maintenance but the end result was sublime. Light and buttery golden. I baked them on the day and even Gina and Hot Dog who are on strict low carb diets enjoyed them. The recipe below does make far more than you will need but as there is a lot of effort in making brioche I felt that we could always eat them for breakfast or lunch or freeze them if we needed to (they do lose the softness pretty quickly so freezing them is best).
Wagyu patties with melted cheese
As for the Wagyu burger itself, believe it or not, the patty itself is simply 3 main ingredients: Wagyu mince (coarsely ground), breadcrumbs and an egg. It doesn't get much simpler than that. And with only a few minutes to cook and the most incredibly moist burger produced, I was stunned at how easy it was to make a brilliant Wagyu burger and stunned that so many places do bad ones. I am pleased to report that it got a big thumbs up from everyone. This was after a silence where I was bit concerned (I wondered if perhaps they were being polite to tell me that it wasn't good) but it turns out that the silence was that of them enjoying the burger. And that is a silence I can wholly understand.
Wagyu burger
Makes 4 (or 6 smaller patties)
For Wagyu Patty
500 gm wagyu mince, coarsely minced (I bought some already perfectly minced from Tokyo Mart in Northbridge)
75 gm dried fine breadcrumbs
1/2 teaspoon salt and pepper
Caramelised onions
2 medium brown onions, coarsely chopped
To serve:
Baby spinach leaves, washed
Carmelised onion (see above)
4 brioche rolls, split and buttered
Wagyu beef mince from Tokyo Mart-already coarsely ground
Step 1 - Place mince in the bowl and mix with breadcrumbs and egg. Season to taste. Mold into patties and place on a tray, cover with plastic wrap and refrigerate for 30 minutes.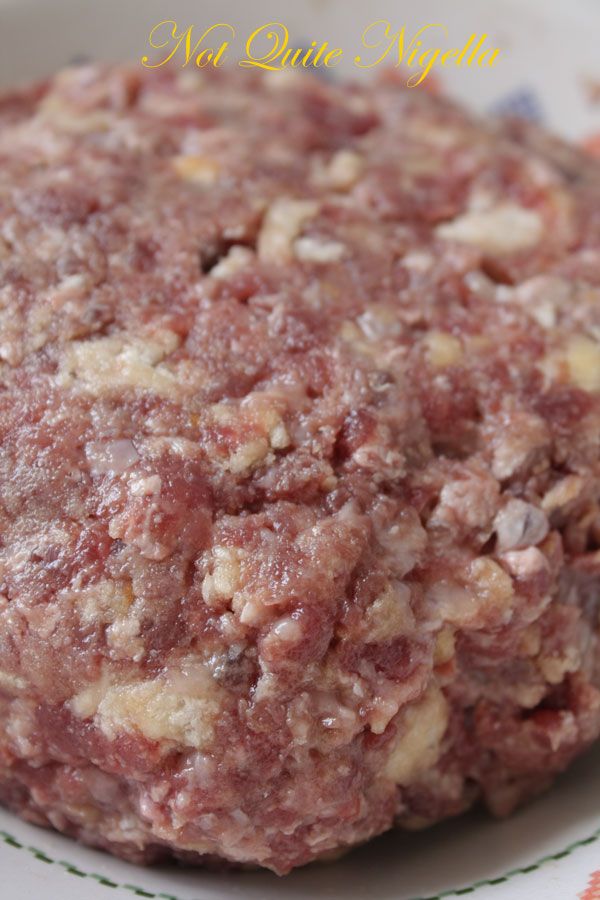 Wagyu patty mixture
Step 2 - Make caramelised onion. Combine onion, oil and butter in a saucepan, season to taste and stir frequently over low-medium heat until caramelised (45 minutes). Meanwhile, while the onion is cooking, preheat oven to 250C. Remove onions from pan and set aside to dress burger. Deglaze pan with Madeira, and then fry the burgers in the Madiera'd pan so that they are browned on each side (only 1-2 minutes).
Step 3 - Place patties on oven tray and top each patty with a cheese slice and roast until cheese just melts (1-2 minutes).
Step 4 - Spread buttered spilt brioche with mayonnaise. Top roll bases with baby spinach leaves, burger patty, caramelised onion and beetroot. Sandwich with roll tops and serve immediately.
Adapted from Plan B's recipe on the Gourmet Traveller website
Golden Brioche rolls
Makes 10 brioche rolls
1/3 cup warm water (105°F to 115°F)
1/3 cup warm milk (105°F to 115°F)
2 envelopes/14g/4.5 teaspoons dry yeast
3 3/4 cups all purpose flour
1 1/2 cups/3 sticks/320grams unsalted butter, each stick cut into 6 pieces, at room temperature
1 egg, beaten to blend with 1 tablespoon water (for glaze)
Step 1 - Place the warm water, warm milk, and yeast in bowl of standing heavy-duty mixer; stir until yeast dissolves. Fit mixer with dough hook. Add flour and salt to bowl; mix on low speed just until flour is moistened (you may need to use a spatula to help combine the two) about 10 seconds. Scrape sides and bottom of bowl. Beat in 3 eggs on low speed, then add sugar. Increase speed to medium and beat until dough comes together, about 3 minutes. Reduce speed to low. Add butter, 1 piece at a time, beating until each piece is almost incorporated before adding next (dough will be soft and batter-like). Increase speed to medium-high and beat until dough pulls away from sides of bowl which will take about 7 minutes. You'd be surprised at how it does come together after a while as it looks beyond repair at times!
Step 2 - Cover bowl with plastic wrap. Let dough rise at room temperature until almost doubled in volume for about 1 hour. Lift up dough around edges and allow dough to fall and deflate in bowl. Cover bowl with plastic and chill until dough stops rising, lifting up dough around edges and allowing dough to fall and deflate in bowl every 30 minutes which is about 2 hours total. Cover bowl with plastic; chill dough overnight.
Step 3 - Place baking parchment on 3 baking sheets. Cut dough into 10 pieces and roll roughly into balls. Then pinch a small ball off the main ball and roll it and place it on top of the larger ball. Cover pans with waxed paper. Let rolls rise at room temperature until dough almost fills pans, about 1-2 hours.
Step 4 - Preheat oven to 400°F/200°C. Gently brush top of rolls with egg glaze. Bake until rolls are golden brown and sound hollow when tapped, about 20 minutes. Cool at least 1 hour.
Recipe adapted from Epicurious