With all of the sweet goodies we make for Daring Bakers which I love, I was incredibly excited to see a lasagne recipe appear for March's challenge. And as soon as I read it, I knew what I wanted to do for my lasagne. Firstly I wanted to make an open lasagne which has sat on my "to make" list for the longest time and secondly I wanted to make a Rabbit Ragù. Not that I have anything against rabbits mind you, I find them perfectly cute but I was intrigued by the idea of making a rabbit dish and I adore ragù.
Growing up, I had a Greek friend and her mum once made rabbit while we were at their house and I was disturbed by the smell of it cooking. But I wondered was this a symptom of my rabbitless palate? Had I matured my taste since then? I hoped so. Procuring a  rabbit was a bit of a challenge. I rang a few butchers - some said that they didn't stock it while other said that they didn't stock it because it was expensive. One rabbit typically costs about $35 (1.5 kilos) and one butcher said that there just wasn't a demand for it. I did find one Mosman butcher, Penny's, who had fresh or frozen rabbits. To get a fresh one, just give them 2 day's notice so I did, excited by the idea of obtaining a fresh rabbit.
I wanted to rabbit to be soft, much like the veal ragù I had at Pendolino's so I cooked it until it was incredibly tender. I asked M to help me with the deboning - being Austrian she was more familiar with dealing with game (indeed she ate the tiny rabbit kidneys) and she did a superb job. I used M's pasta maker to make the lasagne sheets, after all I've tried rolling pasta by hand and it isn't nearly as exciting as it sounds. And it's true - pasta made using a pasta roller is incredibly easy if you don't mind that repetitive action.
And the end result? It was delicious and liked by everyone that tried it. Not everyone did, Adrienne and the boys didn't want any part of it and ate a beef lasagne but my husband ate two serves and eagerly took the leftover rabbit home his eyes shining with excitement. I will warn those squeamish and who are ardent bunny lovers that below are some rather graphic photos of the fresh rabbit so please direct all complaints to your nearest Government agency ;) .
The March 2009 challenge is hosted by Mary of Beans and Caviar, Melinda of Melbourne Larder and Enza of Io Da Grande. They have chosen Lasagne of Emilia-Romagna from The Splendid Table by Lynne Rossetto Kasper as the challenge.
Open Lasagne with Rabbit Ragù
Rabbit Ragù
An original recipe by Not Quite Nigella
2 tablespoons unsalted butter
1 tablespoon finely chopped fresh sage
1 tablespoon finely chopped fresh rosemary
1 x3-lb/1.5kg rabbit, boned by butcher and meat cut into 1-inch pieces (1 1/2 lb boned) or you can debone it yourself (you can also replace this with veal or pork)
1 long stick of celery, chopped
14-oz/400g can whole cherry tomatoes tinned or fresh
There's no way to disguise it...
It's definitely a bunny...
Yup even upside down it's still a rabbit.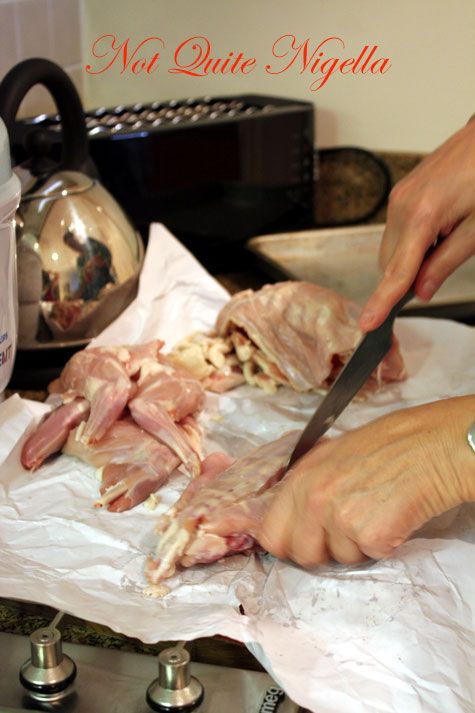 Deboning rabbit
Step 1 - Prepare rabbit if you are deboning it yourself. I always think cooking with bones releases a richer flavour so if you have asked your butcher to debone the rabbbit, ask for the bones and pop them into the pot. Otherwise if you're deboning it yourself, cut off as much flesh as you can-the legs have the most meat. The ribs have very little meat so you can add those whole. After cooking it for so long the meat will easily come off the bones.
Deboned rabbit meat with some meat left on the bones
Tiny rabbit kidneys
Ragu pot after 10 minutes cooking
Step 2 - Heat half of the oil and butter in a 12-inch heavy skillet (2 inches deep) over moderate heat until and add bacon, sage and rosemary and cook for 2 minutes. Add rabbit and cook for a few minutes. It may release some liquid so it may not brown but don't worry. Add onion, carrot, celery and wine and cook, stirring occasionally, until softened, about 10-15 minutes. Add tomatoes, sea salt, and pepper and simmer, stirring occasionally for about 1 hour to 1.5 hours. Top up with an extra 2-3 cups of water when it runs dry.
After adding cherry tomatoes
Step 3 - When the rabbit is very tender, using tongs and a fork remove the extra meat from the bones and start shredding it up in the pot so that it is soft and resembles pulled pork. Be warned, the rabbit does have tiny bones that are sometimes hard to catch just by looking for them. I don't mind the occasional bone and I think the trade off of the added flavour is more than worth it but you may want to warn your guests. Fatalities and choking are things to be avoided I find.
Spinach Egg Pasta (Pasta Verde)
Preparation: 45 minutes
Makes enough for 6 to 8 first course servings or 4 to 6 main course servings, equivalent to 1 pound (450g) dried boxed pasta.
2 jumbo eggs (2 ounces/60g or more)
10 ounces (300g) fresh spinach, rinsed dry, and finely chopped; or 6 ounces (170g) frozen chopped spinach, defrosted and squeezed dry
3&1/2 cups (14 ounces/400g) all purpose unbleached (plain) flour (organic stone ground preferred)
Equipment:
A roomy work surface, 24 to 30 inches deep by 30 to 36 inches (60cm to 77cm deep by 60cm to 92cm). Any smooth surface will do, but marble cools dough slightly, making it less flexible than desired.
A pastry scraper and a small wooden spoon for blending the dough.
Plastic wrap to wrap the resting dough and to cover rolled-out pasta waiting to be filled. It protects the pasta from drying out too quickly.
A sharp chef's knife for cutting pasta sheets.
Cloth-covered chair backs, broom handles, or specially designed pasta racks found in cookware shops for draping the pasta.
Mixing the dough:
Mound the flour in the center of your work surface and make a well in the middle. Add the eggs and spinach. Use a wooden spoon to beat together the eggs and spinach. Then gradually start incorporating shallow scrapings of flour from the sides of the well into the liquid. As you work more and more flour into the liquid, the well's sides may collapse. Add water to get a good consistency. Use a pastry scraper to keep the liquids from running off and to incorporate the last bits of flour into the dough. Don't worry if it looks like a hopelessly rough and messy lump.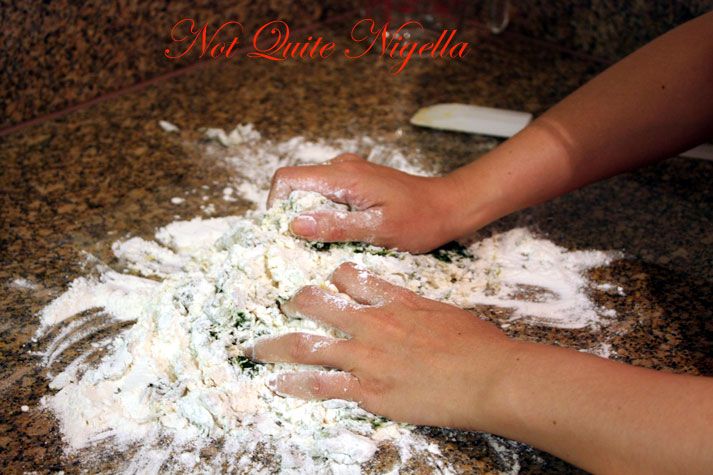 Kneading:
With the aid of the scraper to scoop up unruly pieces, start kneading the dough. Once it becomes a cohesive mass, use the scraper to remove any bits of hard flour on the work surface – these will make the dough lumpy. Knead the dough for about 3 minutes. Its consistency should be elastic and a little sticky. If it is too sticky to move easily, knead in a few more tablespoons of flour. Continue kneading about 10 minutes, or until the dough has become satiny, smooth, and very elastic. It will feel alive under your hands. Do not shortcut this step. Wrap the dough in plastic wrap, and let it relax at room temperature 30 minutes to 3 hours.
Stretching and Thinning:
If using an extra-long rolling pin work with half the dough at a time. With a regular-length rolling pin, roll out a quarter of the dough at a time and keep the rest of the dough wrapped. Lightly sprinkle a large work surface with flour. The idea is to stretch the dough rather than press down and push it. Shape it into a ball and begin rolling out to form a circle, frequently turning the disc of dough a quarter turn. As it thins outs, start rolling the disc back on the pin a quarter of the way toward the center and stretching it gently sideways by running the palms of your hands over the rolled-up dough from the center of the pin outward. Unroll, turn the disc a quarter turn, and repeat. Do twice more.
Stretch and even out the center of the disc by rolling the dough a quarter of the way back on the pin. Then gently push the rolling pin away from you with one hand while holding the sheet in place on the work surface with the other hand. Repeat three more times, turning the dough a quarter turn each time.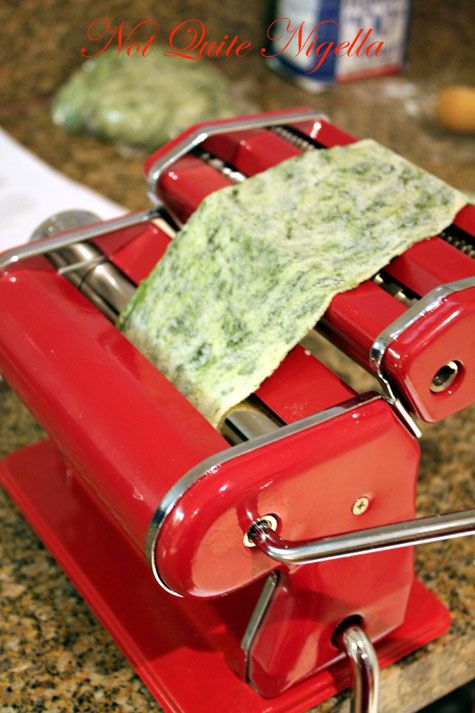 Repeat the two processes as the disc becomes larger and thinner. The goal is a sheet of even thickness. For lasagne, the sheet should be so thin that you can clearly see your hand through it and see colours. Cut into rectangles about 4 by 8 inches (10 x 20 cm). Note: Enza says that transparency is a crucial element of lasagne pasta and the dough should be rolled as thinly as possible. She says this is why her housekeeper has such strong arms!
Rolling using a pasta maker:
OR use a pasta maker by rolling a small piece and starting at the thickest setting (usually 0 or 1) and then keep rolling and reducing the thickness by selecting a higher number until you get a thin sheet. Cut into squares.
Dry the pasta at room temperature and store in a sealed container or bag.
Bechamel Sauce
Preparation Time: 15 minutes
4 tablespoons (2 ounces/60g) unsalted butter
4 tablespoons (2 ounces/60g) all purpose unbleached (plain) flour, organic stone ground preferred
2&2/3 cups (approx 570ml) milk
Salt and freshly ground pepper to taste
Freshly grated nutmeg to taste
Using a medium-sized saucepan, melt the butter over low to medium heat. Sift over the flour, whisk until smooth, and then stir (without stopping) for about 3 minutes. Whisk in the milk a little at a time and keep the mixture smooth. Bring to a slow simmer, and stir 3 to 4 minutes, or until the sauce thickens. Cook, stirring, for about 5 minutes, until the sauce thickens. Season with salt, pepper, and a hint of nutmeg.