Prejudices are one of those things that in a civilised society, you don't want to admit that you have but of course, being human you inevitably do. You prejudge people because your brain tries to sort out friend from foe using a sample size of those you have met or read about. They're not always correct, of course, many people defy prejudices or stereotypes. After all stereotypes are meant to be broken by personalities and individuals.
Rainbow bow pasta-sourced from unicorns (or the Queen Victoria Market in Melbourne)
As I set this down in front of Mr NQN I said "Don't be put off because of the colour". I could tell there was slight alarm on his face when he saw how pink and colourful it was. He has a natural aversion to pink things and the suspicion was written all over his face. Until I explained that the pink was from beetroot, the colourful pasta was one that we had bought in Melbourne and not supplied by unicorns and the sauce contains delicious amounts of cream, gorgonzola and jamon serrano.
The sauce is really a cinch, made up in a matter of minutes with a total of four ingredients plus a touch of oil and is perfect for any Breast Cancer dinners or lunches you may be hosting or participating in or Spring lunches. It is absolutely delicious and has a balance of salty from the jamon serrano which I was saving from my lovely Brookvale Meat Supply delivery, sweetness from the roasted beetroot and richness from the cream and gorgonzola. I cannot stress how delicious this is. Don't feel like you need to source this rainbow pasta from passing flying unicorns to make this dish, regular bows will do.
So tell me Dear Reader, you can tell me, what prejudices do you have? ;)
Rainbow Pasta
Serves 2
For sauce
30-50grams gorgonzola (to taste)
1 slice of jamon serrano (you can use prosciutto for this too)
Step 1 - Firstly roast the beetroot. In a 180C/350F oven roast beetroots for 1 hour. I know it seems silly to roast two tiny beetroot for such a long time. I'd suggest roasting a whole lot of them and then using them in salads. Try and find the smaller ones as they are less woody. Set aside.
Step 2 - Cook the pasta according to directions in plenty of salted boiling water. Drain.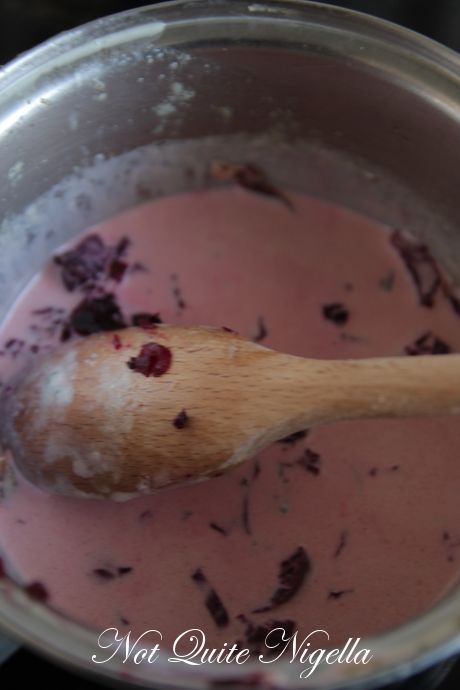 Step 3 - In a small saucepan on low to medium heat, add a teaspoon of oil and crumble the gorgonzola in and cook it stirring all the time so that it doesn't catch on the bottom of the pan (it will slightly but don't worry). Add the cream and heat this up on medium heat  and keep stirring until the gorgonzola has melted into the cream. Add jamon serrano and beetroot.
Step 4 - Place pasta in a bowl and pour sauce over.