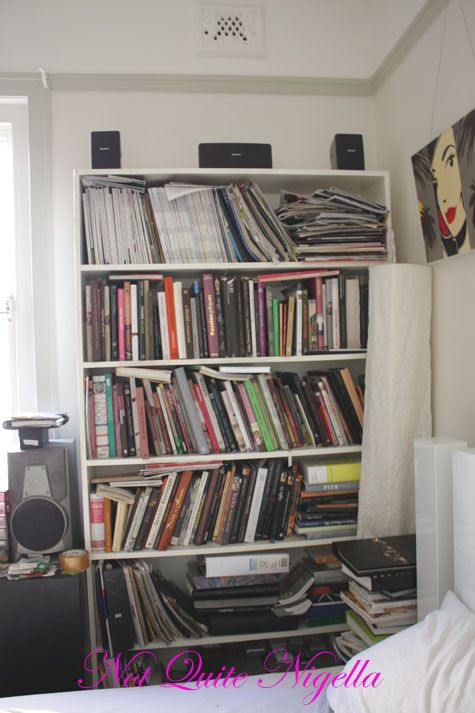 Zumbo's Bedroom Bookshelf
So the story goes, I was in Adriano Zumbo's bedroom so I took a snap of his bookshelf but more on that later. And what was I doing at his house? Getting a preview of his new collection: 40 Days and Nights in Paris (due out May 23rd) for my birthday! For a food blogger, this is as close to the best birthday gift you could _ever _get. "You're the first to see the whole collection" he says "even the guys in the kitchen have only seen two of them" and I suppress an internal squeal.  Oh yes, birthdays are a good thing indeed.
Kitchen bookshelf
Zumbo recently returned from two months in the City of Lights which included attending the Coupe du Monde de la Patisserie (World Pastry Cup) and working at Pierre Herme, hence the collection's name, and he came home eager to get back into his own kitchen and get started on his new collection. Speaking of his kitchen, the minute I walk through the door, I know I'm in the home of a chef. It's a huge, gorgeously spacious kitchen with a massive island and one of those heavy duty restaurant kitchen faucets. I spy a bookshelf full of cookbooks (including Nigella's "How to be a Domestic Goddess") and when I ask if I can take a photo of them, he says "Let me show you the _real _bookshelf". This is the one he spoke about in his interview with me which is in his bedroom. It's packed with some amazing cookbooks of the professional calibre from the Libarie Gourmande in Paris.
Zumbo's home kitchen
As for the cakes, let me present a preview of them without any further ado. **As the cakes remain unnamed at this stage, if you'd like to suggest some names for them, please leave a comment as Adriano will be checking this page. Who knows, he might get inspiration from your suggestions! He said that he loved reading the comments from all of you in his interview so get your thinking caps on and name away! :)
Cake #1
The "Chocolate popcorn" has a layer of flourless chocolate sponge, almond praline feullitine, salted popcorn disks, Dulce de leche and vanilla almond chantilly. It's beautifully nutty, crunchy and soft and I admit I loved eating this layer by layer, especially the almond praline feullitine and Dulce de Leche.
Cake #2
With a pate sable base and a violet curd, orange smoked rice brulee creme and segments of mandarin, this tart was creamy and refreshing at the same time and produced raptures of pleasure from every single tester. The flower will be replaced by violet but this cake was the absolute favourite of the testers.
Cake #3
One of the more avant garde of the collection, this ingenious Coke Can shape complete with silver pull tab will feature a straw in the centre so that you can suck up the liquid centre-yes really! Made of a flourless chocolate sponge, a delicious chocolate sabayon mousse on the outside, gassy fizzer disks with pop rocks to simulate fizz and cherry & cola jelly and a liquidey centre called a cherry Cola slurp which is a river of chocolate and cherry it is reminiscent of a cherry ripe sans coconut and is truly a feat of engineering with a cup inside to hold in the liquid contents. And because this is the most avant garde of the collection, it seems only fitting that he use unconventional methods to get it perfect including the use of a spray gun to get the effect of tiny droplets on the outside.
Cake #4
The Mille Feuille is a triple layered pine nut gianduja mousse and 70% chocolate creameaux topped and bottomed with a fantastic caramelised buttery sweet puff pastry. This was another favourite of the testers with everyone commenting on the delectable buttery pastry.
Cake #5
The new upside down "Cloud", the meringue base is topped with a scoop of citrus curd and sable biscuit dust. Lemon curd lovers will adore this - Queen Viv who is not a sweet tooth adored it and proclaimed to be able to eat them all night long.
Cake #6
My favourite ever Zumbo cake was the original Wheelie Good for its utterly sensuous mix of textures and every season I look forward to the familiar round paddle popped design to see what flavours he has come up with for the design. This season is a homage to one of my favourite childhood sweets: the Toffee Apple. Inside is a perfect Apple Tatin compote with a luscious toffee hazelnut meringue contrasted with a billowy soft Apple tatin chantilly, Anzac moisture and White chocolate mint disks.
As always it's a textural delight with the crunchy toffee, soft cream and meringue producing something akin to complete oral harmony. I could get all sexy here but I'll refrain and let you experience it for yourself ;)
Cake #7
The caramelised mint and fresh black truffle Creme Brulee is an intriguing one. It's minty and earthy and quite fascinating. Definitely for those who are sick of vanilla creme brulee and seek more alternative pastures. Many of my tasters adored its intriguing flavour.
Adriano demonstrates how to hold a cakebox properly
And if you've ever wanted to know how to hold a cake box Adriano explains that you should never put your hand on the base of the cake box as this will cause the bottom to curve upwards and the cakes to fall on their side. With his cake boxes, simply hold them by their handle and they will arrive home safely.
And I know many of you will also be intrigued by the new macaron flavours so allow me to list the new macaron flavours for the season: Salted Pure Nut Gianduja; Cola; Mandarin & Tonka Bean; Caramel Beurre Sel (Salted Butter Caramel); Tasmanian Leatherwood Honey & Walnut; Quince, Passionfruit & Chestnut; Eucalyptus; Rhubarb Crumble; Rice Pudding; Blackcurrant; Baklava (Limited Edition); Popcorn and Toffee Apple.
Yes there is a God. And God loves macarons.
Adriano's new collection "40 Days and 40 Nights in Paris" will be out on May 23rd. And don't forget to suggest some names!
Adriano Zumbo Patissier
296 Darling St, Balmain
Open 7 days
Current collection above available from Saturday 23rd of May, 2009.
Adriano Zumbo Cafe Chocolat
308 Darling St, Balmain (inside Balmain Mall)
Open 7 days from 7am-6pm (times may vary as the cafe settles in)