I could subtitle this: the world's (or ok Sydney's) most anticipated cafe opening. After waiting for weeks and penciling in several possible opening dates, holding time slots open on busy weekends and having each pass by without a hint or sniff of a glorious cake, here we are, 3 weeks later, sitting in the Zumbo Café Chocolat. With who else of course but fellow bloggers and Zumbo addicts Suze from Chocolate Suze, Belle and William from Ooh Look... and bloggers I am meeting for the first time, Richard (Ffichiban) from Here Comes the Food and Chris and Tim from The Way That It Crumbles.
For the men
The cafe is small but sumptuously furnished with red chandeliers, flocked cushions, dark wood paneling and banquette seating. The men aren't forgotten with section featuring a petrol pump and bar seating.
Humbug lights and counter display
At the front there is the chocolate, pastry and macaron selection with some great lights (https://images.notquitenigella.com/images/adriano-zumbo-cafe-chocolat-balmain/a-zumbo_cafe_bill.jpg)For a cafe open only 3 days earlier it is pretty full the entire 1.5 hours we are there.[
](https://images.notquitenigella.com/images/adriano-zumbo-cafe-chocolat-balmain/a-zumbo_cafe_bill.jpg)
Photo by Belle from Ooh Look...
The talk of the room is the Cameltoe chocolate. Yes you heard correctly. It is a chocolate in the shape of a cameltoe. Belle and Suze show us photographic evidence of the graphic and yes, it is a very cameltoe-ish shaped red wine chocolate. For those of you unfamiliar with a cameltoe, google it if you're not at work. And if you're my parents, don't google it and forget you ever read this.
Photo by Belle from Ooh Look...
The chocolate itself begs the question where does one find a Cameltoe shaped chocolate mould? I've seen penis and boob chocolate moulds (I may admit to actually being given some penis chocolates at some stage in my life but will deny it if you ever ask me). Rachel, the lovely manager of the cafe tells us that they're actually a fairly common chocolate mould and when they saw it the resemblance to a Cameltoe was so remarkable that they named it the Cameltoe. We preferred to call it the "CT" as there are others about that are perhaps not aware that we are discussing one of the menu items. And the blush inducing moniker works as today they have sold out of it!
Sweets menu
Savoury menu
There's no menu yet as the cafe only opened on Thursday a few days ago but the wait staff come over to us to let us know what there is available. We order one of each type of dessert as well as some of their drinks. As well there are also pastries, filled rolls and Elmstock teas in intriguing sounding names like Green Gunpowder and Barbados (reportedly very nice as an Iced tea). We're given Splayds (yes Splayds-that fabulous retro cake fork invention) and real linen napkins (oooh yes proper napery).
Iced Cherry chocolate $4.50
My iced chocolate with cherry arrives with a thick layer of dreamy cherry compote (the compote made and reduced on the premises as is everything except the ice cream which comes from Messina but this too will be made on the premises in the future). It's like a gorgeous Cherry Ripe flavoured iced chocolate in a glass with dark icey chocolate and a hint of coconut cream as well as the cherry base. I feel like I've hit the jackpot. There are also other Hot Chocolate flavours such as Mint and Chili but quite honestly I am happy being monogamous with this one.
Hot Chocolate $4 each
Belle orders a cherry hot chocolate which she declares very rich, Suze is lulled into silence cupping her regular Hot Chocolate and Christina and Tim order a regular Milk Iced Chocolate which they seem pleased with.
"The Younger Years" $13.50
My order is "The Younger Years" which is the daily special that I was sold on because of the syringe application and kidney dish plate. It's a warm chocolate fondant with peanut butter ice cream which comes with an accompanying syringe of raspberry. The fondant is so gooeily good with the molten centre and raspberry and cream injection and the peanut butter ice cream is very true to flavour and a lovely compliment to the richer than rich fondant. I never finish my desserts but I do a pretty good number on this one.
Injecting the raspberry sauce
I ask Adriano what his inspiration behind it was and he said that he started with the Syringe and the idea developed from there. His sister works in a morgue (haha no the syringes aren't from her morgue, it's not a Coogee Bay Hotel scandal people!) and out of the syringe came this fabulous idea. He said it didn't look right to serve it on a plate and so a kidney dish was of course the perfect choice.
Miss Marple Deconstructed $13.50
I try some of the Miss Marple Deconstructed which is Belle and William's selection, a take on his famous Miss Marple dessert and one of my favourites from his collection. It's two maple syrup caramelised crepes filled with luscious mascarpone cheese and Grand Marnier with fresh strawberries and orange jellies. The crepe itself is gorgeous and I don't even think it needs the fresh strawberries for taste and I find the orange jelly a little too tart for my personal preference. Just a dozen of those crepes for me please.
"It's not a Hamburger" $13.50
Suze's selection, It's not a Hamburger, is a chocolate macaron sandwich with a dolce latte gelato and a rice pudding on the base and chocolate "soil" on the top in the way of a crushed up chocolate cookie. It's very good (I've never met a Macaron I didn't like), but interestingly we definitely taste a Bannoffee flavour to the gelato which is not a bad thing, indeed it's a very good thing. I don't get any Rice Pudding but Suze tastes it in the base.
Greeted with the lovely Rachel's smiling face
I purchase a few goodies to take away with some helpful suggestions from Rachel. She also tells us of the upcoming desserts to be added to the menu: the texture plate with chocolate of different temperatures and textures; the strawberry plate with a strawberry emulsion milkshake, macaron and sorbet (yes me please!). These will be added by next week. People can also buy the cakes from the store 5 doors down and eat them at the cafe.
Truffles
There are a multitude of truffle flavours including cappucino, yuzu sticks, salted caramel, vanilla caramel, praline feuilletine****, rotten eggs, boiled eggs, ginger crunch, gianduja,  lavender, saffron and butterscotch.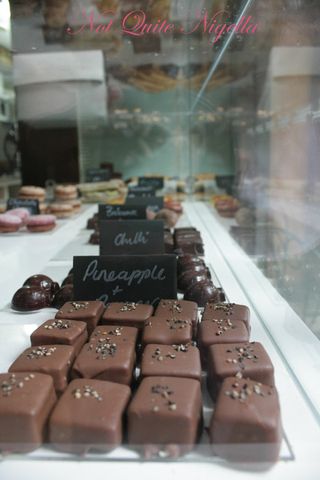 My selection clockwise from bottom left: Pineapple and Pepper Milk truffle; Boiled egg Chocolate, The Earl Grey Macaron $2; Rose and Mandarin truffle and Lime dark truffle
I am excited about the Earl Grey Macaron as there is YAY more filling! If I had one grumble about the mini macarons it was that there wasn't enough filling. Not so with the full sized babies. Earl Grey happens to be my favourite tea and so I fall upon the Earl Grey having had my earlier selection sold out (the Yuzu, a Japanese citrus fruit one). I am not disappointed, the Earl Grey flavour so present in every crunchy, squidgy delicious bite whilst the luscious chocolate centre spurts out when bitten into. There's nothing I hate more than buying a flavour of something and finding no resemblance to the flavour in the item, or worse still a different flavour. It's a pet hate of mine.
The chocolates are sold by weight and average at about $1.30 per smaller chocolate to a bit more for the larger ones. The rotten egg chocolate egg "white" is white chocolate and coconut  whilst the "yolk" is passionfruit jelly. I like this as I find that sweet whtie chocolate needs a slightly tarter flavour like passionfruit.
The Rose and Mandarin truffle is a gorgeous two layered truffle that tastes like the softest Turkish delight of your dreams. And the Lime truffle, so strikingly reminding me of a crisp men's shirt (good gift idea!) is great-the lime subtle yet very present if that makes any sense at all. The only truffle that doesn't grab me is the pineapple and pepper milk truffle which is too sweet for me and the pepper too subtle. I think dark chocolate would suit this better to temper the sweetness of the pineapple jelly centre.
Clockwise from left: Pineapple and Pepper milk chocolate truffle, Gianduja (chocolate hazelnut paste) and strawberry balsamic dark truffle.
Gianduja (left) and Butterscotch (right)
Adriano
We bump into Adriano outside and I ask him about the famed Cake Walk and he confirms that it will happen, hopefully before Christmas this year or at least January 2009. A promise is a promise after all!
Adriano Zumbo Café Chocolat
308 Darling St, Balmain (inside Balmain Mall)
Open 7 days from 7am-6pm (times may vary as the cafe settles in)