The brief: to find a quietish (as in not a rackety din) restaurant, within 20 minutes of where we all live that allows for BYO wine and with mains $30 and under. We had exhausted my list so I went a hunting and asked friends. Some that live in Balmain (dubbed the Insular Peninsula) suggested their local favourite, Bistro Bruno.
_Bellini $14
_
Queen Viv, Miss America, Mr NQN and I settle into our table at Bistro Bruno. Miss America hails the call for a bellini, the special drink of the day and lies back and takes a sip. "Excellent" he says. We dither over the menu until we come up with a suitable combination of goodies._
_
Linguine pasta tossed with sauteed prawns, chilli, chorizo, flat leaf parsley, olives and garnished with"al forno" garlic breadcrumbs, entree size $19
This seafood linguine was lovely with gutsy flavours from the seafood, olives, chorizo and strong in garlic with nice crunchy breadcrumbs that stayed crunchy until the very end. There were four prawns and a big handful of sliced chorizo which I was pleased and greedily eager to see.
Salted duck and pink lady apple arancino served with red cabbage and cafe au lait sauce. $17
The responses for this arancino ball were mixed. Queen Viv loved this dish and Miss America liked it but felt that the duck flavour was masked with the cafe au lait sauce. The arancini comes as one quenelle with the crunchy risotto rice and another quenelle of red cabbage. I didn't get to try much of this.
De constructed quail Pan roasted breast, confit leg, and chipolata served with etuvee of leek, potato latke, quince glaze and jus.$18
Etuvée is cooking vegetables in their own juices after cooking them in a little oil and they are soft and flavoursome and shaped like a latke (potato pancake). There are three pieces of quail here: a pan roasted bread, the confit leg and a short fat chipolata sausage. I particularly enjoyed the confit leg and pan roasted breast as it was soft and  juicy. The sausage has a slightly gamey flavour to it.
Mille feuille of crab brandade with a radish and baby leaf salad, ratatouille dressing $18
Queen Viv's mille feuille comes with a very thin crisp pastry and brandade, which is a paste made of bread, oil and usually done with salt cod is done here instead with crab. We find the flavour of the crab a little lost in the brandade -salt cos is a more robust match to it whereas the resulting flavour is a bit more like mashed potato.
Fish of the day pan roasted, served on saffron mussel risotto with warm pepperonata, smoked garlic and dill aioli. Market Price $32
My warehou fillet comes out pan roasted served on a rich saffron mussel risotto, strips of pepperonata and a lovely green shaded smoked garlic and dill aioli. It is and enormous dish, the fish beautifully and simply cooked with much of the flavour action happening underneath in the rich risotto which is heady in seafood stock and mussel and the flavoursome aioli and pepperonata.
Fettuccine pasta tossed with sauteed forest mushrooms, pancetta and bound in a parmesan egg yolk sauce $25
However I'm completely in love with Miss America's mushroom and pancetta fettucine. It comes with an egg yolk which is broken and swirled through the pasta carbonara style. I spy some chestnut and oyster mushrooms among others and a generous amount of pancetta. The whole dish brings out the best flavour of the mushrooms and I swap my main for his.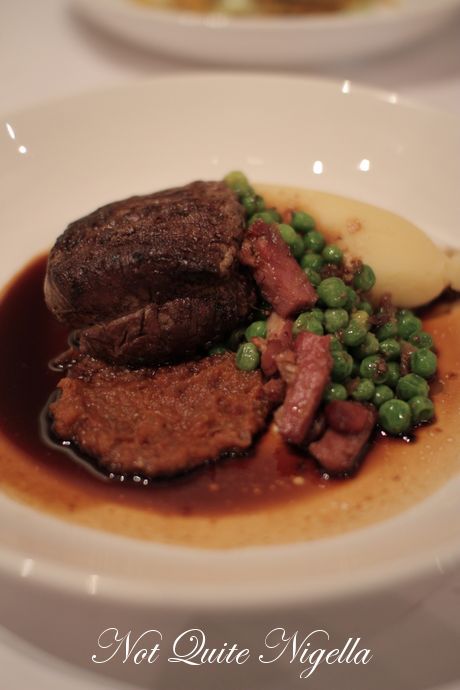 Grilled beef tenderloin on smoked tomato relish with a saute of green peas and speck, potato puree $30
Mr NQN's order of a medium rare tenderloin comes out perfectly cooked. The tenderloin is as the name suggests a tender cut. It comes with an intriguing smoked tomato relish and we like that the accompaniments are a little different that the usual.
French Fries $7
_Sauteed Boy Choy $7 _
Chilli and lime brulee served with coconut ice cream$14.50
Queen Viv hones in on this brulee as she loves brulees. After a satisfying crack the brulee underneath is smooth and silky and with a beautifully strong lime zest aroma although we don't get much chilli. It is served on a smooth and lovely coconut ice cream on shards of toasted coconut.
Belgium chocolate mousse laced with French meringue, nougatine, mirrored on creme anglaise $14
Perhaps not the most photogenic dish, it is a generous amount of Belgian chocolate mousse. I didn't find any meringue but there were some scatterings of nougatine on top and it sat on a pool of creme anglaise. The mousse was light and airy and a fitting end to our meal.
So tell me dear Reader, is BYO a big consideration when you dine out?
Bistro Bruno
3 Beattie Street, Balmain NSW
Tel: +61 (02) 9810 7707