Strong blog rumour has it that this little narrow patisserie in Balmain makes some of the most luscious, inventive cakes this side of the equator. And what's more, they do a brisk trade in the sweetest delicate morsels, French almond Macarons. I've been trying to get there for several weeks but fate and busy schedules intervene and it always ends up being pushed back yet another week. Not so this week, I am determined to visit and when I call beforehand they tell me the two flavours are raspberry and choc orange. That settles it. After visiting an art gallery we criss cross some truly heinous traffic to Balmain and we enter this tiny but enticing lair of sugary, creamy goodness.
There are no seats or tables, its strictly a take away affair. The long rectangular shaped room makes great use of the space and the desserts are incredibly vividly hued and eye catching. In fact it takes me a good 10 minutes to decide what I am having. Luckily the staff are very friendly and happy to discuss what's they've tasted and they're patient which also helps.
They point out that Adriano has actually dedicated a dessert to a food blogger that frequents the shop: the Meiying after the blogger Raging Yoghurt. How cool is that? They also have a selection of cookies, quiches, breads and tarts but its the cakes that hold my interest.
I pick out a Mini macaron bag filled with hazelnut, coconut, raspberry and choc orange meringues (sold by weight, $70 per kg) and then go back and forth in front of the cakes trying to decide which two cakes I want. I am torn between a Maxiadz and a Wheelie Good but select the Wheelie Good as I love white chocolate and pistachios. I am also drawn to a dessert that doesn't have a name or description but from what we're told its a rhubarb and pear crumble with a disc shaped creamy top. I also order a dessert that I am drawn to as it seems like two desserts in one, the Barbados. They box our goodies and we're off to sample these delectable goodies. Unfortunately it looks like I was overcharged by about $5 which is a tad annoying since it meant I could've ordered one of the passionfruit tarts! :(
Getting home, we can wait to try these goodies. The weather outside is scorching hot so the Wheelie Good and the Macarons have suffered a little on the trip home. I don't need any more excuse to try the on-the-verge-of-collapsing Wheelie Good first.
Wheelie Good $6.50
The description for the Wheelie Good reads: pistachio dacquoise, mascarpone mousse, honeyed apples and apricots rolled in white chocolate, pistachio and macadamia nuts. Its stunning and cutting into it seems almost sacrilegious. The crunchy pistachio dacquoise and mascarpone mousse gives a luscious collapse in the mouth and the slivers of honeyed apricots cut through this sweet white chocolatey creamy goodness. The sweet, almost sticky fruit is exactly what it needs and the pistachios and macadamias give it a welcome crunch on the outside. Its absolute textural harmony, an orchestra of textures where every texture is covered and works together beautifully.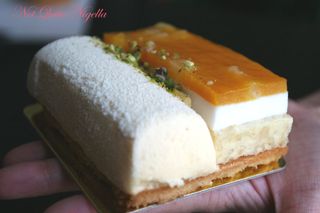 Barbados $6.50
We next try the Barbados whose description reads: sable breton, caramelised palm sugar mousse, mango and coconut jelly with pineapple pieces. We try the Mango jelly topped half and the two layer jelly with petite pineapple pieces is droolingly luscious together. There is a layer of a tapioca like jelly underneath it although there isn't a mention of it in the description. The other half, with the caramelised palm sugar mouse is incredibly creamy and fluffy and dusted with icing sugar. The palm sugar flavour is subtle and the texture is lovely, light and aerated. The sable biscuit base is crispy and buttery. It almost feels like three desserts in one!
Rhubarb and pear crumble with creamy topping $7
We next try the unnamed Rhubarb and pear crumble with custard and cream brulee topping. Slicing through it we see that a layer of sweet stewed rhubarb lies on top of a sweet biscuity base, and on top of that lies a layer of sweet stewed diced pears, then on top of that, lies a layer a sweet creamy mousse and then on top of that is a gorgeous buttery and cinnamon-ey crumble topping. Sitting on top of this is a circle of what was described as a custard and creme brulee although this doesn't taste particularly like brulee. Its has a slight pear flavour to it too and is grainy or almost floury in texture. Not quite what I expected and not to my taste but what's waiting for me underneath most certainly is. The crumble is gorgeously buttery and compellingly moreish with the tangy rhubarb, sweet pear and cinnamon filled crumble crust. Despite the fact that I've already upped my sugar levels significantly with the other desserts, I keep digging my fork in until its almost gone.
Onto the mini macarons last: let me admit that mini macarons aren't usually my favourite as the level of filling in these is usually much smaller and there needs to be a decent amount of filling for me. But buying the mini pack was the only way I could try 4 different flavours. The coconut was not particular coconut-ty in flavour, in fact it tasted a little like pear; the raspberry was good but the filling was raspberry jam whereas I definitely prefer the creamier fillings, the hazelnut was delicious and true to flavour and the chocolate orange was also good and true to flavour and the cutest with the smattering of cocoa on the bright orange shell.
Sweets vanquished, I cannot believe how much work is put into each one of these cakes. Each cake has a multitude of unique components with hardly any used more than once which means that the effort made to produce these must be huge! Forget art on walls, this is the real stuff!
Adriano Zumbo
296 Darling Street
Balmain NSW
Tel: +61 (02) 9810-7318
Open: 8am-6pm Mon-Sat
8am-4pm Sunday