I have a long history with Cherry Jam. A long and sordid one if I am to be truthful. I probably shouldn't tell you this in case you turn away in disgust but I have been known to eat it by the spoonful. And I suspect trying to qualify it by saying it's a teaspoon rather than a tablespoonful won't impress you much.
We never had Cherry Jam when I was growing up. It was strawberry jam or marmalade. But when I was at university and seeking a late night form of sugary sustenance, I found my friend - I like to call her Cherry Jam. I remember being hypnotised by a Monbulk ad when young where the whole fruit would drop into the jar (and holy crap! It's on Youtube!). I still recall the distinctive music to this day and ever since then I associated whole fruit in jam as desirable.
With my favourite brand of Cherry Jam (Andrésy) at $10 a jar it is not exactly cost effective when you eat it by the spoonful. So I thought that with this month's Daring Baker's challenge, I'd take the chance to make my own cherry jam but add vanilla to it which I always think adds so much depth to cherry.
The resulting jam is gorgeous. Chunky with whole cherries, it's just the way I like it. The Jamsetta makes it set well so there's no nervousness about a non setting jam although the zest and seeds do provide quite a bit of pectin which aids in that respect. I got four lovely jars of this out of it. Which is about 4 day's supply wouldn't you say?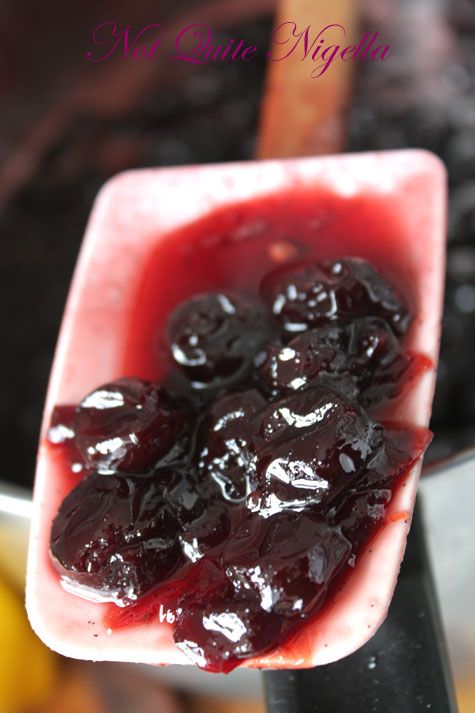 So tell me Dear Reader, which ad from childhood or adulthood made the most impact on you and why?
Vanilla & Cherry Jam
An original recipe by Not Quite Nigella
Ingredients
1kg jar of pitted sour cherries, drained
1/2 cup of sour cherry juice from the above jar
800g caster sugar (preferably cane sugar)
Juice, zest and 4-5 seeds of 1 lemon (wrap the zest and seeds in a muslin pouch)
50 gram packet of Jamsetta (I used Fowlers Vacola brand)
Step 1 - First of all, decide whether you like your jam to have whole fruit, pulverised fruit or a bit of both and treat the cherries accordingly. I like whole fruit only so I don't do anything to the cherries but if you like a smoother jam, blend cherries in a blender (you can cut them up although it will be messy). Place cherries, juice, sugar, lemon juice and muslin wrapped seeds in a large, heavy based saucepan.Slit vanilla bean in half horizontally and scrape the seeds with a knife and place seeds in the saucepan along with the rest of the bean. Cook on medium to high heat for 30 minutes until it has reduced by about a quater.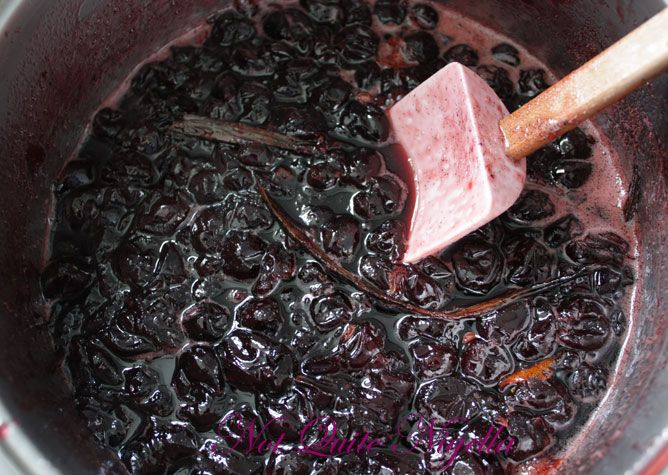 Step 2 - Add the sugar and cook, stirring occasionally, for 20 minutes or until mixture reduces by a quarter. Meanwhile place 4 clean glass jars (I used 4 x 375ml Bonne Maman and Andresy jam jars) and the lids on a tray in a 200C/400F oven and bake for 10 minutes to sterlise them.
Testing the jam for set
Step 3 - Remove the pouch of seeds and stir in the Jamsetta. Place a small saucer in the freezer. After 5-10 minutes take it out of the freezer andplace a teaspoonful of the liquid onto the plate. Count to 30 seconds and then run your finger through the centre. If there is wrinkling or the line stays then it will set properly. If not, wash plate and place back in freezer and repeat every 3 minutes until the line holds.
Step 4 - Carefully ladle the jam (it will be very hot) into the jars. With rubber gloves screw the lid tightly and turn upside down for 5 minutes to create a seal. I also like to use the rubber gloves as you can wash down the sides of the jar if you've spilt a bit during the ladling process (which I always seem to do).
Step 5 - Try and resist eating this with a spoon.