If you've got an excess of lemons let me introduce you to Lemon Jam. It's not lemon marmalade, it's a lemon jam! This recipe is a beautiful way to use up excess lemons. Once you lightly squeeze the lemons of their juice then this uses up the zest and pulp! If you love lemon flavour this is a pushy recipe Dear Reader!
This remarkably versatile lemon jam is beautiful in sweet or savoury dishes. The recipe is from restaurant Ahgora in Glebe where they use it on savoury dishes like grilled halloumi and ravioli. If you've been to Bennelong Bar and had the yabby pikelets with lemon jam and clotted cream then this is the perfect jam for this dish. It's great on top of yogurt and muesli too.
This lemon jam is different from marmalade because marmalade uses the pith as well the zest, juice and flesh of citrus fruit. For this lemon jam we remove all of the bitter pith so all you have is the tart juice and flesh and fragrant zest. It's more moderated in flavour and zingy.
I just know that some of you have a lot of lemons and this uses up over a kilo of lemons and produces 3 jars of jam. You can double the recipe although I will say that this jam is not without effort. Cutting off the pith and peeling the zest takes time. A Thermomix or food processor takes some of the hard work out of it but I'd suggest first starting with the quantity below.
Thanks to my friends and neighbours I have a crisper full of lemons and citrus. Valentina often gives me some of hers and then because we live in an area with a lot of friendly Greek neighbours they often drop off citrus to us. Home grown lemons are an absolute gift from heaven. They are often juicier than commercial lemons and some of these had a really thin skin and not a lot of pith. Usually commercial grown lemons have a really thick pith (to survive transport).
One day we came home from a walk and found a bag of home grown lemons on our porch. Then on another day walking around the neighbourhood we will saw this sign from a household that had left a box of lemons and bags. At first I took 3 and then when I saw the next day that the box was hardly touched I took three more shoving them in my pockets excitedly! They were made into this delicious jam and nothing went to waste (well except the pith).
So tell me Dear Reader, do you have neighbours that grow fruit?
Did you make this recipe?
Share your creations by tagging @notquitenigella on Instagram with the hashtag #notquitenigella
Lemon Jam
Adapted from a recipe by chef Jan Oravec at Ahgora
Preparation time: 30 minutes
Cooking time: 1 hour
Makes 3x400g/14oz jars of jam
1.2kgs/2.6lbs lemons

650g/1.4lbs raw sugar

1 cup/250ml lemon juice

1/2 cup/125g/4flozs water

1 teaspoon vanilla bean paste (optional)
Step 1 - First peel the zest from the lemon trying to get as little of the white pith as possible. Process in a food processor until fine or set Thermomix on speed #8 10 seconds.
Step 2 - Cut the white pith from around the lemon and discard the pith. Cut the lemon in half and squeeze out the juice with your hands and remove the seeds. You don't have to squeeze all the lemon juice out, just a couple of tight squeezes will do. It's important that you remove all of the seeds. Place the flesh in a food processor until blended or set Thermomix on speed #8 10 seconds.
Removing the white pith
Step 3 - Weigh the flesh and zest in a medium sized saucepan and add roughly the equal amount of sugar. My zest was 100g/3.5ozs and the flesh was 460g/1lb so I added 650g/1.4lbs of sugar. Jam usually works on a 1:1 ratio of sugar to fruit but lemons are more sour than other fruit but I tasted it adding it gradually and found a nice balance using 650g of sugar but do it to your taste as long as there's a 1:1 ratio of sugar to ensure preserving levels. Add lemon juice and water and simmer on low heat stirring occasionally for 1 hour. You won't really have to attend to it until the last 20 or so minutes. It will turn into a dark golden colour.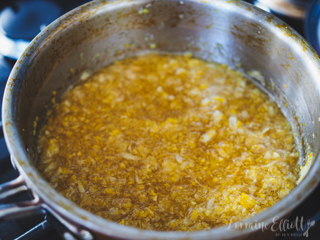 From this
To this