I've wanted to make this dish not for the longest time, but for the most urgent time. If you can't already tell form the tone of my recipes, I'm well and truly preparing to hibernate for Winter. We've got just over 5 weeks to go and I'm looking forward to the end of it. Forget the fitness and exercise - during Winter I feel like one gelatinous mess and by that I mean eating one as well as physically feeling like one. It's all I can do to get out from under the covers in the morning so imagine the blathering mess I'll be towards Winter's end.
During the final episode of Masterchef on Sunday night they did a Sudden Death Taste test on Gary's version of Beef Bourguignon and both Julie and Poh incorrectly guessed that an ingredient of this was Port. Mine has no Port too as most don't include Port although I think they felt that they tasted it because it was sweet.
Instead of mashed potatoes I went the laziest possible route, in theme with my new lazy hibernating way of life and made creamed semolina which involved nothing more than stirring for a few minutes. I didn't even have to get out the potato ricer and use muscle power (again against my Winter persona). If you haven't tried it, creamed semolina is very similar in taste to gnocchi which means it can only be good for you. Actually haven't I read that red wine is good for you? Ahh this must be my Winter workout and diet regime...
So tell me Dear Reader, what are you loving or loathing about your current season?
Beef Bourguignon with Creamed Semolina
Serves 2-4 people depending on hunger
800g/1.7lbs gravy or shin beef, sliced into large chunks and seasoned with salt and pepper
2 medium brown onions, sliced
250g/8.5ozs small mushrooms whole
3 medium carrots cut on the diagonal
1 tablespoon tomato paste
2 cups burgundy red wine plus 2 cups beef stock
Creamed semolina
Step 1 - Preheat oven to 150C/300F. In a large ovenproof casserole dish (or if you don't have one, a large frying pan or wok), heat oil one tablespoon at a time and fry the beef in 3 batches using a tablespoon of oil for each batch. Put aside.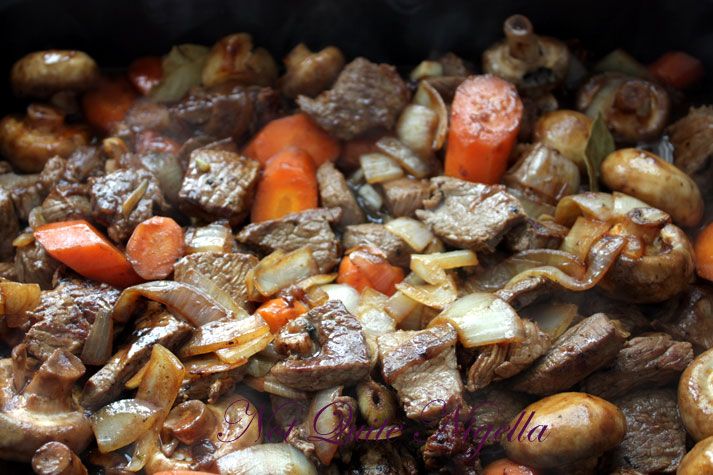 Step 2 - In the same pan, fry the bacon, onion, garlic, mushrooms and carrots until they are lightly browned. Add tomato paste, bouquet garni, bay leaves and browned beef pieces as well as any juices and stir to combine.
Step 3 - If you're using a casserole dish, cover it with the lid and bake for 3 hours. If you need to transfer it to a baking dish, cover the dish with foil.
Step 4 - When done, take it out of the oven and add the red wine and water and bring to a boil and reduce scraping off any flavour that has stuck to the bottom.  It should be soft and thickened.
For Creamed semolina
Step 1 - In a large pot bring water to the boil and turn down to medium heat. Gradually add semolina in a few batches while whisking (do not add all at once). When it starts to thicken, add butter and season. Ladle into a bowl and spoon beef bourguignon over the top. Dig in with a large spoon and enjoy.