This month was a crazy one. Not only were we moving (and I promise I'll stop talking about that-the way I'm carrying on it sounds like I'm the first and only person to ever move) but I also had a Daring Baker's Challenge to do which comprised of two items and I was also co-hosting August's Daring Baker's Challenge. I thought I was ok until a last minute switch around of plans meant that we had to pack within 2 days rather than 5 which had my baking schedule squished up tighter than an accordion. And I was jammed inside it.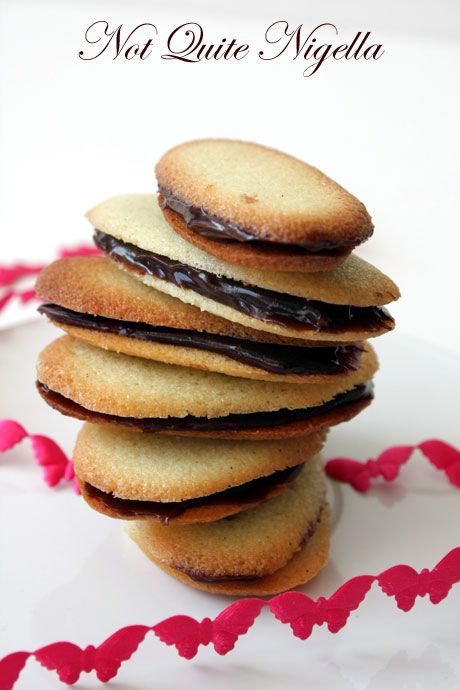 I didn't get to make these in time but curiousity got the better of me. These cookies are based on the Pepperidge Farm Milano cookie. We don't have that brand readily available here but I have fond memories of eating their Chess Cookies and these very Milano cookies so one day when I had an excess of egg whites (fromthe choux that I've been making so often) I decided to make them as they required almost a cup's full of whites. Bakers will know what I mean. You've made plenty of pavlovas and meringues and you yearn for something else to do with your egg whites. This proved irresistible along with the chance to eat these cookies again.
The recipe is very straightforward and easy and as for the cookie? It's wonderful - crispy, light and buttery it's also lightly aromatic via the inclusion of lemon essence and vanilla. Sandwiching them together with the chocolate is also delicious and very much like my memory of the MIlano cookie but even by themselves I found these irresistible. So if you're ever faced with the excess egg white dilemma or if you just love delicate, crispy buttery cookies I urge you to make these. When Mr NQN ate his first one - and I should preface this by saving that he dislikes most cookies - his eyes lit up and he nodded. "Yes! I like that one!" he says enthusiastically.
So tell me Dear Reader, what is your favourite ever cookie or biscuit?
Milan Cookies
Recipe courtesy Gale Gand, from Food Network website
Prep Time: 20 min
Inactive Prep Time: 0 min
Cook Time: 1 hr 0 min
Serves: about 3 dozen cookies
12 tablespoons (170grams/ 6 oz) unsalted butter, softened
2 1/2 cups (312.5 grams/ 11.02 oz) powdered sugar
7/8 cup egg whites (from about 6 eggs)
2 tablespoons vanilla extract
2 tablespoons lemon extract
1 1/2 cups (187.5grams/ 6.61 oz) all purpose flour
Cookie filling:
8 ounces semisweet chocolate, chopped
Step 1 - In a mixer with paddle attachment cream the butter and the sugar.
Step 2 - Add the egg whites gradually and then mix in the vanilla and lemon extracts.
Step 3 - Add the flour and mix until just well mixed.
Step 4 - With a small (1/4-inch) plain tip, pipe 1-inch sections of batter onto a parchment-lined sheet pan, spacing them 2 inches apart as they spread.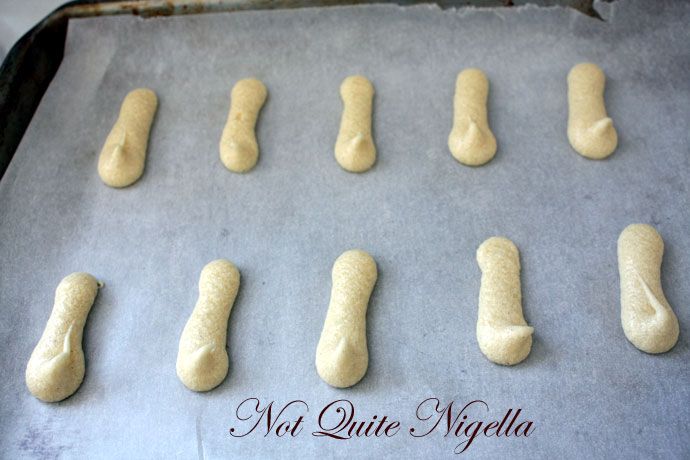 Step 5 - Bake in a preheated 350F/160C degree oven for 10 minutes or until light golden brown around the edges. Let cool on the pan.
Step 6 - While waiting for the cookies to cool, in a small saucepan over medium flame, scald cream.
Step 7 - Pour hot cream over chocolate in a bowl, whisk to melt chocolate, add zest and blend well.
Step 8 - Set aside to cool (the mixture will thicken as it cools).
Step 9 - Spread a thin amount of the filling onto the flat side of a cookie while the filling is still soft and press the flat side of a second cookie on top.
Step 10 - Repeat with the remainder of the cookies.