On the 12th day of Christmas your true love made for you - Christmas cookies! The Swedish Christmas cookie tradition of Sju Sorta Kakor may sound like an elaborate and yet delicious way of celebrating the festive season. BUT did you know that all seven of these cookies are made using the same vanilla shortbread dough? YES! You can make seven types of cookies this Christmas without losing your mind I promise :) This is a pushy recipe idea Dear Reader!
I was recently at a lunch chatting to the lovely woman sitting next to me called Anna. She was from Sweden and we were talking about food (I mean what else, right?) and she casually mentioned a Swedish Christmas tradition called Sju Sorta Kakor. It translates to "Seven Kinds of Cookies" which are served in households in Sweden and Swedish speaking areas of Finland or Norway. A few years ago I had made a similar cookie selection and it was such a hit at Christmas that I thought that I really wanted to try the Swedish version.
Swedish Christmas cookies start with mördeg, basically like a shortbread dough made with flour, sugar, butter, egg and vanilla. This simple little dough transforms into seven different tasting and looking "småkakor" or little cookies. Why seven? The number seven is linked with mythology and luck. During "kafferep" (coffee parties for women) it was said that if you served less than seven then it wasn't enough, but more than seven it was deemed showy. A crowdsourced cookbook titled "Sju Sorters Kakor" was published by Ica Provkök in 1945 and has since been updated to suit more modern times.
The seven types of cookies depends on whomever is baking them. Anna mentioned that they were all based on the same dough but some hosts make different doughs perhaps to demonstrate their culinary skill or because they have a favourite cookie. I went with some of the ideas from this blog Scandinavian Simple Eating. Tomorrow on the 13th of December is the St Lucia festival of lights that celebrates Saint Lucy or Lucia, the patron saint of the blind. Young Swedish girls dress up in white dresses with red sash and candles. Pepparkakor (gingersnaps) are often served after the St Lucia parade and part of Sju Sorters Kakor.
This recipes makes a lot of cookies but they're so buttery and delicious nobody ever complains about too many cookies. At this volume these cookies are best shared for guests and I brought some of these to an Elliott family picnic. It was a birthday picnic for Mr NQN's nephew Jett who was turning 9. Jett is pretty chatty and really loves Halloween and really gets into dressing up. He loves talking Halloween and scripts elaborate stories for his costumes.
I asked his mother Amaya what Jett wanted for his birthday. She sent me a few options and one of them really surprised me. Apparently the kid wanted either a digital watch or a 10 pack of croissants from the supermarket. "He wants croissants? From the supermarket?" I confirmed. We bought him the digital watch and then on the day of the picnic we planned to stop by the supermarket for his croissants so they were as fresh as possible. When I got there I couldn't find the 10 pack but a nice person in the bakery found me a 9 pack and gave me a fresh box of the croissants that just came out of the oven rather than the box on the shelf telling me that those were baked yesterday. "These are better," she said smiling.
Although the birthday party was supposed to start at 11am we told them that we would be there around 12:30pm because we had some things to do. But even then we weren't the latest to the party with people arriving an hour after we did (it never pays off to be on time for an Elliott do). Mr NQN's father Roger was there back for a couple of months. He usually lives in Thailand where his search for a girlfriend goes on. Also at the picnic were Mr NQN's Finnish aunt and uncle Sisko and Seppo and when they saw the cookies it reminded them of the Christmas Finnish cookies.
"Is that bag yours?" asked Jett shortly after we arrived. He had peeked inside the bag we had put down and could see the box of croissants. He was also surprised because he thought that he was only getting the croissants for his birthday but now he had a new watch. "Are you sure this is a 10 pack?" he said eyeing the box and I had to break it to him that they only sold 9 packs. Amaya played the ukelele and we sang along in the park Roger's voice booming across the green. Then it came time to open our gifts from Mr NQN's father Roger. He gave us some gifts - mine was an enormous wooden Thai statue and some pretty trinket boxes. Always enigmatic Roger gave Mr NQN got a bike bell with a mysterious photo of the Elliotts as children. There was someone ripped out of the corner of the photo and nobody could figure out who it was that was removed or why they were removed!
So tell me Dear Reader, do you make Christmas cookies? Have you ever tried this Swedish tradition? And what is the most random thing you've asked for for Christmas?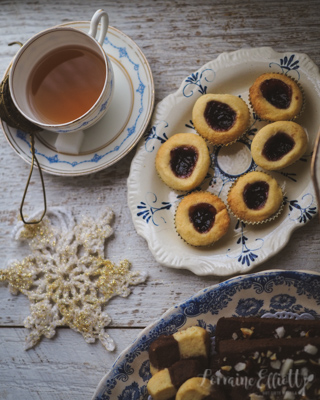 Basic Dough for Sju Sorta Kakor