The first time I tried these amazing pistachio biscotti I fell in love with them straight away. In fact I did what I rarely do and ate the whole box by myself only doling out a couple to Mr NQN. Little did I realise that the lovely people at Grandma's would be giving me their prized recipe to me five years later.
You may have tried biscotti, those twice baked Italian biscuits. And while they're good most of them need a bit of a dip in a cup of coffee because they can be a bit dry and thick ones have a texture like a teething husk. But I'm going to suggest that you don't dip these in coffee. Eat them as they are. And make these cookies because you'll never look back after these. The original recipe they sent me had 6 cups of pistachios in it. Of course that makes a lot of biscotti but I reduced it down to a non commercial quantity but it still had lots of nuts.
How to make Grandma's pistachio biscotti
This is a recipe that you make for people that you love because it isn't cheap to make but they are amazing. At Grandma's they make tens of kilos a week of these cookies so if you don't want to make them, you can always buy them (they deliver-woohoo!). Their lovely pastry chef Renata showed me how to make them-she's in charge of making their range of 21 types of cookies (and while you're there my other favourites are the "nuts and seeds" cookies that are popular with health conscious peeps and their amazing cheesecake which is light as a feather). I know because we sampled so many while I was baking.
You see that's the kind of people they are at Grandma's, they're super generous. I should have known when owner Avi Cohen gave us a box full of their goodies when we visited their Canberra location years ago. Five years later there are three stores in Sydney (Rosebery, two in Alexandria) and the generosity hasn't stopped. Many of the recipes are from Avi's maternal grandmother Haya, a prolific baker who owned shops/bakeries in Jerusalem.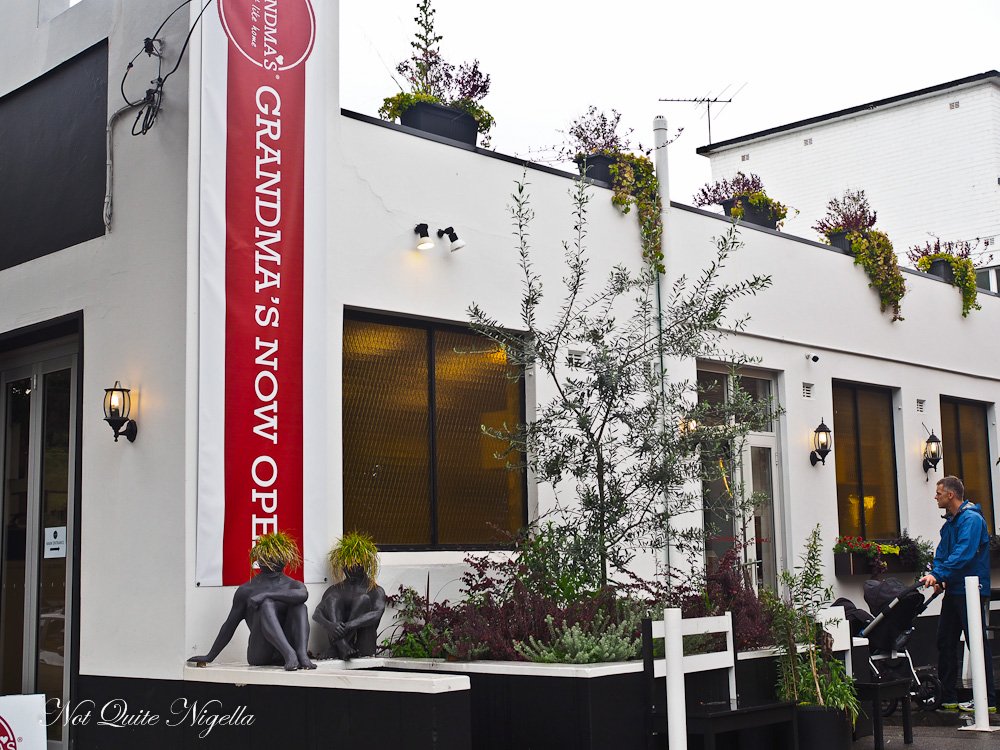 Grandmas
There's also Grandma Mazal, Grandma Glenda, Grandma Fedra and two Grandpa's Jeff and Vince. When Avi, his wife Dana Kvatinsky and son Jude Cohen agreed to share this recipe with me we finished the demo and we sat down to lunch where they laid on a generous spread. The food is good, wholesome, home style food and they don't skimp on ingredients. Because there are loads of expensive pistachios in this biscotti but I don't think you could get away with making them taste as good without them.
Biscotti means "twice cooked" so you first bake a log and then slice it and bake the slices laid out on a baking sheet. Even in this reduced quantity it still makes about 120 biscotti. But don't worry because you don't have to bake them all at once. After the first baking you can freeze the logs so that you can defrost, slice and do the final bake at a later date so you always have them fresh. I'd suggest this as a safety measure because they are very, very moreish.
I had three boxes of these so I gave one to my cleaning lady, one to my dad and one to Nina who I was meeting for lunch at Fox Studios. We were trying a new place and it's nearby to both our places. We were sharing a table with four other women because it was busy that Wednesday. Then while we were eating lunch a fruit and vegetable stallholder came up to us and placed an orange down on the table cut into sixths, one for each of us. "Here you go ladies, I just had a bit extra," he said smiling. It was a nice gesture of generosity-it's lovely when people share things. It turned out that Nina knew him too.
Nina and I both went to reach for a piece and then realised that there was nothing left for us. Alas the four other girls ate all of the six pieces of orange before we could take a piece. Oh well, I guess not everyone is generous or sharing but some people are generous enough to share their very best recipes!
So tell me Dear Reader, do you like biscotti? Do you have a favourite nut to eat or bake with? And would you have left a piece of orange for everyone?
DID YOU MAKE THIS RECIPE? Share your creations by tagging @notquitenigella on Instagram with the hashtag #notquitenigella
Pistachio Biscotti
Makes around 120 pieces of biscotti (a lot!)
Preparation time: 25 minutes (plus overnight resting time)
Cooking time: 40 minutes (25+15 minutes)
3 eggs, at room temperature
1 cup caster sugar
27ml/1 floz. milk
1 teaspoon vanilla extract
8g/0.28ozs salt
8g/0.28ozs. baking soda
7g/0.24ozs. baking powder
390g/13.78ozs. plain flour
1 cup whole raw almonds skinned (I used unskinned ones)
2 cups whole raw pistachios (shelled)
Step 1 - Preheat oven to 165C/330F and line two baking trays with parchment. With a whisk attachment whisk the eggs, sugar, milk and vanilla together on medium high speed for 3 minutes. In a bowl mix the flour, salt, baking soda and baking powder together.
Step 2 - Switch to a beater attachment and add in the flour, salt, baking soda, baking powder until just combined on low speed. Add the raw almonds & the pistachios then mix again on a low speed.
Step 3 - Place some water on a clean surface and use gloves as the dough is quite sticky. Shape into 4 logs an inch or two apart - the thickness and length is up to you but they do rise and spread. Bake for 20-25 minutes or until firm when pressed down. Cool completely and wrap and leave overnight. It cuts much easier and softens after this time and makes it much easier to cut.
Tip: you can also freeze them once they're cool for up to 5 weeks and then you can slice them and bake them for fresh biscotti.
Step 4 - Preheat oven to 150C/300F. Slice the biscotti into thin slices and place on a baking tray. Bake for 10-20 minutes or until dried out and starting to turn golden. I can't stress enough that they need to start looking golden or you just won't get the flavour that really makes these moreish. The reason why there is such a big range in time is because it depends on how thickly you slice them. If you've sliced them very thinly bake them for 10 minutes but thicker and you'll bake them til longer. These are really best when they are sliced thinly and very dried out so that the nuts toast nicely. Remove from oven and they will crisp even further.
Grandma's at McEvoy
140-142 McEvoy Street, Alexandria, NSW 2015
Tel: +61 (02) 9699 1862
http://www.grandmas.com.au/
Grandma's at Rosebery
19 Rosebery Ave, Rosebery NSW 2018
Tel: +61 (02) 9699 1862
Grandma's at The Farm
5796 Federal Hwy, Collector NSW 2581
Tel: +61 (02) 4848 0240