Even though my husband considers me overly effusive and loquacious, there are some times when I like to speak through cooking. I made this pudding as a way to say "I love you" to my husband who adores berries and fruit in every form. I should share an amusing tidbit with you Dear Reader. We never actually said "I love you"  to each other until the day he proposed to me, five years after we had started dating. We were both terrified of not hearing it echoed back that we thought that we would remain tight lipped on the subject and not utter those terrifying three words at all.
I'm still not quite sure why I was so reluctant to say it. Hazarding a guess, former boyfriends had always said it first so I knew that I wouldn't be greeted with a wall of silence when I uttered it but I was determined not to be the over the top girlfriend proclaiming love at every turn. I realise that after say a couple of years I should have felt safe saying it but by then in my twisted logic I thought that he definitely wouldn't answer it as he should have said it by then. When he proposed I blurted it out to him and to my immense relief he said it back and we grinned like monkeys.
As we reach the last month of summer, I thought I'd try and preserve these last vestiges of the season and make use of the very reasonably priced berries that we are now getting. I had seen this recipe in an Ina Garten cookbook over a year ago and drooled and gawped at the page like a lascivious fool. It was one of those dishes that I always kept in the back of my mind to make and I finally did. Better late than never right?
I thought that it was all too easy to make -I have a sickness that way, so I decided to make my own bread for it and I am proud to say that I plaited my first challah bread! My challah making was spurred on by the fact that when I did a quick ring around for a place that sold brioche, there was only one bakery where Mr NQN works in North Sydney that does brioche and they need a day's lead time and they require a deposit. How silly I thought to myself and having made brioche I decided to try and tackle challah bread which is a Jewish egg bread with a similarly sweet, rich flavour to it. I got the recipe from the lovely MaryPoppinsinHeels blog with whom I share a similarly twisted sense of humour.
The pudding itself is lovely and given an extra boost from using the sweet egg bread rather than plain white loaf (and please don't use wholemeal bread I beseech you although I know you are too sensible to contemplate such a thing) and the berry compote is delicious as is or soaked in the bread with just the right amount of sweetness in it. And don't worry about unmolding it - this was the thing I was most anxious about but provided you've weighed down the pudding with cans, it should compress suitably and slide out with ease. You could also make it in the morning and serve it that evening. Call me silly but I still think a fruit pudding is as equally a good way to say "I Love You".
So tell me Dear Reader was it easy for you to say those three words to your Significant Other or a past Significant Other?
Summer Berry Pudding
Adapted from a recipe by Ina Garten
3x 250g punnets strawberries
500grams raspberries (frozen will do)
1 brioche or challah bread weighing 600-700grams
whipped cream or vanilla ice cream to serve
Step 1 - Wash and hull strawberries reserving 3-4 whole ones for decoration and cut into halves or quarters if they're those big, hulking ones. Poach these in the water and sugar in a medium saucepan until starting to become soft for about 5 minutes. Then add  raspberries and blueberries just leaving a handful of blueberries for decorating and cook for 2 minutes or so. Set aside to cool.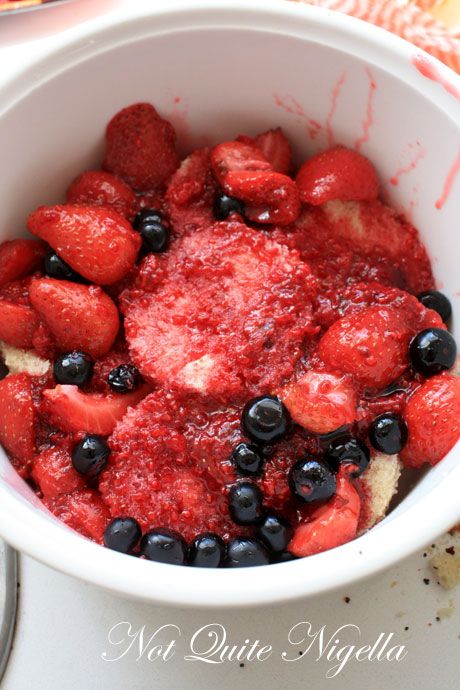 Step 2 - Take a high ceramic souffle dish - do not grease, the pudding _will _slide out. Slice the crusts off the bread and cut it into 1cm thick slices. I used a round cutter to get the pattern on top but you don't have to and it looks just as nice if you just cut pieces to fit the pudding so that it sits snugly and flat. Ladle over some of the sauce making sure not to leave any yellow pieces of bread as this will not look very good. Ladle over some fruit and then repeat with the brioche, syrup and fruit until the top of the souffle dish is reached. Cover with cling wrap and then place a plate and 3 cans on top to weigh it down. Make room in the fridge for this and place it in the fridge overnight or for 6 hours.
Step 3 - When ready to serve, and you want to unmould this around about when you want to serve it, run a thin knife around the edge of the pudding to help ease it out. Unmould in onto the serving plate carefully, it should slip out despite any nervousness.
Step 4 - Decorate with extra berries and a sprig of mint and serve with whipped cream or vanilla ice cream.