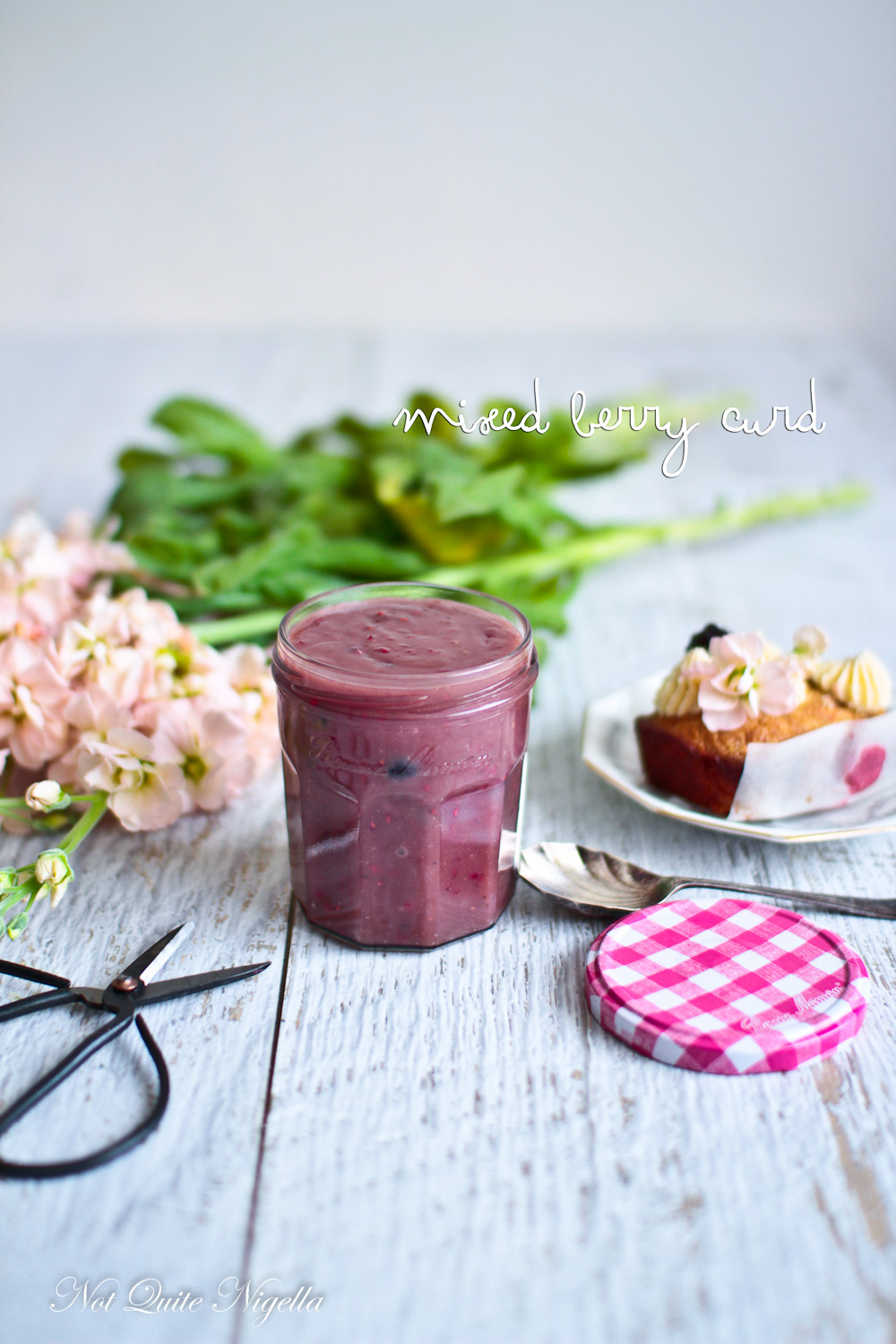 This fast berry curd is a great way to use up egg yolks from pavlova making (or in my case financier baking). Did you know one of the quickest, best ways to make curd is in the microwave where it can be made in 5 minutes flat? What results is a sweet, smooth curd with a lovely thick texture and a wonderful berry flavour.
I must admit that I used to be a bit of a snob about curd. I used to think that you had to stir it over a stovetop to get the best result. I pretty much ate my words the first time I made it in the microwave and it turned out absolutely perfect with a silky texture, a lovely sheen and a fabulous flavour. Could my microwave have made that beauty? Really?
If you haven't made it that way I promise that once you give this a go this may be how you make it from now on (pssst, I'm not going back to stovetop once I realised a batch could be made in 5 minutes in the microwave!). I wouldn't steer you wrong [inky swear. Another way I promise I won't steer you wrong is with reading material or television shows and I've got a new tv show addiction. Have you seen Big Little Lies? You've probably seen the posters all around with half of Nicole Kidman, Reese Witherspoon and Shailene Woodley's head on them.
It has been out for a while now but I found it difficult to get a hold of. It wasn't until I got on a Qantas flight and saw that they had the box set (can I just say to airlines, box sets are the way to go, 2-3 episodes of something we've already seen is nowhere near as exciting. Kthanxbye). Anyway I got quickly addicted to it and it's only 7 episodes long so they call it a mini series which is probably just fancy talk for Oscar winners to do a tv show. It's a murder mystery and I won't give out too much more except that to say that it is gripping and you may need to watch it and then follow it with a few episodes of True Blood. Just trust me. Like this curd, the last thing I want you to do is waste your time Dear Reader ;)
So tell me Dear Reader, have you seen Big Little Lies? How do you like to make curd? On the stovetop or in the microwave?
DID YOU MAKE THIS RECIPE? Share your creations by tagging @notquitenigella on Instagram with the hashtag #notquitenigella
Fast Mixed Berry Curd
An Original Recipe by Lorraine Elliott
Preparation time: 2 minutes
Cooking time: 4-5 minutes
5 egg yolks
1 cup caster or superfine sugar
125g butter, cut into small cubes
1 cup berry puree
Step 1 - Mix all ingredients together in a microwave proof bowl. Heat for 1 minute intervals at 100% power whisking between each interval. It is ready when it is ready to coat the back of a spoon (it took my microwave about 4 minutes to do this).