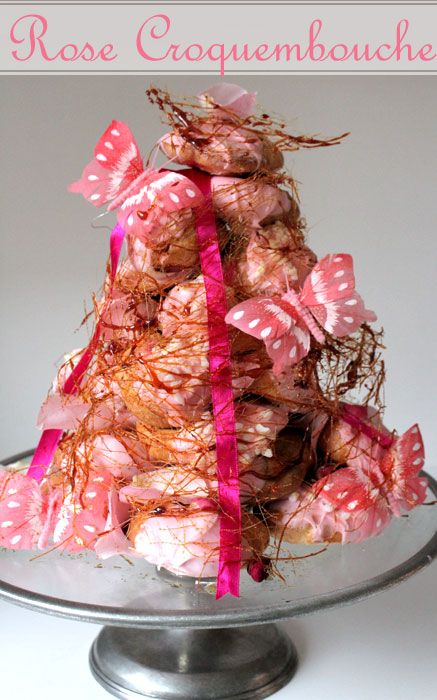 I awoke with a start. The clock read 3:03am. What on earth was I doing awake at this time? I had awoken with the realisation that the Daring Bakers challenge was due the day after tomorrow and having missed a couple, I didn't want to let this one slip away too. At this early hour I could hear that the rain was already steadily pattering down and after doing a quick calculation I realised that I had all of tomorrow to make my creations so I went back to sleep hoping that the rain would stop.
When I woke the next morning at 9am I didn't even have to open the curtains to know that it was still raining. "It will stop" I said to myself and kept saying it throughout the morning. A by product of this rain was a grey sky and I knew that come 11am if I didn't get into it I could forget any chance of making and photographing my croquembouche. I rushed about in the kitchen and started making the pastry and the custard in the hope that the rain would let up to no avail.
Reluctantly I dragged on my jeans, pulled on my boots, donned a heavy coat, chose an umbrella and set off in the rain. The florist, where I wanted to get some roses for the croquembouche was right near the post office so I stopped in and checked on my mail. There was a gigantic package waiting for me. What a lovely surprise!
$10 later for four rose heads (the florist really saw me coming) I walked home with my enormous package and stopped to adjust the weight. I looked down and came across the most gorgeous potted flowers on the street flower pots. My second delightful surprise for the day and they were perfect for an upcoming story. I got home slightly drenched vowing the whole time that I needed to get my driver's license as a matter of utmost urgency and finished off my croquembouche. Despite my sodden state, I was in a good mood and even the daunting task of spinning sugar wouldn't dampen my mood. I decided to give my creation a "woodsy" or "forest" look as I felt like I had definitely gone out in the woods today. I also realised that if I hadn't gone trotting out in this ghastly weather I would have missed out on a) my package and b) discovering these gorgeous flowers. As they say, every cloud has a silver lining!
So tell me Dear Reader, are you an optimist or a pessimist?
Rose Croquembouche
Blog-checking lines: The May 2010 Daring Bakers' challenge was hosted by Cat of Little Miss Cupcake. Cat challenged everyone to make a piece montée, or croquembouche, based on recipes from Peter Kump's Baking School in Manhattan and Nick Malgieri.
You will need approximately 10 minutes to prepare the puff pastry, 10 minutes to pipe and about 30 minutes to bake each batch. The crème patissiere should take about 10 minutes to cook and then will need to be cooled for at least 6 hours or overnight. The glazes take about 10 minutes to prepare.
Equipment required:
• several baking sheets
• parchment paper
• a whisk
• a pastry brush (for the egg wash)
• a pastry bag and tip (a plain tip or no tip is best for piping the puff pastry; you can use a plain or star tip to fill the puff pastry with the cream)
• a flat surface such as a baking sheet or cake board/stand on which to assemble your piece montée
• some of the items you may want to use to decorate your piece montée include ribbons, Jordan almonds, fresh flowers, sugar cookie cut-outs, chocolates, etc.
Ingredients:
For the Vanilla Crème Patissiere
2 cup (450 ml.) whole milk
4 Tbsp. cornstarch
12 Tbsp. (200 g.) sugar
2 large eggs
4 large egg yolks
A few drops of rose essence
4 Tbsp. (60 g.) unsalted butter
2 Tsp. Vanilla
Dissolve cornstarch in ¼ cup of milk. Combine the remaining milk with the sugar in a saucepan; bring to boil; remove from heat.
Beat the whole egg, then the yolks into the cornstarch mixture. Pour 1/3 of boiling milk into the egg mixture, whisking constantly so that the eggs do not begin to cook.
Return the remaining milk to boil. Pour in the hot egg mixture in a stream, continuing whisking. Add in rose essence.
Continue whisking (this is important – you do not want the eggs to solidify/cook) until the cream thickens and comes to a boil. Remove from heat and beat in the butter and vanilla.
Pate a Choux (Yield: About 28)
¾ cup (175 ml.) water
6 Tbsp. (85 g.) unsalted butter
¼ Tsp. salt
1 Tbsp. sugar
1 cup (125 g.) all-purpose flour
4 large eggs
For Egg Wash: 1 egg and pinch of salt
Pre-heat oven to 425?F/220?C degrees. Line two baking sheets with parchment paper.
Preparing batter:
Combine water, butter, salt and sugar in a saucepan over medium heat. Bring to a boil and stir occasionally. At boil, remove from heat and sift in the flour, stirring to combine completely.
Return to heat and cook, stirring constantly until the batter dries slightly and begins to pull away from the sides of the pan.
Transfer to a bowl and stir with a wooden spoon 1 minute to cool slightly.
Add 1 egg. The batter will appear loose and shiny.
As you stir, the batter will become dry-looking like lightly buttered mashed potatoes.
The only photo I managed to take amidst frantic baking - for more detailed choux pastry pics see my Religieuse de la Cafe, Strawberry St Honore or Croquembouche cupcakes.
It is at this point that you will add in the next egg. Repeat until you have incorporated all the eggs.
Piping:
Transfer batter to a pastry bag fitted with a large open tip (I piped directly from the bag opening without a tip). Pipe choux about 1 inch-part in the baking sheets. Choux should be about 1 inch high about 1 inch wide.
Using a clean finger dipped in hot water, gently press down on any tips that have formed on the top of choux when piping. You want them to retain their ball shape, but be smoothly curved on top.
Brush tops with egg wash (1 egg lightly beaten with pinch of salt).
Baking:
Bake the choux at 425?F/220?C degrees until well-puffed and turning lightly golden in color, about 10 minutes.
Lower the temperature to 350?F/180?C degrees and continue baking until well-colored and dry, about 20 minutes more. Remove to a rack and cool.
Can be stored in a airtight box overnight.
Filling:
When you are ready to assemble your piece montée, using a plain pastry tip, pierce the bottom of each choux. Fill the choux with pastry cream using either the same tip or a star tip, and place on a paper-lined sheet. Choux can be refrigerated briefly at this point while you make your glaze.
Use one of these to top your choux and assemble your piece montée.
Chocolate Glaze:
8 ounces/200 g. finely chopped white chocolate (use the finest quality you can afford as the taste will be quite pronounced; I recommend semi-sweet)
Pink food colouring
Melt chocolate in microwave or double boiler. Stir at regular intervals to avoid burning. Add pink food colouring. Use the best quality chocolate you can afford. Use immediately.
Hard Caramel Glaze:
1 cup (225 g.) sugar
½ teaspoon lemon juice
Combine sugar and lemon juice in a saucepan with a metal kitchen spoon stirring until the sugar resembles wet sand. Place on medium heat; heat without stirring until sugar starts to melt around the sides of the pan and the center begins to smoke. Begin to stir sugar. Continue heating, stirring occasionally until the sugar is a clear, amber color. Remove from heat immediately; place bottom of pan in ice water to stop the cooking. Use immediately.
Assembly of your Piece Montée:
You may want to lay out your unfilled, unglazed choux in a practice design to get a feel for how to assemble the final dessert. For example, if making a conical shape, trace a circle (no bigger than 8 inches) on a piece of parchment to use as a pattern. Then take some of the larger choux and assemble them in the circle for the bottom layer. Practice seeing which pieces fit together best.
Once you are ready to assemble your piece montée, dip the top of each choux in your glaze (careful it may be still hot!), and start assembling on your cake board/plate/sheet. Continue dipping and adding choux in levels using the glaze to hold them together as you build up. (You may want to use toothpicks to hold them in place – see video #4 below).
When you have finished the design of your piece montée, you may drizzle with remaining glaze or use ribbons, sugar cookie cut-outs, almonds, flowers, etc. to decorate. Have fun and enjoy! Bon appétit!