This 3 ingredient Biscoff Cake is so easy and so delicious. It tastes like a blondie or brownie but is delightfully simple to make! Requiring just Biscoff spread, eggs and baking powder it takes no time to mix up so that you're never away from a delicious home-made cake! If you love Biscoff this cake is for you and this is a pushy easy recipe. I called her Cookie!
When I first heard about this cake I was intrigued. Would it be delicious or just delicious considering the minimal effort? Well the first time I tried it, it was pretty good but it had something missing. And when I made it again and added a few ingredients then the cake absolutely popped! While it was decent as a 3 ingredient cake, adding just a few spices and salt elevates it to delicious!
What is Biscoff? Biscoff is also known as Speculoos, a brand of Belgian cookies that originated in the early 20th century. The name "Biscoff" is a combination of the words "biscuit" and "coffee" because these cookies were traditionally served with coffee in Europe. Biscoff cookies are thin, crisp and caramelised rectangular shaped biscuits with a lovely spiced aroma from speculoos spices (cinnamon, nutmeg, cloves and ginger). The biscuits became hugely popular and since then they've brought out a Biscoff spread that has become phenomenally popular. This highly addictive spread is used much like peanut butter and is made using Biscoff cookies processed until smooth (or chunky).
Is this Biscoff Cake gluten free? While this recipe doesn't use flour, Biscoff is made up of blending up cookies so it already contains flour. Sorry for any GF eaters!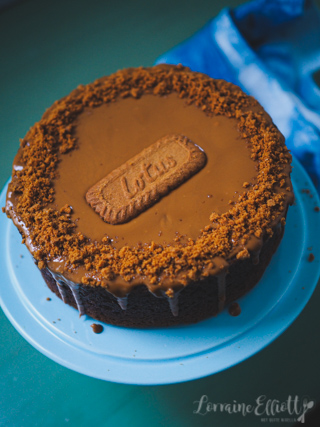 This Biscoff Cake was one of the many cakes that I brought to Mother's day lunch. Ever since I got the elevated cholesterol results I've cut out cakes for both of us and that means that there's always cake in the freezer or fridge waiting to be eaten or given away. This time I brought 5 cakes including one that Valentina brought me from Honey & Walnut.
This year Mr NQN's sister Araluen was hosting Mother's Day at her house. A few months ago she moved from an apartment in the Northern Beaches to a house the Inner West with her daughter Aura Lily and new fiancé Ben. She started looking after dogs as a way to earn a bit of extra money and absolutely loves it. This week she was looking after a little oodle called Wolfgang.
At a glance Wolfgang could be Teddy or his twin at least. When Tuulikki walked in she greeted Wolfgang with "Hello Teddy!". We brought Teddy and Milo over. Araluen said that Wolfgang was rather shy with other dogs and would take a while to settle but as soon as the three met they were instant friends (it's an oodle thing).
Wolfgang
The mums in the family were supposed to have the day off cooking so it was up to the guys to make food (Mr NQN was off the hook as I'd already baked everything). Everyone enjoyed salads, bread, dips, salami and cheeses. We served the 5 cakes and an enormous fruit salad.
Teddy
Then the kids got restless. There are three kids in the family: Aura Lily and her two younger cousins Jett and Finn who are Amaya and Laporello's sons. And when Aura and Jett get together it's like she has petrol and he has matches and they rev each other up so that they go crazy. They got dressed up and invited an adult of their choosing to the back room under the pretense that they wanted to show them something.
Then they "trapped" them in there. The first victims were Laporello and Arran (Ben's brother). The kids slipped another adult a note reading, "We have the bald guy (Laporello) and the karaoke guy (Arran holds karaoke nights). This is a ransom note. PTO" and on the other side the note read, "GIVE US MONEY".
They actually managed to get cold hard cash from people this way. They repeated it with almost all of the adults except for a few of us and then started on the dogs. I wondered if it was the start of a life of crime.
Finn, the lone voice of justice
However there was one lone voice that stopped them. Jett's younger brother Finn was indignant when it came to them kidnapping his mother and got very cross at his brother Jett. He also told him off indignantly shouting, "I like the dogs! Leave them alone and stop kidnapping them!" before pushing his abashed brother into the room and locking the door. So I think there's hope yet for the wannabe criminals and that may be in the form of a 5 year old justice crusader!
So tell me Dear Reader, do you like Biscoff? Would you have been the criminal in this situation or the justice crusader?
Did you make this recipe?
Share your creations by tagging @notquitenigella on Instagram with the hashtag #notquitenigella
3 Ingredient (Plus Spices!) Biscoff Cake
An Original Recipe by Lorraine Elliott
Preparation time: 5 minutes
Cooking time: 45 minutes
500g/1.1lbs smooth Biscoff spread
2 teaspoons baking powder
1 teaspoon vanilla bean paste (optional)
1 teaspoon ground cinnamon (optional)
1/2 teaspoon ground nutmeg (optional)
1/2 teaspoon fine salt (optional)
3 eggs, beaten
For icing
150g/5ozs Biscoff spread
3 Biscoff cookies
Step 1 - Preheat oven to 160C/320F and line a 7 or 8 inch round springform tin with parchment. Remove all of the foil seal from the top of the Biscoff jars and microwave for 40-50 seconds or until liquid and pourable - the more liquid it is, the easier it will be to mix in. Pour the Biscoff spread into a large bowl and whisk in the baking powder, spices and salt with a large balloon whisk. Then whisk in the beaten eggs until you get a shiny, evenly textured batter (watch out for chunks of Biscoff).
Step 2 - Pour into the prepared tin and bake for 40 minutes for an 8 inch cake or 50 minutes for a 7 inch cake (or until the centre is no longer wobbly). Place on a cooling rack and cool completely. Then turn the cake upside down and place on a serving plate. Melt the 150g/5ozs of Biscoff in the microwave for 30 seconds and then pour it over the top of the cake. Use a knife or spoon to coax the icing to the edge to make drips.
Step 3 - Place one Lotus biscoff cookie in the centre and place the remaining two cookies in a ziplock bag and bash with a rolling pin. Sprinkle around the edge using a teaspoon.