"What do you think of a log cabin bombe alaska honey?" I asked Mr NQN one night. He looked at me like I was speaking pygmy. "I have no idea what you're talking about" he answered. At least he was listening I thought, he could have said "That's fine whatever you say" which he has been known to say on occasion.
I should preface this story with a little history. I've never made bombe alaska in my life so to want to make one shaped like a log cabin was either: a) foolish b) crazy or c) fraught with disaster. I should have taken his hesitation as a warning really. Sometimes when I get so excited about trying a new recipe I let my imagination run wild where it should be firmly locked up in a mental institution and medicated.
The inspiration for this log cabin bombe alaska was the toasted meringue outer. I thought of the kind of place where one would toast marshmallows. It would be in a log cabin in front of the fireplace with snow falling outside. And didn't they have log cabins in Alaska? Or if you're in Sydney, Australia where log cabins and snow are both scarce, next to a grill. OK the original idea is much more romantic.
It was ok until it came to the time to torch the meringue. I stood back and fired up the blowtorch.
Nothing.
I tried again, perhaps the child proof lock had confounded me (not the first time).
Nothing.
I quickly shoved the cake in the freezer and ran to the computer. The traditional way to do it is in the oven but would sticking ice cream in the oven seem kind of against logic? I had no choice. I turned on the oven full blast to 260C and shoved it in and crossed my fingers. I let it bake for three minutes until I saw that a little ice cream had leaked out the side. Ahh that's why the instructions say to cover all of the ice cream and cake. I whipped it out and assessed the damage. We wouldn't have to rebuild thankfully and whilst I think I prefer the untorched version, the torched version thankfully survived the fire and I learnt a lesson, check your tools before you build!
So tell me Dear Reader, do you ever get weird looks when you tell people your ideas?
Log Cabin Bombe Alaska
Blog-checking lines: The August 2010 Daring Bakers' challenge was hosted by Elissa of 17 and Baking. For the first time, The Daring Bakers partnered with Sugar High Fridays for a co-event and Elissa was the gracious hostess of both. Using the theme of beurre noisette, or browned butter, Elissa chose to challenge Daring Bakers to make a pound cake to be used in either a Baked Alaska or in Ice Cream Petit Fours. The sources for Elissa's challenge were Gourmet magazine and David Lebovitz's "The Perfect Scoop".
**Brown Butter Pound Cake
19 tablespoons (9.5 oz) (275g) unsalted (sweet) butter
2 cups (200g) sifted cake flour (not self-rising; sift before measuring) (See "Note" section for cake flour substitution)
1 teaspoon (5g) baking powder
1/2 teaspoon (3g) salt
1/2 cup (110g) packed light brown sugar
1/3 (75g) cup granulated sugar
4 large eggs
1/2 teaspoon pure vanilla extract
Step 1 - Preheat the oven to 325°F/160°C and put a rack in the center. Butter and flour a 9"x9" (23cmx23cm) square pan.
The browned butter process
Step 2 - Place the butter in a 10" (25cm) skillet over medium heat. Brown the butter until the milk solids are a dark chocolate brown and the butter smells nutty. (Don't take your eyes off the butter in case it burns.) Pour into a shallow bowl and chill in the freezer until just congealed, 15-30 minutes.
Step 3 - Whisk together cake flour, baking powder, and salt.
Step 4 - Beat the brown butter, light brown sugar, and granulated sugar in an electric mixer until light and fluffy, about 2 minutes. Beat in the eggs one at a time, mixing well, and then the vanilla extract.
Step 5 - Stir in the flour mixture at low speed until just combined.
The lighter batter once beaten
Step 6 - Scrape the batter into the greased and floured 9"x9" (23cmx23cm) square pan. Smooth the top with a rubber spatula and rap the pan on the counter. Bake until golden brown on top and when a toothpick inserted into the center comes out clean, about 25 minutes.
Step 7 - Cool in the pan 10 minutes. Run a knife along the edge and invert right-side-up onto a cooling rack to cool completely.
Vanilla Ice Cream
1 cup (250ml) whole milk
A pinch of salt
3/4 cup (165g) sugar
1 vanilla bean, split lengthwise OR 2 teaspoons (10ml) pure vanilla extract
2 cups (500ml) heavy (approx 35% butterfat) cream
5 large egg yolks
1 teaspoon (5ml) pure vanilla extract
Step 1 - Heat the milk, salt, and sugar in a medium saucepan until the liquid steams. Scrape out the seeds of the vanilla bean with a paring knife and add to the milk, along with the bean pod. Cover, remove from heat, and let infuse for an hour. (If you do not have a vanilla bean, simply heat the milk, salt, and sugar in a medium saucepan until the liquid steams, then let cool to room temperature.)
Step 2 - Set up an ice bath by placing a 2-quart (2 litre) bowl inside a large bowl partially filled with water and ice. Put a strainer on top of the smaller bowl and pour in the cream.
Step 3 - In another bowl, lightly beat the egg yolks together. Reheat the milk in the medium saucepan until warmed, and then gradually pour ¼ cup warmed milk into the yolks, constantly whisking to keep the eggs from scrambling. Once the yolks are warmed, scrape the yolk and milk mixture back into the saucepan of warmed milk and cook over low heat. Stir constantly and scrape the bottom with a spatula until the mixture thickens into a custard which thinly coats the back of the spatula.
Step 4 - Strain the custard into the heavy cream and stir the mixture until cooled. Add the vanilla extract (1 teaspoon [5ml] if you are using a vanilla bean; 3 teaspoons [15ml] if you are not using a vanilla bean) and refrigerate until thoroughly chilled, preferably overnight.
Lining the tin to make the ice cream "roof"
Step 5 - Remove the vanilla bean and freeze in an ice cream maker. If you don't have an ice cream maker, you can make it without a machine. See instructions from David Lebovitz: http://www.davidlebovitz.com/archives/2007/07/makingicecrea_1.html. Using the same tin that you baked the cake in, line the tin at one side and clear the freezer space to allow the tin to freeze at an angle. You will be making the roof out of ice cream so you want it to freeze so that you get a V shaped roof of ice cream.
Making the roof with the tin on an angle
Meringue (For the Baked Alaska)
4 large egg whites
1/4 teaspoon (1.5g) cream of tartar
1/4 teaspoon (1.5g) salt
1/2 cup (110g) sugar
2 tablespoons cocoa, sifted
Desiccated coconut and lollies to decorate
Beat the egg whites, cream of tartar, and salt on high speed in an electric mixer until soft peaks form. Beat in the sugar gradually in a slow stream until stiff peaks form.
Step 1 - Level the top of the brown butter pound cake with a serrated knife or with a cake leveler. Cut into equal halves and place one on top of another. You can sandwich it together with jam too.
Step 2 - Place frozen ice cream on top. Place in freezer.
Step 3 - Make the meringue (see above.)
The ice cream "roof" on top of the house
Step 4 - Unwrap the ice cream "cups" and invert on top of a cake round. Trim any extra cake if necessary. I filled it with jam. Just because I wanted to and I thought it might do with some moisture in the middle.
Spreading with a base layer of meringue
Step 5 - Pipe the meringue over the log cabin. Firstly I put a layer of rough meringue which I used to smooth over the holes and gaps.It is important that none of the ice cream or cake is exposed. Then I piped "logs" onto the side and tiles on top and a door on both sides (just in case one side looked better than the other). Then I took a skewer and drew woody patterns on the logs. Freeze for one hour or up to a day.
Piping the meringue logs
Step 6 - Burn the tips of the meringue with a cooking blow torch. Or, bake the meringue-topped Baked Alaska on a baking tray with sides in a 500°F/260°C oven for 5 minutes until lightly golden. Serve immediately.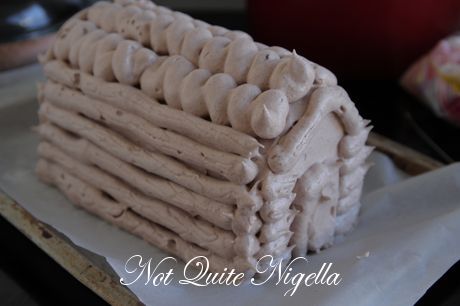 Drawing "log lines"
Step 7 - Decorate with desiccated coconut.