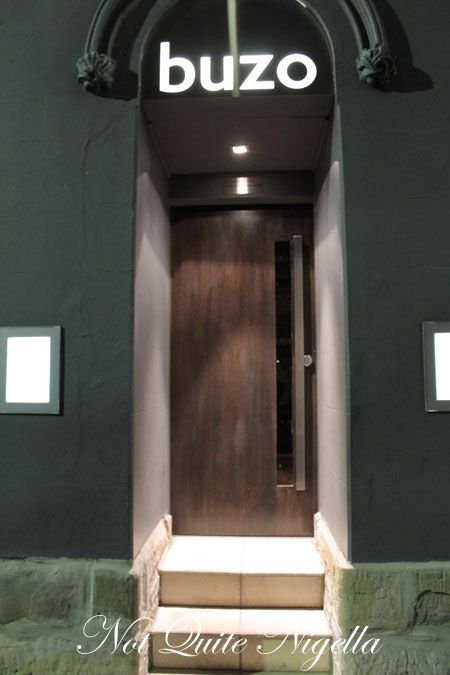 It was cold this Wintry Monday evening. The rain poured down, thunder struck the sky with mild grumbles and my stomach echoed with a loud protesting growl. I was waiting for Mr NQN to come home so that we could make our way to some comforting Italian fare at Buzo Trattoria in the upmarket suburb of Woollahra with David Tsirekas (chef and owner of Perama restaurant) and his lovely wife Belinda (mum to adorable girls Mia and Ruby). I walk in first while Mr NQN finds a park (don't you just love husbands that drop you off in the front when you're wearing impossible to walk in heels?). David tells me "Don't worry I've already tweeted 'Can someone get an electrician to @buzo_trattoria. There is a problem with the lighting'!" and starts laughing.
David has already established joking relationship with Traci from Buzo., Only a few weeks earlier he had called to book with her using a false voice complete with dodgy indiscernible accent saying that he had read about Buzo on "Not Quite Nutella". And we learn that joking back and forth is the order of the evening. Housed in an elegant charcoal grey two storey terrace it's busy for a Monday night.
Warm Sicilian Green Olives, Fennel & Lemon $8
These are a fantastic start. The warm olives (and I do love it when olives are served warm) are heady not so much in the fennel and lemon but rosemary which gives it added warmth.
Pillas dio Anna Baked Semolina Gnocchi $20
"We'll just share all of the dishes" Belinda says and it's music to my ears. The baked semolina gnocchi are gloriously softer than soft, almost falling apart on the spoon and they're paired with a rich gorgonzola cream, strong parmigiano cheese and crunchy walnuts.
Savoy cabbage, pine nuts, raisins, pecorino and pangrattato insalata $20
Now you wouldn't expect a cabbage salad to be the star dish of a restaurant and when Belinda told us that the cabbage salad was supposed to be good I was eager to try it but still slightly sceptical. After all how good can raw cabbage be? I shouldn't have doubted it and the thinly sliced cabbage salad with crunchy pine nuts, sweet raisins and a buttery breadcrumb and pecorino topping is just divine. It's dressed with a salad cream which is like a mayonnaise mixed with cream. It's hard to describe how simple yet perfect this is.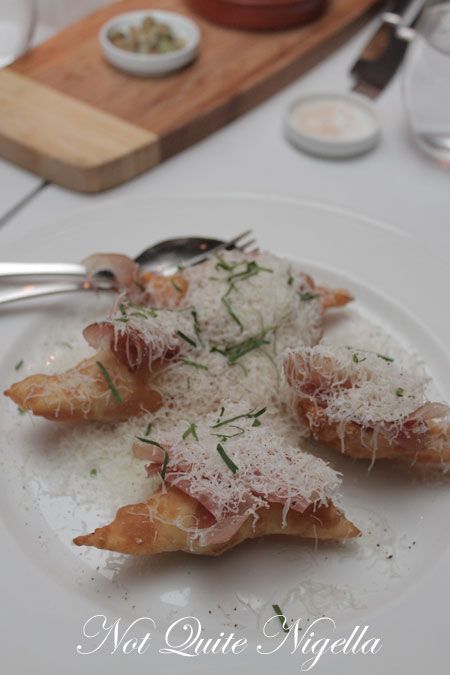 Coppa, salami, goat's cheese and parmigiano Gnocco Fritto $20
These were little parcels of deep fried pastry stuffed with goat's cheese and and were crispy with a cloud of grated parmigiano and thinly sliced coppa on top.
Seared Queensland Scallops, chick peas, chilli, parsley and lemon $20
The seared Queensland scallops are plump and juicy and nicely seared on the outside although you know I managed to knock a few chickpeas onto the ground with my clumsiness.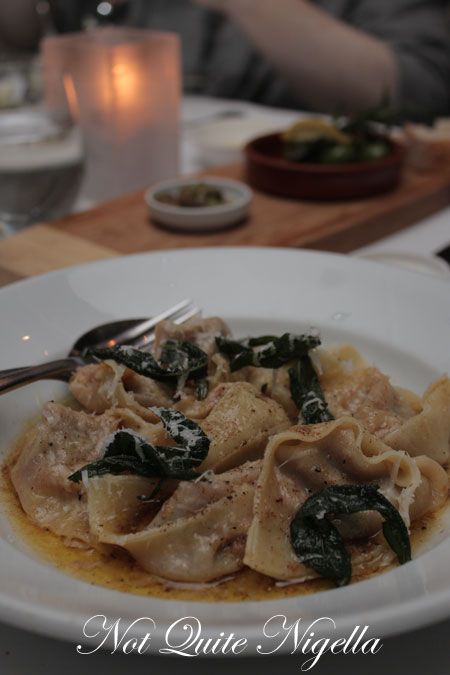 _Duck Tortellino _
The Tortellino (larger than tortellini) are filled with a soft duck ragu which is perfect when combined with the silky pasta and it comes topped with fried sage leaves.
"I'm never coming here again!" David shouts joking and Traci walks back towards the kitchen pumping her fist in the air laughing.
Vincisgrassi $27
The dish that Belinda was waiting for was the porcini lasagne as she adores truffles. It is a porcini, mushrooms, prosciutto, truffle and parmigiano lasagne and it's an exercise in richness and indulgence. All I really have to say is look at it-you can see how amazingly rich and good this would be just from the picture.  It was ideal that we were sharing this as it is so headily gorgeous that one may struggle with a serve of this by itself (I particularly enjoyed it with the crispy potatoes).
Fried Potatoes $8
Papardelle, pork sausage, chorizo, tomato ragu, parmigiano $27
I do love papardelle, one of my favourite types of pasta and its paired with a luscious tomato ragu with pork sausage and chorizo. Sometimes papardelle doesn't quite catch enough sauce but this is saucily perfect.
Sicilian style roasted leg of suffolk lamb, pangrattato $31
The pink centered Sicilian style roasted leg of lamb is mouth wateringly tender and is served with a pangrattato (crispy breadcrumbs) which gives it a light crunch.
Rosticciana (sticky beef short ribs, vin cotto, agro dolce and lemon $32
The sticky beef short ribs are slow cooked and are presented with the meat on top of the two bones. It's soft but perhaps could do with a creamy mash underneath it to give soak up the lovely juices.
Pomegranate, raspberry and prosecco granita, fresh lime $10
We weren't going to decide on desserts until we saw how full we were. However it wasn't a hard decision to try a dessert each. This was Mr NQN's pick (see he does get to pick a dish on occasion ;) ). It's fresh and cleansing with a tartness from the pomegranate and fresh lime and the perfect dessert to cleanse the palate to take us into the sweeter stuff.
Baked Meyer lemon, treacle and mascarpone cheesecake, poached pear $16.50
This was my favourite dessert and one that I couldn't help but go back for more and more. I'm a sucker for red wine poached pears especially when combined with something creamy and this cheesecake is lightly lemony and sweetened with treacle and looks like a small round of cheese.
Walnut, chestnut, chocolate and caramel tart with double cream $16
I tried some of this chestnut studded tart with double cream and it's also rich but I'm afraid the cheesecake has won my heart and I go back to that.
Warm baked chocolate, almonds and vanilla gelato $16.50
I'm not a huge chocolate desert eater especially after a big meal so I only taste some of this. it is good but after all at the end of a meal stomach space is precious and I go back to the cheesecake.
Bowl of mandarins $8
An item that I thought was quite fascinating was the bowl of fresh mandarins. It reminded me of Chinese restaurants where you get fruit at the end of the meal.
We finish off the meal with some lovely cocoa dusted ganache chocolates which melt in the mouth and not before David gets a copy of the salad recipe for himself promising to label it a Greek Cabbage Salad. Cheeky bugger!
So tell me Dear Reader, do you like going out on cold, wet nights or do you stay at home?
Buzo Trattoria
3 Jersey Road, Woollahra, NSW
Tel: +61 (02) 9328 1600