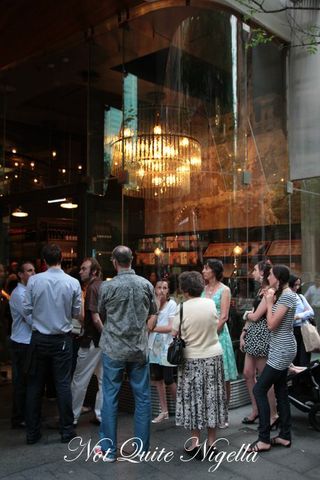 If my lucky number is eight, my current unlucky number seems to be five. Why five? Well because with five people you may have to wait 1 hour and 40 minutes for a table at Jamie's Italian but with six you can make a booking and with a group of two, you can have a table within about half an hour. My friends had encouraged me to make the booking for six people and just cite one as a no show but I was being good.
But after being told it would be a 15 minute wait or thereabouts on the phone that afternoon, a 30 minute wait by the first person while standing at the queue and then an hour as we put our name down after standing in the queue, I'm slightly regretful.
During the wait period Viggo and Dave got up and ordered us some nibblies while Louise, Mr NQN and I waited at the bar. And it was a good thing that he did because you know that twilight where you've been waiting for more than you've thought and you get your cranky pants on? Well that was Mr NQN. And somehow we completely missed the order for free bread on the menu although I would think just bringing it for people like in most restaurants might be a good idea.
There is a tray of nibblies brought out to the people waiting in the queue which is a nice gesture but the tray comes back still half full bypassing everyone in the bar waiting. I bump into a friend Ute who says to me "Is it just me or is there no signage for this place?"  Oliver is said to pay a visit to his latest outpost some time in February.
We tried the Italian nachos, crispy deep fried four cheese ravioli blanketed with a thick covering of grated parmesan and "angry' arrabiata sauce. The ravioli weren't bad although you couldn't really tell that there were four cheeses inside and the filling has shrunken leaving mostly an air pocket. The spicy arrabiata sauce is nice and spicy.
The bruschetta, and they all come as pairs, is crispy and crunchy and comes with three different toppings. The first features oven dried cherry tomatoes, basil and garlic and ricotta which is cooling and crunchy and has a good balance of flavours.
My favourite out of the three bruschetta is the roasted mushrooms that were grilled and marinated with lemon, thyme and garlic as the flavours matched well with the meaty mushrooms.
There is a generous amount of crab here and I expected that I would like this best but the crab was quite wet in texture (you can perhaps see the pooling of the liquid in the picture) which made the bread a bit wet too.
It is getting close to one and a half hours and the queue outside has all but disappeared. Dave suggests that we line up again to get a table and figures that we'll have better luck asking for a "table for three and two but next to each other." We ask if we can squeeze on a table for four and they see what they can do.
We finally make it upstairs after 1 hour and 40 minutes and by then we know what we want to order having had plenty of time to peruse the menu. The walls are exposed brick, lightly graffiitied with painted metal and wooden chairs and banquettes. There is a downstairs section next to the kitchen which is pumping furiously with testosterone and steam. Our waiter is lovely and accommodating and helps us with the menu selections.
The crispy squid comes with chopped chilli, parsley and a wedge of lemon. The squid itself is a little tough although we do adore the "really garlicky mayo" which is true to its name-no kissing anyone after that!
The arancini come three to a serve and they are crunchy, smoky golden orbs filled with risotto rice, smoked mozzarella and porcini mushrooms. I quite like the smokiness of these but a nice molten centre of the smoked mozzarella would have been lovely. It is paired with a delicious spicy red capsicum sauce.
These weren't long sticks of polenta but rather little gnocchi sized portions of polenta deep fried until crispy and topped with fried rosemary. I particularly liked these dipped in the garlicky aioli from the crispy squid.
Simple, creamy and milky in the centre, the mozzarella was paired with chilli (which wasn't hot) , mint and olive oil although a single mozzarella ball wasn't what a lot of us were expecting.
By the time our mains arrive there are two empty tables for six so we ask to move to one of them as it is a little cramped as we know that we have a lot of food to come. We are told that unfortunately the two tables are booked. One table arrives and the other table remains empty the whole night.
We decided to get a range of pastas in the smaller sizes so that we could try more although each pasta is available in an entree or main size. Now I do like my pasta on the al dente side and dislike overly soft pasta but this one, studded with plenty of bacon is too firm and dry for me. We can see that the pasta is made on the premises (there is a display at the front where we watched a chef making it).
Again the pasta was firm on this but the cuttlefish was tender. It came with a simple parsley, white wine, caper sauce that reminded me of briney mussels.
We had heard good things about this risotto but we were a bit disappointed with it. We'd seen picture of it on various blogs and it looked lovely and luscious but tonight it is quite dry and really not very flavoursome at all. I know that squid ink doesn't lend a strong flavour and neither does crab but all I could taste was the lemon.
What had to be my favourite dish of the night for balance and flavour and generosity of seafood was the Ligurian fish stew with plenty of  fish (responsibly sourced, according to the menu), prawns, mussels and thinly sliced fennel and reminds us of a bouillabaisse with the two slices of crostini topped with wild garlic aioli. The seafood was tender and the flavours were well balanced with a nice spiciness to it.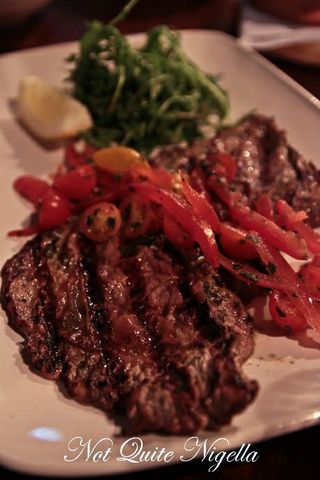 There were two thin pounded veal steaks served with a spicy tomato, basil and chilli salsa on top. Although odd is the lack of prosciutto mentioned on the menu. It came more as two veal steaks with some cherry and basil tomatoes on top.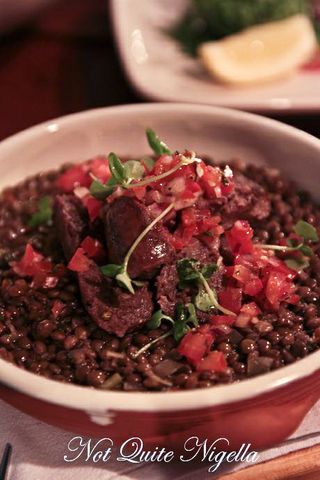 The wild boar sausages aren't made on the premises but I do like the fennel flavour that adds much to them although Dave finds the sausages on the dry side. They are served on a bed of lentils and a salsa rossa  piccante which makes the lentils very moreish.
Dessert time! We're actually quite full but of course we have to have dessert. The tiramisu is flavoured with coffee, chocolate and orange mascarpone but is very watery tasting of unsweetened coffee. There is no mention of any alcohol like marsala and there is no taste of it and it's overall quite disappointing.
More of a raspberry filled chocolate fondant than a crispy, crackly topped brownie this rich chocolate cake came with a serve of vanilla ice cream with some raspberry in the centre.
Looking like two mini burgers filled with gelato this was the pick of the desserts. The mini brioche was filled with a lemon marmellata ice cream with pieces of pistachio and lemon in it. It's not a light dessert by any means but it's worth its weight in any weight gain ;).
The bill arrives and it is quite reasonable and no doubt this, along with Jamie Oliver's name, will mean that it will be successful at least while people are curious. And perhaps we've come on a bad night as people seem to mostly like it (although some seem to have had the same experience that we did). We unfurl ourselves from our table and walk downstairs and note that once the queues have left you can finally see the sign for Jamie's Italian.
So tell me Dear Reader, do you like to try celebrity chef restaurants? And if so, which one has impressed you the most?
Jamie's Italian
107 Pitt Street, Sydney, NSW
Tel: +61 (02) 8240 5000