There's nothing quite like a limo ride. And there's only one thing better than a limo pick up and that's a pick up in a stretch limousine. If you have guessed that our next destination after L.A.'s In N Out Burger was Canada then great work! And if you guessed Montreal then you are absolutely brilliant! The day after our In N Out Burger extravaganza we leave LA airport where we complete our L.A. experience by spotting a celebrity. A makeup less Denise Richards is on the same flight and she arrives with her P.A. and someone from airport security to wheel her bags.
We arrive in Montreal a few hours later and the weather is a balmy 31C. People are bilingual here in Montreal and when you are greeted it is in French or English or both and if you can only speak English that isn't a problem. TV channels are either in English or some are simply dubbed (and it's trés strange hearing Brett Michaels speaking French on Rock of Love!).
Our limo driver takes us for a quick tour around Montreal and explains how there is an old Montreal and a New Montreal. Old Montreal is a gorgeous area and very reminiscent of Paris's Ile St Louis although larger in area. The interesting way to see how each neighbourhood is divided is by  looking at their lamp posts as each neighbourhood's lamp posts are different. And we're about to cover sixteen of these neighbours today! We arrive at the Hotel Nelligan and our bags are whisked from the back of the limo and we check in. The hotel is named after the French Canadian poet Émile Nelligan and our room is modern with stone and brick, strategically exposed copper piping and luxurious touches with classical music playing as we enter. However there is a lack of tea and coffee making facilities and a pot of tea was $14-ouch! There is an oxygen menu where you can buy personal oxygen for $16.95 per use making the lack of tea and coffee slightly more bizarre. There is a full bottle of Grey Goose vodka in the mini bar as well as, unusually, an Australian wine.
We start off in Old Montreal with our guide Ruby. She shows us the Notre Dame basilica which took 46 years to complete. It looks nice enough from the outside but inside is stunning. And you can tell when you realise that it took forty years to complete the inside but only six to complete the outside.  Inside it is full of gold carvings covered in gold leaf and houses the largest pipe organ in Canada.
Most Montreal people get around by the BMW system (Bike, Metro or Walk). They bike either by their own bikes or the bixi system (bike and taxi, get it? ;) ). Even the Mayor takes dignitaries on a tour of Montreal by bike. Mr NQN tested the Bixi system a couple of times and was slugged with a $100 bill on the credit card (which was obviously some sort of error).
Fairmount Bagels
One thing that I had heard a lot about was the bagels. Montreal has a sizeable Hasidic Jewish and Polish population and over time they have created some uniquely Montreal style bagels. The bagels here are different to New York style bagels in they're lighter and more aerated. The secret to them is the soft water which makes them hard to duplicate elsewhere. They also use egg and honey in the dough and hand roll the bagel in sesame seeds. There are other varieties like chocolate chip, sun dried tomato and muesli but the sesame bagel is the most popular and is baked around the clock 24 hours a day. Ruby asks for a hot one from the oven. There are no preservatives so they will not last until the next day and freshest is best.
Sesame seed bagel from Fairmount Bagel Bakery
Mmm airiness!
I take a bite into my hot bagel and it's soft and doughy and very good. Almost like a very soft bread roll that has just come out of the oven mixed with a bagel. I do like my bagels with a filling and I think this would be delicious with some butter or some smoked salmon and lox. Interestingly it reminds us of those puffy dough balls covered in sesame that you get in lieu of dessert at Chinese restaurants.
Schwartz's
They queue even in hot weather
Our next stop is an exciting one. Smoked meat! I know what you may be thinking, it's pastrami or prosciutto. No, this smoked meat is entirely different. The best is said to be at Schwartz's and typically there is a queue outside the door but the heat and humidity is keeping many away.  They smoked meat is brisket and it is smoked upstairs and then kept in steamers to help keep in the moistness and heat. It is then hand carved to order. It comes in lean, medium or fatty . Interestingly, when the founder Reuben Schwartz started Schwartz's 82 years ago he was frugal and didn't want to use preservatives as they would cost more and eat into his profits so no preservatives were ever used which remains the practice today
Inside Schwartz's
Sample of medium smoked meat on bread
We try a small slice of bread with the medium smoked meat and it is so unbelievably good I go into food orgasm mode.  The meat is so tender and soft and full of gorgeous flavouring with pepper and spices. You can even buy the Schwartz's herbs at stores. The store is also the subject of a book and a soon to be released musical.  Despite the many offers to franchise the store, the owners have never agreed to it.
**Frite Alors! for Poutine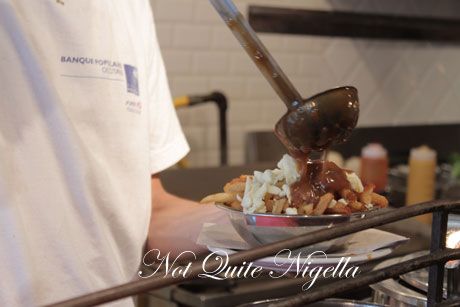 "Are you sure you want to try Poutine?" Ruby asks us doubtfully. The weather is stinking hot but I've been dying to try poutine since I first heard about it many moons ago. Poutine is a late night kind of food that is often available 24 hour a day. The key to poutine is a light gravy, raw milk cheese curds (which are kept out of the fridge to retain their "squeakiness") and fresh, crispy hand cut chips.  It is also made to order so that the chips are never soggy. Cheese curds can be found at most stores including convenience stores and are sold in small packets as once the packet is opened, then the squeakiness from the cheese can be lost quickly.
The firm cheese curds individually packaged
It is a mild cheese, not quite as squeaky as halloumi and certainly nowhere near as salty. It is also the first cheese that children are given here and can be found in lunchboxes. The best poutine  in Montreal is said to be at Le Banquise which are known for their variety which serves 22 varieties including bacon, onions and merguez sausage or ground beef.
However as we are in the area we stop off at Frite Alors which is a chain of poutine shops. We take a seat at the bar and watch as the hand cut chips  are cooked in a small batch to keep them fresh. They're emptied into a metal bowl and the guy behind the bar opens a packet of the raw milk cheese curds from a small packet and places them on top of the chips.
Mmmm lovely poutine...
He then carefully pours the gravy on top of the the curds and chips. The heat from the freshly cooked chips underneath the cheese and the hot gravy on top ensures that the cheese curds melt. We take to it with a fork and the chips are lovely and crispy, the gravy rich although a touch salty and the cheese curds lovely and melted. The key is to wait a few minutes to let them melt and then turn the chips over with your fork to ensure that the cheese curds are  dunked under the gravy and chips. Heaven! And whilst this was my first poutine, rest assured this is not my last ;) More poutine porn to come!
La Maison Cakao
What next but dessert of course! We stop at La Maison Cakao that are famous for brownies, chocolates and ice creams. We try a delicious banana caramel filled chocolate which is stuffed with a whole pecan.
Sorry shaky hands, excitement due to chocolate consumption and all that...
La Binerie
This stop was at my friend Gina's urging. She studied in Montreal at McGill University therefore spending many years in this fair city. We take the Metro a few stops to La Binerie, a place that is famous for their baked beans which are done in lard. I'm not sure what to expect but when I ask the concierge in my admittedly crap French accent and she is unsure until she realises that I am in fact talking about La Binerie. "Ahh yes!" she said "La Binerie, of  course!" she says smiling. Mont Royal is a mixed area with all sorts of interesting shops, tattooed people and parents with babies in strollers.
We see it from across the road. It has the appearance of a diner and there's a menu out the front and an open sign. On the door is a logo of a steaming black pot of beans as they are the main attraction here. An open "Ouvert" neon sign sits in the front window. We take a seat at the bar after being greeted with a hearty "Bonjour!". The waiter hands us English menus. Prices here are very reasonable with 1/4 of an entire pie costing you $3.75 and dessert of Pudding Chomeur setting you back $2.75. Yes readers, the prices in Montreal are unbelievably reasonable and it's not just here at these small diners we later learn.
We make our order for a breakfast special and a slice of tourtière which is the Quebcoise version of a meat pie. For good measure we try the Spruce beer which is a non alcoholic beer which we were warned was the Vegemite of Montreal. We watch as our waiter pours it into a beer tankard and are surprised that its actually like a light lemonade in colour. We take a sip expecting...well Vegemite. It's actually like a cross between ginger beer with a slight herbal aftertaste and nowhere near as bad as we expected and in fact quite nice really. The orange juice tastes freshly squeezed.
Tourtière Meat Pie $3.50
Our plates arrive soon after and I start with the tourtière pie. The filling and recipe varies from family to family and it's often made with chunks of meat but this is made with mince. It tastes like a hogget mince with some spices like cinnamon. The pastry is very crispy and flakey which I would guess is made with lard rather than butter.
Breakfast Speciality $7.95
Onto the beans though. They come seprarately, ladled from large metal trays in the oven in front of the bar. As a result they are piping hot and sit in a pool of lard. Ok best not think about that. Our waiter tells us proudly that they are made without sugar. They are good beans and a testament to them is the fact that you can buy them in half kilo pots. You can also buy the pates to take away and there's a steady trade in take away.
The famous fèves au lard
The pancake is more a crepe which is served with bacon, ham and an egg sunny side up and two large slabs of toast with pork rillette in a small plastic cup. I gratefully help myself to the dispender of real, thick maple syrup (it's good to be able to help yourself to the real stuff!). There's also molasses on the counter which a friendly fellow diner helps herself to by the tablespoon full. "Good sucre!" she declares happily.
Bilbouquet
For a sweet aversion and purely for research purposes, we stop by Le Bilbouquet, an artisanal ice cream maker where we try a sample of some maple ice cream which is utterly divine.
Les Touilleurs
You know I bought these cupcake wrappers right?
Our last stop is at Les Touilleurs, which is a kitchenware store full of some gorgeously unique items. I buy these  adorable cupcake wrappers. They're also known for their wooden products like chopping boards and have quite a few cool items.
Shopped and eaten out we head back to the hotel where we plan our next poutine assault!
So tell me Dear Reader, what's one dish from another country that you've always wanted to try?
A rather fab spice rack!
_NQN travelled and explored Canada as a guest of Tourism Canada
_
Fairmont Bagels
74 Avenue Fairmount Ouest
Montréal, QC H2T 2M2, Canada
Tel: +1 (514) 272-0667
Subway: Station Laurier
Schwartz's
3895 Boulevard Saint Laurent
Montréal, QC H2W1X9, Canada
Tel: +1 (514) 842-4813
Subway: Station Sherbrooke
Frite Alors
3497 Boulevard Saint Laurent, Montréal
Tel: +1 (514) 840-9000
La Maison Cakao
1351-1391 Avenue du Mont Royal Est
Montreal, QC H2J 1Y7, Canada
La Binerie
367 Mont-Royal Avenue East
Montréal, QC H2T 1R1, Canada
(514) 285-9078
Subway: Station Mont-Royal
Bilboquet
1311 Avenue Bernard, Montreal
Tel: +1 (514) 276-0414
Les Touilleurs
152 Avenue Laurier Ouest
Montreal, QC H2T 2N7, Canada
Tel: +1 (514) 278-0008
Subway: Station Laurier