This is my third instalment out of four on things to do in Edmonton, Canada.
Visit a Horse Whisperer
I'm a relatively new person to nature. Mr NQN and travelling around to regional areas have converted me from a city loving girl to one that loves nature. I've always loved animals but haven't had much to do with horses. But that's about to change today at Equus Alive, and I'm about to meet a real life horse whisperer Gary Miller.
We arrive at the farm and meet Gary and his crew. Before we begin, he explains the road rules with horses. Firstly, horses need to know who is the leader and they prefer for you to be the leader. They have a herd or pack mentality with a pecking order. Also talk Texan to them-that is, talk low and slow.
He starts us off with five warm up exercises to increase our energy before the horses come out. We are going to start our first exercise which is walking with them. We gather the rope and hold it near their chin with not too much slack and click with the corner of our mouths.
The key here is to not look at the horse. You can look at the horse out of the corner of your eye but do not look at them directly. I get Nickerson who is a young horse and all he seems to want to do is chew my coat sleeves which earns him a light sock on the nose from one of Gary's assistants. He's just a baby so he's a little harder to control than the calmer, older horses and like a baby, he just wants to chew the rope or clothing. To get them to stop you look them in the eye and say "hoooooooo" (rhymes with hoe).
Gary then teaches us how to lead the horse to do circles around us. To do this you drop the shoulder closest to the back of the horse, make a clicking sound and then focus your attention and body on the butt of the horse. Your turn on the spot slowly mirroring the back of the horses movements and the faster you click and move and increase your energy, the faster the horse will move. To make them canter, you blow a kissing sound!
For this I get another horse who is a vastly different from Nickerson. A beautifully natured horse he follows the commands easily and calmly and it's a surreal feeling to be able to get a horse to run around you in circles.
Lastly, Gary shows us one last horse who is busy running around wild in circles. It looks as though she is determined to keep cantering and has a spirited personality. Gary gets in the ring and patiently connects with her and eventually she stops and obeys. Because of course, that is what horse whisperers do!
Visit Elk National Park
We then take the short drive to Elk National Park spanning 194 square kilometres. There is a herd of bison and as it is the middle of rutting or mating season the males are making a bellowing sound. To camp here you can book your place online or an make use of one of these teepees for about $50 a night for six people.
They have two types of bison: wood and plains bison and all bison here are disease free. And our guide Evelyn points out that while Africa has the big five animals, they have the big six: two bison, elk, moose and two deer. And if you're curious and ever get chased by a bison remember this. They run at 30kms an hour but they don't eat meat and they don't climb trees! ;)
Evelyn shows us some Saskatoon berries (of course you can't pick these if you stay here) and I try one raw. It is sweet with a burst of liquid with a slightly grassy flavour.
Eat Alberta Beef
We are here for a picnic lunch cooked by renowned chef Blair Lebsack who will soon be opening up his new restaurant. And despite our bovine neighbours, we are eating plains bison burgers (it is the wood bison that are endangered). With the burger are a delicious homemade tomato sauce, pickles, pepper cheese and an assortment of vegetables. We're also served a bison tongue pâté, a duck pâté and  pheasant rillettes.
Our next stop is Spring Creek Ranch where we get to see where the beef that we will eat tonight in a terrine comes from. The Kotelkos are a fourth generation cattle ranching family originally from the Ukraine who emigrated in1901. They raise premium beef that is raised without hormones or antibiotics. Because of the climate and the amount of snow they finish the beef on grain here and they work with 40-50 producers across Alberta and British Columbia.
Their cattle is red Angus and black Angus cattle (although Kristin tells us that as consumers won't be able to tell the difference between the two Angus breeds in terms of taste. They also give the producers that they buy from feedback on the grading of their cattle which gives them feedback on the quality of their studs.
Originally, they started with 50 head of cattle in 1983 and the ranch now has a feeding capacity of 36,000 cattle. They take in cattle at 600-900 lbs and feed them to 1200-1300 lbs. They supply to many of Alberta's restaurants and their beef appears in 150 stores. Interestingly, another area of their business is energy production where they recycle and take out the ethanol from the manure and the by product is a nutrient rich fertiliser that they use again on the ground.

Now why doesn't life come with a limo?
We head back to the Fairmont Edmonton and after a quick shower (the fastest shower and hair wash and dry I've ever done) we are back downstairs for dinner! We are trying some of the Alberta beef from Spring Creek Ranch as well as some of the local vegetables at Peas on Earth, an organic vegetable farm.
Peas on Earth is located about 45 minutes outside of Edmonton city. This year is their twelfth certified organic harvest after Eric Chen emigrated from Edmonton and Ruby from Hong Kong. Eric explains that they bought this land bare and enriched the soil by planting nitrate rich crops and using crop rotation to bring nutrients to the surface.
"Soil is the fundamental of everything" he says. The farm sits 2,000 feet above sea level and grows a huge range of vegetables as well as experimenting with Asian vegetables like bok choy and gai larn. Their shop is open on Fridays whereas the rest of the days are spent at Farmers Markets.
It's a lovely evening out and we watch the sun set. Chef Blair Lebsack and his team are cooking for us tonight using all local produce and we are promised a meal to remember.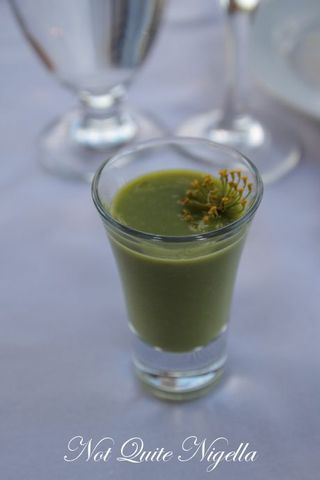 Our first course is a pea soup that tastes of pure pea puree with a sprig of dill flower on top which is a neat kick of dill flavour. Just the trick to get us hungry!
The duck breast was done over cherry wood and placed on top of a pate brisee shortcuts pastry crust. This was then covered with a parsnip puree and poached Saskatoon berries and rocket tossed in first pressing olive oil. The pastry is short and buttery and the duck is cooked til lovely and pink throughout it and the berries lens a light sweetness and the rocket a little pepper.
The spicy bok  choy is marinated in fresh cayenne pepper with the first press olive oil and then wilted and this sits on a bed of roasted cauliflower puree where they have used the stems as much as possible to give it texture. The picked purple and yellow cauliflower florets give it an extra crunch.
Warm Spring Creek ranch, beef cheek terrine, celeriac mashed potatoes, roasted root vegetables served with Nk 'Mip Qwmt Qwmt (native Canadian word) Cabernet  Sauvignon
This dish came to Blair in a dream based on how much charcuterie her has been doing recently. It is a labour of love for Blair and one that he said worked easily when he was practising making a meal for two but proved difficult in portions of 42. They line a terrine tin with mashed potato, then the beef cheeks and the potato again. It is then cut into slices. The braised beef cheeks are soft and gelatinous and my mouth is watering even writing about this right now. There is a fine dice of roasted carrots, golden and red beetroots and a reduction from the braising liquid.
Grilled Pilatus Farms Bison Tenderloin, sautéed spinach, zucchini provncal,, red wine reduction sever with Lafrenz Montage
_ _The bison tenderloin is a mild tasting meat similar to beef in taste and is soft and tender tender. It is paired with a slice of squash, sauteed onion, zucchini and a splash of red wine reduction.
Cheese board: Sylvan star cheese, gruyere, grizzly gouda & Italian herb Smoky Valley cheese, Valencay Pyrenees goat's cheese served with Kettle Valley Starboard.
The cheese board looks magnificent and comes out as a metre long cheese board with local cheeses from gouda, ashed goats cheese, Italian herb cheese, gruyere and pyranees goat's cheese. It comes with buttermilk crackers that Blair made, pickled onions and beets. The gruyere is a particular favourite among the table.
The last course is served warm and is a crab apple galette with crunchy, nut crumbs and is served with chokeberry coulis and a honey rhubarb ice cream. The pastry is crumbly and delicious and the whole dessert is thankfully not too overly sweet hitting the right notes for all of us.
They promised us a great meal and no-one was disappointed having seen where the beef and the vegetables come from and tasting it shortly after.
So tell me Dear Reader, do you make an effort when you travel to eat local food? And which animal would you like to "whisper" to or be able to communicate with?
Equus Alive
Suite 207, 240-222 Baseline Road, Sherwood Park, Alberta, Canada, T8H 1S8
Tel: +1 (780) 499-9219
Elk Island National Park
Site 4, R.R.#1, Fort Saskatchewan, AB, Canada T8L 2N7
Tel: +1 780-922-5790
Spring Creek Ranch
springcreek.ca/
Peas On Earth
www.peasonearth.ca/
Chef Blair Lebsack
@blebsack