Guess what this symbol means?
Mr NQN and I take to wandering around Montreal in search of the best food on offer. We walk past this sign and I point it out to him. Surely it's a sign for cherry stand right? I thought that perhaps food was so important that they had permanently designated stands (hey in NQN world there would be gardens made of lollipops and macarons on sticks and fruit trees would line the streets). It turns out that this is the symbol for a fire hydrant, not cherries-ha! :P
Anyway, enough about hydrants (I never thought I'd say that) but I know what you're interested in right? The food of course! We're off to visit two of the well known markets in Montreal, Atwater and Jean-Talon. Each neighbourhood has it's own bakery, chocolatier and cheese shop and Montrealers generally shop at these fresh markets for fresh food rather than at huge supermarkets.
There are three things that Montreal is known for:
Step 1 - Dairy
Step 2 - Apples
Step 3 - Maple syrup (of course)
Montreal has about 650 varieties of apples which are a hardy fruit that last throughout Winter. 95% of maple syrup is from Canada and 85% of this is produced in Quebec.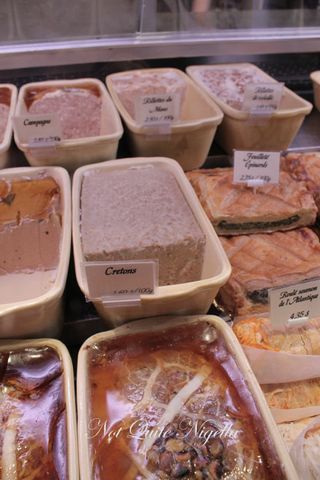 We start at the Atwater markets which are housed in an Art Deco building. The markets were started by a Montreal mayor during the 1920's Depression. It was a way to keep the male population employed and the markets were often started in the poorer areas of Montreal. The Atwater market is the largest flower market in Montreal and it's a busy one. On a Saturday 9,000 baguettes alone are sold. Our guide Ruby shows us the pates that are available and there is a dazzling array of them. The most popular one is the Cretons which is a pate with pork, herbs and spices.
The mayor after the one that set up the market was a gourmet chef and he decreed that the meat had to be in a different section from everything else. Interestingly, he was also against the idea of street food so as a result there is literally no street food to be had in Montreal.
We start off at Premiere Moisson which means first of the harvest. Mr NQN and I try the mille feuille. You may know I am, afflicted with pastryitis. I adore the stuff (I blame my butter loving mother) and I'm eager to see how the pastries stack up to Paris's. Ruby buys us a mille feuille and a bowl of coffee and a bottle of water.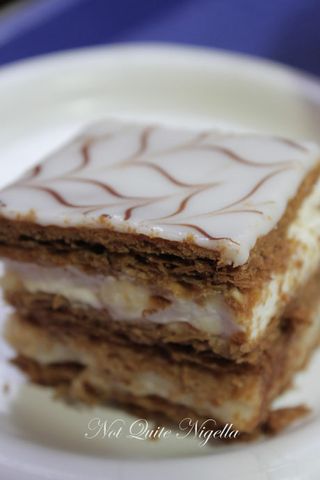 The temperature today is set to reach 45C (I did ask for hot weather didn't I?). The coffee is excellent and made by espresso and the mille feuille is beautifully crunchy although interestingly the top layer is of whipped cream and the second layer is of custard. Despite the humidity outside the pastry is wonderfully crispy similar to that caramelised Pierre Herme 2000 Feuilles pastry that I still dream about.
Luckily we're in strawberry season and the raspberries too are cheap with baskets for $3 and a lot of 6 punnets for a tiny $10! This is because many are producer to market stalls, we need to stop ourselves from gorging on berries. There are both wild and farmed blueberries (the wild are tiny and about half the size of the farmed blueberries), mulberries, strawberries and raspberries. It is also lobster season so varieties of Homard Lobster go for as little as $7-$14 a kilo.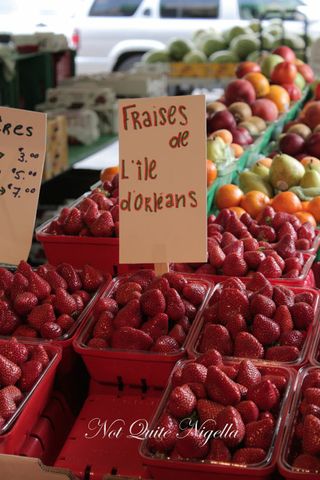 Fruit from the Île d'Orleans fetches a higher price and is sought after as they are local berries from Quebec.
We enter the cheese shop there where they stock 750 varieties of cheese with about 289 local and artisanal cheeses. The Cendrillon goat's cheese covered in ash (Cendrillon means both Ash and Cinderella!) won first prize in an International cheese competition. Patrick lets us try some Le Chevre Noir which is a goat's cheddar that is gorgeous.
We then try one of their strongest cheeses, the Pied de Vent which means the light passing through clouds after a storm. It's a soft, washed rind cheese which is made on the Îles-de-la-Madeleine. The "La Canadienne" cows (a Québécois heritage breed of small cows) are fed grass from the island giving it a distinct taste and strong aroma and most interestingly, an almost sandy rind! Summer is the best time to eat this cheese as that is when they can eat hay from the island. During Winter time they have to ship hay in from elsewhere. which does give it a slightly different taste. From Friday to Sunday they do cheese tastings at this shop.
Jean Talon Markets
Our next visit is to the larger, older Jean Talon Farmers Markets with approximately 300 stalls. Walking from the train station, we hear a mix of languages which stands out and reminds us of being in Sydney as we've become accustomed to hearing French. People of all sorts of ethnicities walk past us and we smell all sorts of aromas including Vietnamese, Middle Eastern and Moroccan. These markets are open markets within a shed cover. Along one side is a range of meats, seafood, cheeses and other delectables. Most of the rows of stands however are taken up with fresh fruit and vegetables all prettily displayed
When we arrive at 11am we see the queue of people that wait for the 11am calamari delivery. We join them and order a serve for $7.99 along with some piquant mayonnaise (you can also choose tartare sauce). We hand our order over to the man behind the counter and take our place at the picnic tables outside. The calamari rings as well as some baby squid that got into the mix are very lightly coated but also very tender and well matched with the lemon and spicy mayonnaise.
We also buy a maple and mango hand made ice pop from Les Pops for $3 which quenches our thirst and cools us down. We take some time to browse the various stalls including one that specialised in local produce, a stand that sells a wide range of meat and minces including bison mince. There are some delicious cheeses and as it is lobster season there is plenty of lobster available at very low prices. I lament my lack of stomach space!
_Fruit with samples-yes that's me nabbing a piece
_
_All of those figs for $4! Le sigh...
_
Most fruit stalls have elevated sample plates where you can help yourself. Extra sweet fruit is given a "tres sucres" sign and as the sign suggests are actually very sweet. We buy a big punnet of blueberries for the tiny sum of $2. We regret not having  the room in our tummies to take advantage of their 3 punnets for $5 deal. A bag of eschallots sells for an incredible $1.
Around the main shed are a variety of restaurants and food stalls that specialise in food from all sorts of countries. There is Mexican, Portuguese chicken as well as a lot of other ethnicities represented.
One store is called Marche des Saveurs which has 100% Quebecoise produce. They stock the largest selection of microbrewery beer here. There are delectable sounding products such as maple wood smoked bison, venison and duck.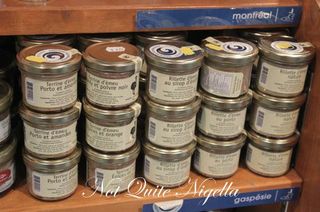 Organic dairy is also popular and their version of a pie is called a tourtière.  Of course there are maple products in every single way, shape and form-they're an innovative lot here. There is a 1 litre bottle of maple syrup for $20!
Before we leave we take a look at the wine store at the front where we spot some pretty gift boxes of Canadian Ice Cider. Canada is known for Ice Wine but Quebec specifically is known for Ice Cider. Ice wine is made from grapes that has been frozen on the vine and is a sweeter type of wine that is usually quite expensive.
Ice Cider is made from apples as Quebec produces so many and it is made from apples that had been frozen on the branches. We try some and it tastes sweet and delicious, similar to a dessert wine although not quite as sticky or sweet. It's served cold and when drunk warm it tastes more like apple juice. In this store alone, there are 60 producers represented here of about a total of 100 Quebec producers, some of whom sell direct.
They also sell maple products including maple cream which is like Baileys but Maple flavoured and honey wine.
Shopped out we bring our bounty of purchases back to the hotel wondering how we will fit them into our luggage!
So tell me Dear Reader, any tips on packing? And what did you think the hydrant sign stood for? :)
Atwater Markets
138 Avenue Atwater
Montreal, QC H3J 2J4, Canada
(514) 937-7754
Subway: Station Lionel-Groulx
Jean Talon Markets
7070 Avenue Henri Julien
Montreal, Quebec H2S3A3, Canada
(514) 903-2113
Subway: Station Jean-Talon
Le Marche des saveurs du Quebec
280 place du Marche du Nord, Montreal, Quebec, Canada
Tel: +1 514 271 3811