I peer down at the sea from up above, earplugs dulling the noise surrounding me. Looking down onto Vancouver Harbour from the helijet I notice that areas of ponds are frozen over. Winter's December in Vancouver and British Columbia is more temperate than the rest of Canada but it's still cold with temperatures hovering just above zero.
The Helijet that I'm travelling in is a modified helicopter that can fit about 10 people in it. It's a spectacular way to transfer from Victoria to Vancouver and one of the fastest. However I have missed most of the trip because my lack of sleep meant that I dozed off mid flight clutching my camera. I alight the helijet and promptly forget my handbag and a friendly woman reminds me.
I catch a cab from the Helijet terminal to my hotel, The Loden. As I walk towards the taxi stand I smell that unmistakable smell....pot? Really? At 2:30pm in the afternoon? Vancouver has been dubbed Vansterdam, the Amsterdam of North America for a reason. The taxi driver (who incidentally is not the person smoking pot) takes me to The Loden, a stunning luxury boutique hotel on Melville Street.
A well dressed woman holds the door open for me. She doesn't work there, she's just polite and sees that I have bags. They check me in quickly and show me to the elevator and offer to get my a valet for my bags. They're not too heavy yet so I take them up in the elevator.
My room #205 is on the second floor out of hotel's seven floors and is a garden terrace room with its very own private terrace area. The room is serenely glamorous if there is such a thing. To the left is the king bed and by the window is a plush pink velvet day bed. The whole room and terrace measures a good 415 square feet.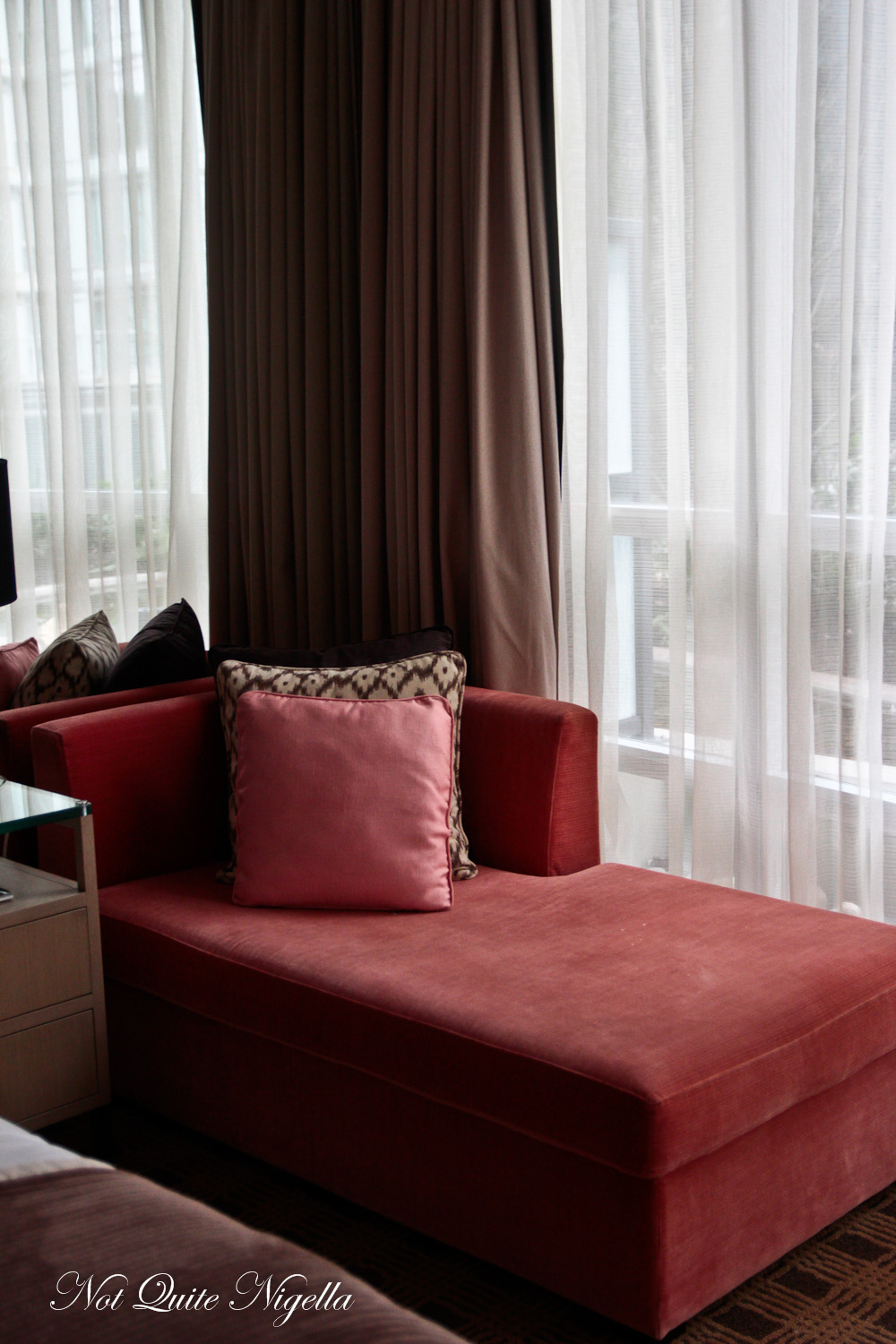 Outside, it's cold and rainy and the television shows me that it is 4 degrees celsius so I just take a peek out through the curtain where a laughing ceramic buddha greets me. A mini green buddha sits on the bedside table - this tiny portable travelling statue is for guests to take home. A working station sits below the large flat screen television and a welcome herbal tea set sits next to a candy and mini bar display.
The bathroom has a bath tub and a separate shower and Molton Brown toiletries with shampoo, conditioner, body lotion, amenity kit and shower cap. A cupboard contains yoga mats - should I be so inclined.
An infrared sauna treatment is offered to guests in this room - I wish the sauna obsessed Mr NQN was with me to take them up on it. Instead I make a cup of tea and work watching the temperature drop a degree every hour.
By the time night rolls around it reaches 1°C and I don my Winter coat and leave the warm comfort of my room. The restaurant downstairs at The Loden is called Tableau. It's a French restaurant and bar crossed with a bit of old Hollywood with large posters of Marilyn Monroe and Humphrey Bogart. We are starting off here with a few appetisers and after that we will move to the Homer St. Cafe and bar.
Spiced Apple Mule $6CAD
We take a seat and I order something spicy and non alcoholic - the spiced apple mule with organic apple cider, lime juice and ginger beer. It is refreshing and very sweet.
Mushrooms on toast $12CAD
Sometimes items don't really sell themselves on the menu and it takes either prior experience or a recommendation. One of these very items is the mushrooms on toast. What could be so special about mushrooms on toast? They're creamy mixed wild mushrooms shed on oh-so-buttery brioche and once you try it, you just not want to share it. I'd ask for a recipe but I don't think that they'd share it.
Smoked sablefish and beets, horseradish leeks $14CAD
I've had sablefish before but not a smoked version. This is a buttery soft fish with a strong smoky aroma. It is paired with purple and white beets, sliced sautéed leeks and horseradish.
Rabbit terrine $14CAD
The rabbit terrine is made up of nubbly chunks of white and dark rabbit meat served with a seasonal cranberry compote and toasted baguette slices drizzled with oil. The terrine is excellent particularly when a tiny amount of the sweet compote is dabbed on top.
Steak tartare $14CAD
Always a favourite for me, the steak tartare has just the amount of mix ins and flavours to make one almost forget that dinner is only a few minutes' away!
One of The Lodens features is their London black cab that takes people around the downtown area. Every couple of months the exterior is reprinted to reflect a campaign or a cause. In November the cab had a black moustache for Movember. This month it is painted red.
Homer Street is about five minutes' drive away in Yaletown and the cafe has a slightly retro home style diner atmosphere to it combined with bistro elements. There is an open kitchen and behind the chefs is the rotisserie filled with roasting chickens slowly turning, their burnished skins a dark bronze. Towards the back next to the bar is the "cock-pit" decorated with painting of what else but roosters! Yes, roast chicken is the specialty here.
The menu is two sided with a "fresh sheet" that details the specials of the day. There are also wine specials that the waitress calls the "fun and freaky" selection. It's a given that we will have chicken but deciding on the rest is difficult because there are so many things we want to try. The prices are also very reasonable.
Maple butter pork belly $7CAD
I just wasn't able to resist this - only good can happen when combining pork belly and maple butter. Each cube of pork belly has a crunchy crackling layer on top and is simmered in a sweet maple butter syrup. I particularly like the pieces on the bottom that have soaked up the syrup as they're juicier.
Kale and beetroot salad $12CAD
The kale and beetroot salad is one of the specials. It's has a delicious but light buttermilk dressing and dabs of feta cheese. The feta isn't overly salty and the beetroot is quite mild but it's a satisfying salad with the crunch of kale.
Lamb and potato pie, bone marrow $20CAD
The pie turns out to be a very substantial pie with a thick layer of creamy potato topping and an even thicker layer of soft, pulled lamb meat. To the side is a jellied serve of bone marrow although given how rich this dish was, some parsley or lemon would have been great for the marrow to give it some acidity.
Half chicken $26CAD
The half chicken arrives in all of is bronze splendour. The breast is expertly moist while the skin retains a beautiful crunch right down to the last bite. It comes with a chicken jus which is concentrated in chicken flavour and pee wee potatoes. They're probably the only thing on the plate that I don't go for as they are not particularly moreish or crispy.
Brussels sprout bagna cauda $6CAD
As we are all big fans of sides we also order Brussels sprouts that come with finely grated cheese and a thin piquant sauce that seasons the sprouts well soaking them through with flavour.
Crispy chicken skin $5CAD
I can never resist chicken skin and they serve it as thin sheets of pressed, golden chicken skin, seasoned and ready to eat as a snack.
Peanut butter cookies, Nutella cream $6CAD
With barely enough room to fit in dessert we order a couple to share among the three of us. The cookies come three to a serve and are chewy with a distinct peanut butter flavour. They pair very well together with the moussy Nutella cream.
Skillet baked cheesecake, seasonal fruit $6CAD
I was intrigued by the skillet baked cheesecake. It's an excellent cheesecake but looks just like a regular cheesecake topped with red wine pears with a thin buttery crust.
I make it back to my room feeling full but satisfied, my first night back in Vancouver after a few years' absence cushioned by a comforting meal. I lie down and rub my own tummy instead of the laughing buddha's.
So tell me Dear Reader, do you tend to eat more in cold weather? Do you prefer travelling to cold or hot weather destinations?
NQN travelled to Canada as a guest of Canadian Tourism Commission and Tourism Vancouver
The Loden Hotel
1177 Melville St, Vancouver, BC V6E 0A3, Canada
Phone:+1 604-669-5060
http://theloden.com/
Tableau
1181 Melville Street Vancouver BC Canada V6E 0A3
Phone:+1 604 639 8692
http://tableaubarbistro.com/
Homer Street Cafe & Bar
898 Homer St, Vancouver, BC V6B 2W5, Canada
Phone:+1 604-428-4299
Brunch: Sun 10:30am – 3pm
Lunch: Mon – Fri 11:30am – 2:30pm
Dinner Mon – Thurs 5pm – 11pm, Fri & Sat 5pm – 12am
http://homerstreetcafebar.com/