Here is the second part of my list of fun things to do in Edmonton, Canada.
Do a cooking class & market visit at Gail Hall and Seasoned Solutions
"Julia Child is smiling down from heaven about the amount of butter we are using today" says chef Gail Hall as she is standing in her kitchen frying some butter in a pan as it sizzles and hisses in agreement. Today we are having a taste of Edmonton-literally by going to the Edmonton Farmer's Markets and participating in Gail's cooking class.
Chef Gail Hall
Before we arrived at Gail's loft, we spent some time wandering around the Edmonton farmers market. An Edmonton local, Gail is a chef that has previously owned a successful catering company. She is now a radio columnist, president of Cuisine Canada and holds cooking classes in the loft that she shares with her husband. As well as conducting culinary tours around the world and within Canada, she is also an avid supporter championing local produce. At the beginning of our cooking class, she takes us around to four different stands to introduce us to the food of Alberta.
Our first stop is a fruit stand where the fruit comes from the British Columbia region. They practice organic principles in that they don't use sprays and they rotate the crops but aren't certified organic. They go around to about 24 markets in the area and this is one of them. And the blueberries are just divine, the sweetest.
Our next stop is the Prairie Bakery where they bake breads and buns using freshly milled flour in their very own flour mill. This makes a difference because freshly milled flour has additional properties that commercially made bulk milled flour doesn't as this has been removed so that it lasts longer and doesn't go rancid. As a result, the protein levels with their bread are higher than other breads.
Our third stop is the Sunshine Organic Farm stall where they sell certified organic beef, pork, turkey, chicken and eggs. They also make nitrate free ham and bacon and their beef is all dry aged for a minimum of 21 days. They point out that their ground meat is just meat - no snouts or tails!
Dark purple beans
Red potatoes (creamy underneath the skin)
The last stop is the Dutch family at Riverbend Gardens who have a great range of items including black long beans. They are one of the very own farms within the city limits and their farm has sandy soil that drains well even during wet season.
Dill flower bunches
_And no, there isn't a baby under there! :)
_
Lovely tangy fruit curd
Hungarian baked goods
Ukrainian sweets and savouries
Plus what all markets have, cute dogs out for a stroll!
Orange, yellow and red vine tomatoes
Local honey
Now that we've had a run around the markets, popped into some stores and taken some photos we go upstairs to Gail's apartment to start her cooking class. She starts us off with some fruit sangria and some fantastic cloudy organic apple juice. The table has a centrepiece of cauliflower and romanesco cauliflower and there are a range of cheeses on the table.
Gail highlights various local producers by using their products in the class including Sylvan Star cheese which has an interesting history. In Europe, the father was a retired award winning cheese maker whose son wanted to become a cheese maker. But to do that, you need land and in Europe you generally don't have land unless you pay a small fortune for it or inherit it. So they looked for areas in the world that were good cheese making regions and central Alberta came up as an option.
The son moved to Alberta and assessed conditions for cheese making and reported back that it was a good area for it. The cheesemaker father and mother moved over and started making cheese and since the first year it has started winning awards and hasn't stopped since.
Gail's classes are usually interactive but as we have over 10 people this will be a demonstrative class with volunteers getting up to help. Of course I cannot wait to get into the kitchen and cook but have to restrain myself! Gail shows us pure birch syrup which has a smell similar to kecap manis and is used to impart a unique, sweet flavour to dishes.
She tells us stories of seeing Julia Child at a cooking show during the eighties when low fat was in and Julia's outrage when an audience member asked if it was ok to use margarine instead of butter. She slammed down a rolling pin and told him in no uncertain terms that the problem was not the butter it was the portion size and that if he was particularly concerned he should skip dessert.
I'm dying to get into the kitchen so I get up and slice some peaches and sprinkle some berries and before we know it, our clafoutis is ready for the oven. Today we are making six dishes in the space of three hours and we will be enjoying them afterwards and taking the recipes home with us. Our entree is a market salad with honey dressing and then a three onion ricotta tart using leeks and two types of onions. Our main is a beef stroganoff paired with a barley and wild rice pilaf and a roasted cauliflower and red pepper salad and to finish, a peach clafoutis.
Marcia, Charlie and Rebecca cutting up the cauliflower
Sam expertly rolls out the pastry for the three onion and ricotta tart
Nicole cooking down the three types of onions
Natacha whisking in the ricotta to the three onion and ricotta tart filling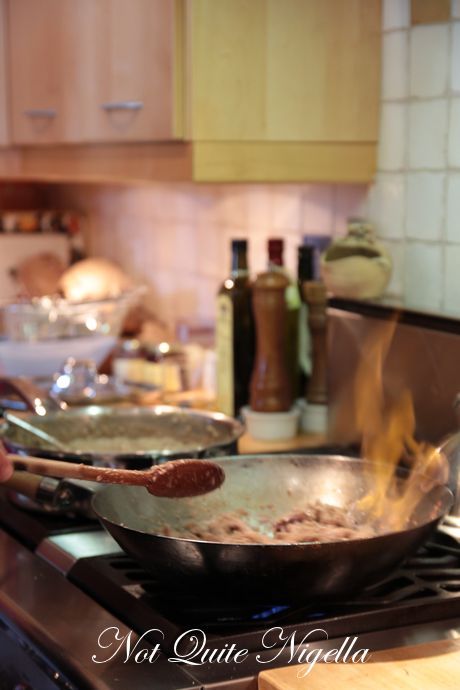 And of course flambeeing the brandy in the stroganoff!
Beef stroganoff
And despite the amount of food that we've been eating, come 2:30pm I'm ready, more than willing and able to sample these dishes. The stroganoff is lovely with tender pieces of grass fed beef in it. The pairing of the barley pilaf is unusual but it works and gives more of a texture and mouthfeel than rice would.
The slightly sweet roasted caramelised cauliflower and red pepper with the birch syrup was a hit too.
And our clafoutis to end!
Boutique shopping
After food and spas, my other favourite thing to do is shop at boutiques. We wandered around on 104 Street where we spied this fantastic shop called 29 Armstrong.  Now I can't claim to have a definitive guide for shopping-the itinerary was packed and we barely had time to shop but know that there are gorgeous little shops that you can stumble upon and 29 Armstrong is one of them. The service is wonderful and very accommodating.
Who do I meet but my favorite little golden pig! Alas the price tag as a little price prohibitory and before I left, Mr NQN specifically told me not to come home with a golden pig. Can you believe that? He must be psychic :P
Best calculator ever. If I had this at school, I think I might have done better at Maths...
So tell me Dear Reader, what is your favourite thing when you travel? Eating out, spas, shopping or outdoor activities? Or something else?
Funniest sign ever
NQN travelled and explored Canada as a guest of Tourism Edmonton, Tourism Jasper and Travel Alberta
Edmonton Downtown Farmers Market
104 St from Jasper Ave to 103 Ave, Edmonton, AB, Canada
Tel: +1 (780) 429 5713
Seasoned Solutions Loft Cooking School
402, 10249 - 104 Street, Edmonton, AB, Canada
www.seasonedsolutions.ca/
29 Armstrong
10129 104 Street, Edmonton, AB, Canada
Tel: +1 (780) 758 4940