"I think you should take this" Mr NQN says to me handing me his heavy duty black windbreaker. Forget the fact that he wears an XL and I wear a small, I gratefully take it along for I have been briefed that Canberra's winds are fierce and frosty. It has been about a year since I visited the nation's capital and I was very much looking forward to seeing and eating some of the best that Canberra had to offer over the space of two days. There was even hot air ballooning in the itinerary (but sadly strong winds put those plans to rest) but I would be more than content with exploring the capital not through up in the air navigation but on the ground eating.
Gaynor, Katrina and I land and are met by Donna from Australian Capital Tourism. We're headed off to lunch at PodFood in nearby Pialligo. We walk through a plant nursery and make our way to the glass panelled building. PodFood is a restaurant open for breakfast or lunch as well as holding cooking classes.
Bread with olive oil
I survey the menu hungrily. I usually order something different from everyone else in the interests of being able to blog about more. However we seem to have reached a consensus here and everyone wants the same entree. The reason? It's truffle season here in Canberra and local truffle features on the prawn dish here. The bread it must be said is delicious and spongey soft.
_Pean seared local prawns with a rich parsnip mousse, wilted spinach and shaved local truffle $20
_
There is a generous serve of prawns in this dish at about six or seven  prawns. They're served with some wilted spinach and a parsnip mousse which is more like a parsnip and cheese souffle which is a slightly sweet aspect to it. It is topped with a single truffle shaving. The combination of the ingredients works very well with the pungent truffles. And yes one shaving was all we really needed.
Chicken and leek pie
Before I ordered this, I enquired whether the pastry was home made or not. You see I don't like commercial or packet puff pastry (Carême being an exception). They confirm that the pastry is all house made so I feel compelled to order it being afflicted with pastryitis and all that ;) .  I am the person that visits France just to eat the pastry there (I blame my mother's butter obsession). The filling is chicken and leek in a white wine cream sauce with garlic and thyme and when I first unveil it I think at first that it is a bit runny. But once I start dunking the utterly gorgeous butter puff pastry into the molten centre I am grateful for the extra sauce. It comes with buttery mash and broccolini and green beans.
Chargrilled Atlantic salmon fillet topped with a fresh herb and a macadamia nut crust, caramelised eschallots and roasted potatoes $31
Pan seared mushrooms topped with a Persian feta mousse, rocket, pinenuts and candied lemon salad $25
I made a deal with the devil, if I finished off the pastry top then I couldn't eat dessert (not that I could fit it in) and we all feel too stuffed for it. We move onto our next stop, the zoo!
We arrive at the National Zoo where we are about to have a rather terrifyingly exciting but nervewracking encounter with a cheetah. Our guide David Blogg (yes his last name is Blogg!) explains how we should act while in the enclosure. Now I should explain my trepidation. Well, apart from having a particularly vicious and violent cat while I was a teenager, once upon a time Mr NQN and I visited a zoo in Thailand we had a chance to meet a tiger. Except the tiger trainer only had one arm. We opted out of that opportunity.
Nova and a snack
I check the staff for any missing limbs and seeing that they're intact I remove my faux fur stole (in case it thought I had taken one of its relatives). We get into the enclosure and Nova the cheetah is waiting. Thankfully she's busy eating (deer today although her favourite is horse meat) and after she has a nibble we get to pat her. Sixty people a week get to "Meet a Cheetah" and each person spends 15 minutes in her enclosure with her (at $150 per person).
Do you see Alan Rickman too?
This is the only zoo in the world where you can do this apart from one in South Africa. Interestingly they explain that some big cats choose to "fight" when threatened i.e. lions and tigers whereas other "flight" or run away which are cheetahs.
Bakkar the gorgeous Bengal tiger
We're taken on the Zoo Venture tour that people can book for $95 per person on weekdays and $125 on weekends which gives you a behind the scenes view of the zoo and allows you to feed the big cats. Indeed we do when we meet Bakkar the enormous Bengal tiger. We see all sorts of little creatures like a baby sun bear (SO cute!) as well as tree top high red pandas.
My heart is lost to the cross eyed white lion who has the sweetest expression. It's enough to make you want to hug him-almost!
Aww such a sweet face!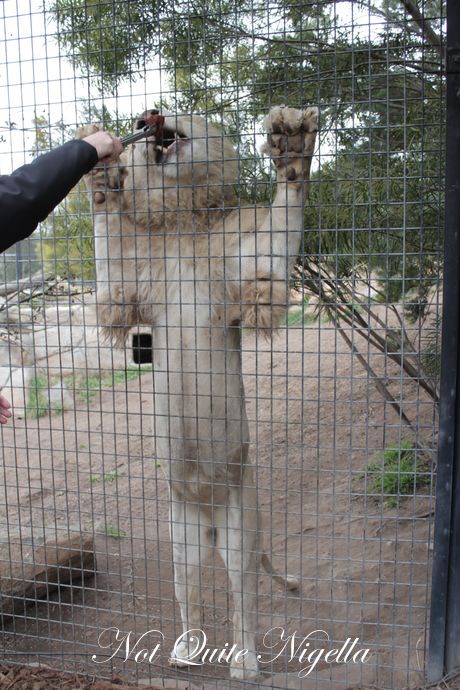 But don't be fooled...he is so hungry!
We were advised not to pat these on the head as they rub their heads in urine!
Gaynor tongue kisses a giraffe "I've kissed worse than that" she quips.
Cougar Town
We feed a cougar and we can't help think of the modern day connotation of cougar. David tells us that the "cougar viewing area" and "suggested route" signs are the most popular to pose with ;) If you're Australian you'll understand the meaning of the suggested route but if you're outside of Australia, route aka root means shag ;)
The Kangaroo Island kangaroos are gorgeous. Different from the typical red or grey kangaroos, they're much gentler in nature and have the most amazingly soft fur.
Euci the koala
We are lucky enough to witness a rare sight which is some snow leopards getting frisky with each other. One is missing an eye as the other one swiped her face.
We smear some bear food on our hands (made up of avocado, kiwifruit and Weet Bix) and Blondie the bear licks it off our hands. Interestingly, of all of the animals, David is wariest of these the most and reminds us to step back behind a line.
Our tour ends with a feel of a snake which I was a bit too scared of to photograph (I have a bit of a snake fear).
The bedroom
We then check in to the Novotel hotel which is in the centre of the city. My sixth floor Swedish designed suite is large with a separate room for the bedroom which you can close off with sliding doors. There is a lovely gift basket with products from the Poacher's Pantry waiting for me, two televisions, and some nice toiletries including a scrub and bath tablet (now why don't more hotels do more of these things?). There is also an enormous balcony. Home sweet home!
Poacher's Pantry hamper
Poacher's Pantry smoked chicken,  smoked ham and kangaroo proscuitto
Lerida Estate wine, Curious Chocolatier chocolate and Lynwood Onion Marmalade
Donna from the Australian Capital Tourism also gives us some of the local goodies including a Lerida Estate Lake George Merlot, a Lynwood Onion Marmalade (love this stuff!) and a Curious Chocolatier Milk Chocolate and pecan nut chocolate.
The menu!
We head downstairs to Level one to dine at the One restaurant where Heather joins us. Tonight we're having a preview of the goodies on offer tomorrow at the very famous Poacher's Pantry, the award winning smokehouse and supplier to Tetsuya and Qantas first and Business class passengers.
Tasting plate served with Shaw Reisling from Murrumbateman
We start off with a tasting plate that contains some of the local ingredients. They're all presented in oyster shells but only one had actual oysters in it. They're Clyde River oysters with tomato lime gazpacho and a lot of diced tomato, cucumber and spanish onion (perhaps a bit too much of the salad) and two oysters. They're good although I did receive  the extra oysters from others at the table so I felt like I had eaten a lot of oysters and a lot of salad.
The next oyster had a local snowy mountain trout with lemon aioli and dill on shreds of iceberg lettuce and that was delicious. I got a little upset when I dropped some of it onto the salt that the oysters were sitting on and the salt stuck to the morsel. I didn't want to start brushing huge chunks of salt off the trout so I left it behind rather sadly. It was also a little precarious fishing out these bits of food from an oyster. The last oyster was filled with what was said to be a traditional nicoise sald with lemon aioli but I found the beans too crunchy and it was missing the tuna so I left most of this behind.
Smoked meat platter served with Lerida Estate Pinor Noir from Lake George
Our main meal arrives and as soon as it is set down I can smell the aroma of the smoked meat. We were discussing blood type diets and although I don't know my blood type, I know I wouldn't be the type that doesn't like meat as I love the stuff.  We have smoked lamb cutlets which are gorgeous albeit a touch fatty in parts (doesn't stop me from gnawing the meat off the bone though).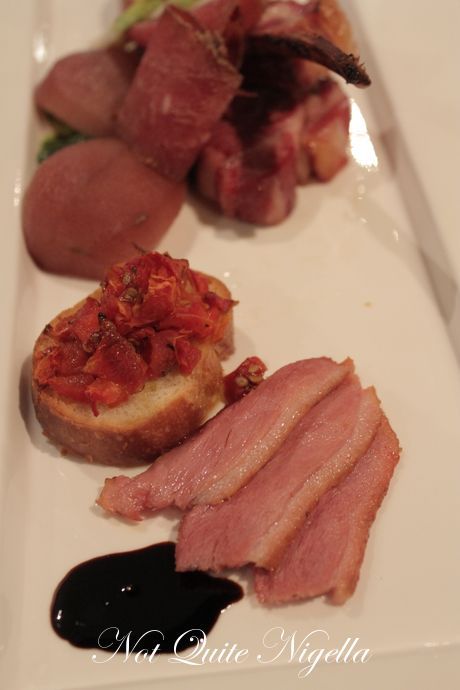 There is also delicate thin slices of wood smoked rolled chicken breast which is gorgeously moist and tender. There is also herb cured peppered sirloin in this slivers and wood smoked duck breast which both go so well with the poached red wine pear. There is also some caramelised balsamic and pomegranate and semi dried tomato on toasts but I prefer the poached red wine pear.
We're relieved to see that dessert is a light affair with three types of house made sorbet:  a hazelnut, mango and lemon sorbet. They're all fantastic and bursting with fresh, real fruit with small pieces of mango and lemon in the respective sorbets and a ring of hazelnut syrup in the hazelnut sorbet.
So tell me Dear Reader, what is your favourite animal to visit at the zoo?
NQN travelled to and explored Canberra as a guest of Accor Hotels and Australian Capital Tourism.
PodFood at Pialligo Plant Farm
12 Beltana Road, Pialligo, Canberra
Tel: +61 (02) 6257 3388
The National Zoo and Aquarium
Lady Denman Drive
Scrivener Dam Yarralumla, Canberra, ACT
Tel: 61 (02) 6287 8400
Novotel Canberra City
65 Northbourne Ave, Canberra, ACT
Tel: +61 2 6245 5000