Canberra continues to add new dining areas for locals and tourists. The Hamlet in Braddon is a converted garage that has turned into a hub for food vans and artisans to ply their trade. Further down Lonsdale Street is Mr Frugii, an ice cream alchemist making ice creams and custard filled choux. And a new addition to the dining scene is Lilo Tang, a Japanese restaurant with a distinct Japan meets Scandinavia vibe specialising in robata style dishes as well as home style mains.
The last time I visited Canberra the first thing that struck me were how many new things had popped up since my last visit. I try and get here at least once or twice a year but it was as if I had been away for a while. By that I mean it felt like I had gone away, had a kid or two and returned back to find the place had changed entirely.
Even though my last visit was last year where we shopped and ate in Braddon, Mr NQN and I start the day back there on Lonsdale Street. Our first stop is at The Hamlet, a smallish but well thought of collection of food vans and small pop up shops. It's very busy this Saturday morning. Mr NQN makes a beeline for coffee at Chasing Mr Morris and grabs himself an espresso while I go for a old fashioned style milkshake at April's Caravan.
There are two types of milkshakes - a regular and a deluxe. The deluxe are made using their own home made syrups while the regular are made using commercial syrups. I go for the deluxe apple pie milkshake tasting of real apple pie and served with a shortbread biscuit on top. "That's the crust bit," they say brightly. And an apple pie it is from start to finish with the shortbread bringing through the apple pie concept nicely.
We seek food right next door at Brod Dogs. A spin off of Brod Burgers the dogs come in two sizes (puppy or big dog) in nine types including a vegetarian dog. There are also a long list of extras to add but overwhelmed with choice (oh such a first world problem!) I go for the pre-set choices. I go for a Brod Dog puppy dog and a New Yorker puppy dog as well as a side of fries with chilli cheese.
The fries are spicy but could be a bit crisper (the ones that are not underneath the mince I mean which are obviously soft) but the hot dogs are great. I especially like the Brod Dog, on a fresh bun and filled with a Vienna sausage, bacon, coleslaw, pickles, ketchup, deep fried sweet potato and shaved gruyere although it's impossible to eat without smearing lipstick everywhere and crumbs all over your clothes. The New Yorker features a spicy kransky with sauerkraut cooked with triple smoked pork belly, corn relish and mustard.
Shaking off the crumbs we assess the options. There's pulled meats, Indian food, pies and spit roasts but we decide to go for Peruvian street food. And there's one thing that you just have to order at Mr Papa and it is the Chanchito aka a Peruvian Pork Belly Sandwich. But a little warning here: don't order one unless you are hungry. Like wolf ravenously hungry or you're splitting it with someone else or you are a lumberjack. Because it is huge. They are friendly here and when I ask them about the three sauces they give me a plate with all three extra to add in case I want more.
And what is in a Chanchito? It's a lightly crusty, fresh bun, fresh salsa criolla (onions, tomato, coriander etc), slices of grilled sweet potato and a generous amount of sliced slow cooked pork belly as well as some Huancaina, a spicy cheese sauce. It's delicious and deliciously msesy too. I dunk the pieces of pork belly in the other two sauces-the lima and the carretilla. This is washed down with a very sweet non carbonated drink - chica morada, made with Peruvian purple corn and flavoured with cinnamon.
We wander through some of the shops. Many are hispteriffic - for example, there's a rather minimalist looking shop that sells just wooden chopsticks and a mallet. I'm afraid that Mr NQN wasn't very polite as he guffawed a little when he saw this. There are also jewellery stands and plenty of boutiques with young designer labels. We stop by Little Dream, Dream Cuisine's smaller location to buy a delicious raspberry and a salted caramel macaron for later. A woman in her eagerness to buy two strawberry and pomegranate tarts pushes her way in. We'll have to take her eagerness to mean that they're good!
There's a number of old fashioned style barbers in the area - after all how else is one supposed to keep a beard trimmed? Boutiques are aplenty at the Ori building just a short walk down Lonsdale Street from The Hamlet. We stop into Mr Frugii for dessert. John Marshall calls himself an ice cream alchemist and the ice cream here is served in metal gelato containers with lids ensuring that it remains at the right temperature. We sample several flavours before choosing the caramdom spice, a doppelganger for a spicy chai latte and the salted butter caramel with just the right amount of sweet and salt.
I couldn't ignore the illuminated range of choux in the other display. I dither over the choices-there's chocolate hazelnut; lemon meringue with a plume of burnished meringue on top and lemon lime & bitters. I go for the lemon, lime and bitters which is the original choux flavour. It's a choux puff filled with lemon and lime custard with a bitters gel in the little pipette that you squirt into the ball. It is crunchy and creamy and I have to remind myself that we are sharing it.
Stomachs full we make our way to our hotel for the evening. We have stayed at the very modern Hotel Realm before but this time we are headed for one of the Penthouse Suites. Our suite is the lower level suite. I love spacious hotel rooms and this is up to 140 square metres of room. We start in the dining/conference room that can be partitioned off for meetings.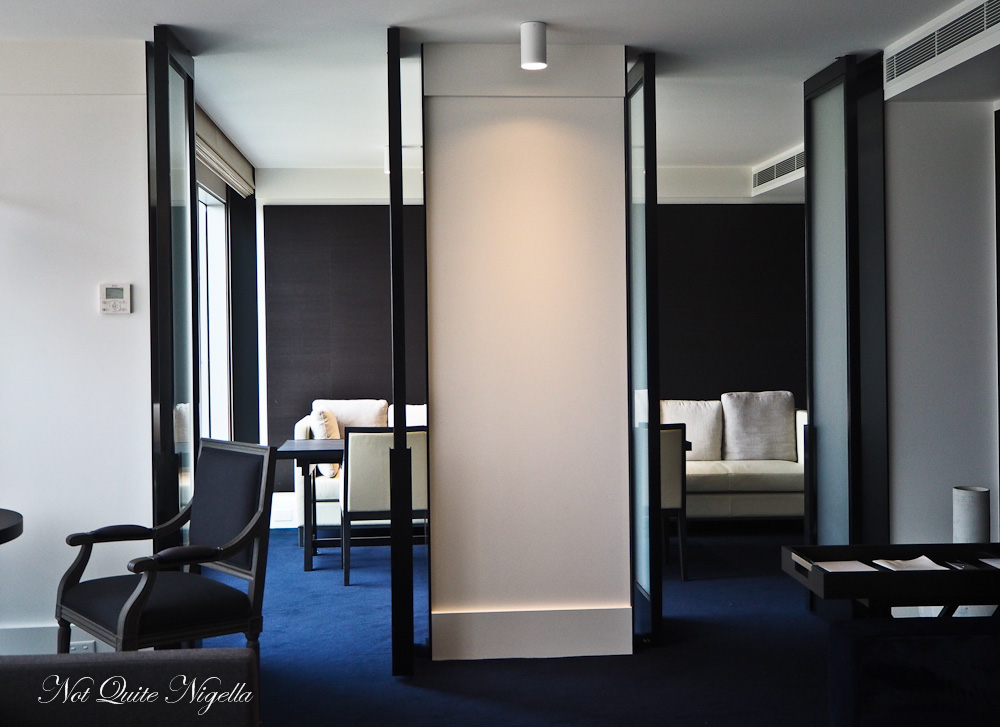 This leads into the lounge room with a television and a generous amount of lounge space and work desk (with lots of plugs so that you don't have to crawl around on the floor!) The second guest bathroom comes off this room and there's a mini bar with healthy snacks and a tea and coffee area.
Through this is the spacious bedroom with a very comfortable king sized bed. All of these rooms have views of Parliament House. Come winter time the fireplace that straddles the lounge and bedroom will come in handy and there is a large flat screen television in both rooms.
Next to the bedroom is the Pietra grey and black granite stone bathroom. This is enormous and it's at this point where I call Mr NQN to take a look. There's a large double sink, a comprehensive offering of toiletries by Appelles Apothecary in two sets as well as a bath big enough for...well a few people not that we are going to test that out tonight! All I know that with this many toiletries, Mr NQN and I are going to groom each other like monkeys.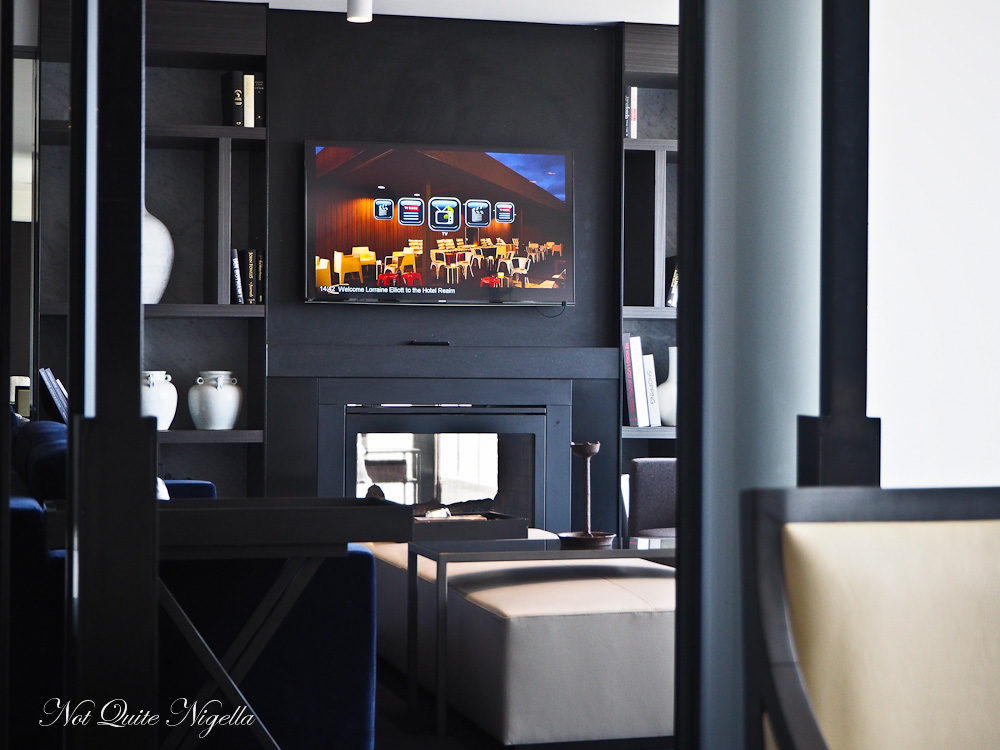 The suite is high tech with privacy and block out blinds closing by switch and lighting levels adjusted up or down by increments. There is free wifi for unlimited devices. The only thing is that figuring out the blinds and technology does take a little while and a bit of trial and error. Don't get undressed until you figure these out. Just my suggestion ;)
Dinner that evening is just across the road at Lilo Tang at their sister hotel, the Burbury Apartments. Open for just over two months, it has already attracted a following for its Japanese cuisine. The restaurant has a Japan meets Scandinavia feel to it with plenty of blonde wood, Japanese manga prints and rope details. It is the latest restaurant from the owners of Chairman & Yip, Malamay and Lanterne Rooms and is busy this Saturday evening. Nagasaki born chef Shunsuke Ota is formerly from Nobu.
The menu has a combination of kaiseki style dishes, izakaya style Binchōtan robata grill dishes and home cooking. We choose a few from each section of the menu. Mr NQN goes for a rice beer made from koshihikari rice (sushi rice) which is crisp and dry and quite mild in flavour.
Sashimi tuna and avocado with wasabi okra soy $15.50
The first dishes arrive quickly and the first item is a sashimi tuna and avocado with wasabi okra soy. Here they use a range of six specially made soya sauces from Japan. The one used in this is an aged soya with a stronger, more concentrated flavour. The dish is good with a thin sliver of crunchy raw okra on top but it is mostly avocado and needs some more tuna to balance it.
Roast Umami Vegetables with Orange Miso in Orange Pot $11.50
The roast umami vegetables are perfectly even sized cubes of pumpkin, sweet potato, daikon and shiitake mushroom roasted separately to retain the individual flavours. They're served with an orange miso sauce in a burnished hollowed out orange. And whilst it is cute, it is a rather small serving.
Nagoya style quail kara-age with sweet sansho soy $18
Things get serious though once the Nagoya style quail hits the table. The quail has benefitted from marinating for 24 hours in milk and as a result is incredibly juicy and there's a good amount of meat on the tender birds. The outside is crunchy and given a gorgeous treatment with the sweet sansho soy. If I could order a whole plate of these I would have.
Chicken meatball with creamy egg $13.50
The chicken meatball is a gingery football shaped chicken mince meatball with a runny centred googy egg. I relish dipping the meatball in the creamy centered yolk.
Pork belly, yuzu kosho miso $10.50
You know the part when you like something so much that you hope your dining companion doesn't like it? I was really counting on Mr NQN to not want this as he's not a pork belly fan but I am. Alas he loves this as do I. The grill kissed pork belly has just the right amount of flavour and extended spiciness at the end. Another plate of these please!
Martina's Black Cod Saikyo Miso Yaki $30.50
We usually go for more starters than mains as they tend to be very meat heavy but we end up really enjoying both the mains. The black cod is a version of Nobu's famous miso cod. It is so slippery smooth and indeed reminds me of that dish that my tongue and taste buds can conjure up from so many years ago at Nobu in London.
Duck Breast Sukiyaki with creamy tempura egg $30.50
It's the duck breast however with its perfect contrast of savoury and sweet that has us coming back for more and more. It comes with a bowl of rice and they recommended to mix everything up to coat it in the sauce. There's a mix of shimeji mushrooms, thinly sliced duck breast and shredded spring onion that makes this a dish to remember.
Houji tea smooth pudding with sweet potao $12.50
They explain that the desserts have presented something of a challenge for local diners. Japanese sweets tend to be on the simple side and some are not particularly sweet. This Houji tea pudding is like eating unsweetened Chinese tea in pudding form. I must admit that it didn't wow me. There are little cubes of sweet potato on top and the texture is indeed smooth but I really wanted a bit of sweetness. When I add some brown syrup from the other dessert it was like an entirely new and much more palatable dessert.
Sticky mochi mochi tofu with brown syrup and green tea ice cream $12.50
This dessert could also be a challenge for those that think of tofu as punishment or bland diet food. We both like tofu especially in Asia where it tends to have more flavour. Here there is a gorgeous texture added to the tofu through arrowroot flour that gives it a slight graininess too. There's a brown sugar syrup on top and a green tea ice cream on the side. My only criticisim is that the tofu is over before you've even begun, especially if you're sharing it with a tofu monster like Mr NQN. Still given how much we had eaten in one day, one might call it sheer gluttony.
So tell me Dear Reader, do you sometimes get overwhelmed by choice? And do you usually do build your own food or do you go for the pre-set items? What did you like the look of the best from this post? And are you yay or nay to Asian desserts?
NQN stayed at the Realm Hotel and dined at Lilo Tang as their guest. The rest of the food in this post was independently paid for.
The Hamlet
Lonsdale Street, Braddon, ACT
Mr Frugii
30 Lonsdale St Braddon, ACT 2612
0438 366 368 Open Wednesday - Sunday 12:00pm-11:00pm
Hotel Realm
18 National Circuit, Canberra ACT 2600
Phone:(02) 6163 1888
http://hotelrealm.com.au/
Lilo Tang
1 Burbury Close, Barton ACT 2600
Phone:(02) 6273 1424
http://lilotang.com.au/