"Why does it say "0" under the temperature gauge?" I ask Mr NQN as we take the drive from Sydney to Canberra one Friday afternoon-the one that happens to see a breakdown and an accident so we're a tad late.
"That's because it is zero degrees outside" he says grimly, gritting his teeth. Even though we are in the warmth of the car I pull my scarf tightly around me in anticipation of alighting the vehicle. We arrive in Canberra cold, tired and hungry. Luckily our first destination is Italian and Sons. It's not often that you can walk into a city restaurant nowadays and get a table at 9:30pm. So when we walk into Italian and Sons in Canberra and get a table and turn around to see another couple doing the same thing we're pleasantly surprised.
In fact things are downright happening at Italian and Sons. An easel at the front of the restaurant holds people's coats and we walk past tables and tables of people laughing and eating. We walk past the bar which also serves as a salumeria with several types of cured sausages hanging up and a cured ham leg ready to slice. People are thronging about, sitting at tables-a family of seven sits elbow to elbow picking up pieces of pizza and forkfuls of pasta while tables of two and four lean in and talk animatedly to each other.
Service is warm and old school-they help you on and off with your coat and hang it on the back of your chair for you. The back of the restaurant faces the open kitchen where the large wood fired oven churns out pizzas and dishes that would make your heart melt in this weather. I know what we want-you see I had been scouting out the menu in the car and knew exactly what I wanted. The only change we made was to order the special for the night the beef cheeks in chianti as our waiter told us that that was as close to their signature dish as it gets when it is available.
Complimentary rosemary and garlic bread
We are absolutely starving. I like to eat early at 6pm so eating at 9:45pm was not bodeing well for me yet I refused to stop and eat fast food when I knew that this was waiting for me. So when our waiter presents us with some deliriously good rosemary bread I dive right in. It's a pillowy soft bread with a light crust to it from the oven and generously seasoned with rosemary and salt (a little too much of the salt on one slice). I save my second slice to have with the rest of the food knowing that Italian food always has such delicious, moppable sauces and I am a sauce fiend.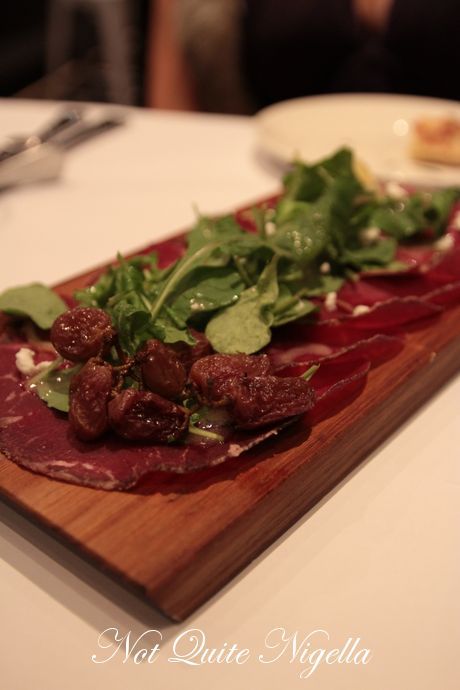 Carpaccio of wagyu 'bresaola', fiore di capra and roasted grapes $15
_ _We're not kept waiting long as this carpaccio of cured wagyu breseola is lovely, thinly sliced and served with a delicate goat's cheese from Italy and roasted grapes and rocket. The roasted grapes are halfway between a grape and a sultana still retaining that plump juiciness and it complements the breseola, goats cheese and peppery rocket well as well as giving it moisture.
Chilli and garlic yamba prawns and eggplant caponata $22
Three large, juicy Yamba prawns come in this dish that sits upon a delectable caponata with eggplant, pine nuts and black olive. The caponata has a sweet and sour agrodolce aspect to it and it is fantastic. The prawn is perfectly cooked and I bat my eyelashes to get the third prawn from the dish. Mr NQN uses the bread to soak up every drop of the caponata sauce.
Beef cheeks in chianti $32
The beef cheeks are made the night before and set to cook just before they close the restaurant so they are ready the next morning. As a result the chianti flavoured cheeks are so divinely soft it's almost hard to pick them up. The celeriac puree has a sweet aspect to it almost like vanilla parsnips and the halved glazed baby carrots are cooked to an ideal texture.
Diavolo pizza $22.50
The quartered Daivolo pizza comes topped with Finocchiona fennel salami, fried peppers, chilli and roast garlic and smells very come hither when it arrives at the table. The fried peppers (capsicum) give the pizza a sweetness and the salami and chilli a spiciness-it even comes with extra chilli if you want a super chilli hit (we're not that brave, it is already quite spicy). I try for Mr NQN's other slice by saying "What kind of husband denies his wife another piece of pizza?" and he smartly retorts "One that gave her the last prawn". Quite right indeed and I had to give him that one.
Ricotta Cannoli alla Siciliana with rhubarb and mint marmellata $12
_ _Desserts were considered after the mains were finished and whilst there was a smart selection selection of Italian cheeses from Lombardy, Piemonte, Sardegna and Toscana we opted for the sweet desserts. The ricotta cannoli is freshly filled with orange zesty ricotta and is served with a rhubarb and mint marmellata which is like a jam or marmalade with a hint of vanilla in it too. The cannoli shell is crunchy and the filling creamy which goes well with the ever so slightly tart rhubarb and mint jam.
Flourless Amedei chocolate torte with orange and pistachio gelato $12
Now from the wording above I thought that the gelato was an orange and pistachio one and the cake a chocolate flourless one. Turns out the cake is a chocolate and orange one with the orange being the thinly candied orange zest on top (rather than being baked inside). The gelato is a creamy pistachio with toffee shards which is wonderfully creamy. The chocolate cake has a chewy almost caramelised chocolate top and is rich and chocolatey inside.
Being that is it so late we leave while trying to make plans to come back for more pizza. We need to check into our hotel for the night which is the Diamant Boutique hotel in Canberra. After missing the turnoff (one only sees the sign after it is too late) we do a back track. Thank goodness for GPS because I find the circles in Canberra hard to negotiate and fear getting on an expressway back to Sydney accidentally.
We get there eventually and check in. The hotel lobby is stunning and modern and reminds me of an art hotel. It is owned by the 8 Hotels group who also own Daylesford's gorgeous Hepburn at Hepburn which we stayed at last year. The check in staff is friendly and deferential and offers to help us with our bags-in fact all of the staff that we see on our visit are exceptionally friendly and courteous (I always tend to notice miserable or unfriendly staff). Our room, 206 is on the top third floor and walking down the hall is a little disconcerting with the numerous mirrors-it's a little The Shining if I am to be honest (maybe it's the late hour too). The hotel had part of it burnt down but it was mainly the restaurant while the main building is still standing and wasn't touched by the fire.
Oh hello lighting fixture. I like you.
We open the door to our room and it is extremely modern and well appointed  with designer goodies. There's a Bang & Olufsen flat screen tv, wallpaper on the ceiling and two closets on each side. The side table is a tree stump (how very Twin Peaks!) and the colour scheme is a chic black and white with black velveteen curtains. The room has been thoughtfully preheated and there is a good selection of T2 teas provided and there is one of those automated mini bars that detects if you have taken something off the display and that always get me as I always pick things up curious to take a closer look.
The bathroom with a bath (yay!) has a good selection of toiletries (Romy brand in a lovely eucalyptus and lemongrass scent) and  and the only thing missing is bathrobes and slippers (hey Canberra is cold!). The bathroom floor on a cold Canberra Winter's night is like showering on an ice skating rink -oh for some heated floors!
At times the room is a little _too _minimalist with a complete absence of towel rails in the bathroom, no bin near the desk and I spent 10 minutes the next morning trying to figure out how to use the expensive designer Artemide Tolomeo desk lamp to no avail (and silly me ended up putting a sachet of instant coffee in my Earl Grey tea mistaking it for raw sugar in the dark!).
I leave Mr NQN to sleep in while I go to meet Hannah. Yes this means that I am driving on completely unfamiliar roads and well all I can say is that there are way too many circles and "form one lane" signs in Canberra!  Well no wonder as politicians like to speak in circles ... ;) I got lost of course even with a GPS and find my way there eventually where I meet the darling Hannah from the blog Wayfaring Chocolate, she of the most fabulous ringlets ever! She is of course my spy pose friend and fellow hater of the chocolate and orange combo. She thoughtfully gave me a jar of a delicious chocolate and coconut spread!
We shall call you whirlpool spread...
We make our way into Beaver Galleries to the Palette cafe where chef Meg Pidd makes all of the goodies in house. Part of the Poacher's Way collective of artisans, restaurants and wineries, Beaver Galleries is the largest privately owned gallery in Canberra. Run by Martin and Susie Beaver, they specialise in promoting Australian artists and feature sculpture, ceramics, jewellery and paintings. We take a little while to place our order as we are too busy talking.  Hannah's gaze is momentarily stolen by the cakes and we make a little dessert order after our breakfast.
Corn fritters with avocado, tomato and red peppers $16.50
The corn fritters arrive and they're filled with capsicum and tender, juicy pieces of corn. They're paired with an avocado and tomato salad with a vinaigrette dressing which gives the savoury corn fritters a tangy counterpoint.
Asparagus with scrambled eggs, shallots and parmesan $16.50
The scrambled eggs are rich with a generous amount of parmesan to pair with the slender spears of grilled asparagus.
_
Praline and chocolate cake (half serve slice)_
The praline and chocolate cake is extremely dense, almost like a white chocolate fudge studded with chcolate. It comes with a berry sauce and thick double cream.
We take a little time to explore the gallery which has some gorgeous items including these vases and bowls. But naturally the garden outside with the sculpture setting lends itself to a session of spy poses and we go a little silly outside trying to best enact our spy poses. According to the Spymaster TV show that I watched, the best spies are the ones that blend into the background well so we test ourselves out in camouflage! And Hannah's report is here;)
This is surely a talent!
I bet you can't see me here ... ;)
The clock strikes 11.30am and we must depart so we say goodbye and I go back to pick Mr NQN up from the Diamant and are on our way to our next stop where we will be exploring more of the Poacher's Way!
So tell me Dear Reader, what time do you like to eat dinner? Are you an early eater like me or a late eater?
NQN nad Mr NQN visited and explored Canberra as a guest of the Italian & Sons, Diamant Hotel and The Poacher's Way
Italian & Sons
7 Lonsdale Street, Braddon ACT
Tel: +61 (02) 6162 4888
Diamant Hotel Canberra
15 Edinburgh Avenue, Canberra ACT
Tel: +61 (02)6175 222
Beaver Galleries
81 Denison Street, Canberra ACT
Tel: +61 (02) 6282 5294
The Poachers Way
http://www.thepoachersway.com.au