When I was growing up, everyone used to marvel at how wonderful it was to be able to get all sorts of produce all year round. Supermarkets were said to be such wonderful time savers and seasonality was a thing that was all but forgotten for most people that didn't grow their own. Now, the opposite seems to be true and every season we all look forward to the season's best items. And for winter, truffles are one of the most anticipated. Should you want to make the most of the truffle season, you can either buy them or take advantage of many restaurant's truffle menus as part of the region's Fireplace Festival from August 1-31. Which is what Mr NQN and I are doing in Canberra this weekend!
We are headed to Lambert Vineyards to try some of their offering for the Fireplace Festival. The restaurant and cellar door is part of the Poacher's Way trail which is a collective of restaurants, accommodation and artisans in the area. Here Chef Daniel Flatt from the Ginger Room is the chef at Lambert and his food has a unique take on warming winter meals with an Asian twist from his time at The Ginger Room.
Head Chef Daniel Flatt
Truffles feature heavily in the region during Winter as there are plenty of local truffles. Daniel buys his truffles from Ruffles Truffles and he uses a mixture of A and B grade truffles, the difference being that the A truffles are whole and the B are in pieces. Each week he changes the "Black Diamond Chef's Whim" menu and there are always three choices to select from.
Truffles were a favourite of Italian composer Rossini and he even leant his name to the truffle dish Tournedos Rossini. He once said "I have wept three times in my life: when my first opera failed, the first time I heard Paganini play the violin and when a truffled turkey fell overboard at a boating picnic." And that's pretty much how I would feel if I witnessed the same.
We also try sone of their wines. Mr NQN particularly like the riesling and the pinot gris and I like the pinot gris.
Pizza $29.50
Our pizza comes out first and it's a thin crispy crusted pizza spread with mushroom truffle duxelle with king brown, shimeji and enoki mushrooms, green onion, slices of black truffle and cheese. It's well seasoned, the crust is nice and thin and the aroma of truffle is strong.
Jerusalem artichoke and truffle cream, roasted baby beetroot, Tunisian brik pastry and chive oil $23.50. Shot with a Sigma 17-50mm F2.8 EX DC OS lens, ISO 400, focal length 23mm, 1/250 shutter.
A gorgeous looking plate, there were sweet, tender roasted baby beetroot, whole chestnuts, crispy paper thin Tunisian brik pastry triangles and a last but not least, a luscious creamy Jerusalem artichoke and truffle cream (two of my favourite ingredients in one!). There's a little chive oil to finish it off at the end.
Trio of goose-truffled goose xiao long bao, whiskey smoked breast and goose consoomme with wild mushrooms, braised witlof and shaved black truffle $39.50
This one's a beauty. So much so that I felt compelled to instagram it straight away. There are four plump truffled goose xiao long bao dumplings. The filling is soft strands of meat rather than mince and there isn't any soup inside them but they are gorgeous little parcels. They sit in a a goose consomme with wild msuhrooms, sliced wild figs (which truthfully you don't really need) and green onions. In the centre of a fondant potato round and three slices of whiskey smoked goose. This was rich and delicious but still delicately flavoured and was my favourite main.
Black Angus Eye fillet, warm bean salad, potato puree and pea mousse, horseradish crumble 
The eye fillet is actually a course from the degustation menu from the Fireside Festival. There are a seven course dinner on August the 4th at $160 per person or $199 with matched wines. Every Thursday to Saturday in August, there is a five course degustation menu for $99 or $125 with wine pairings or there is also a range of dishes for lunch from Friday to Sunday. We had to check that this was the degustation size or not because it was very large! The eye fillet is done more medium than medium rare although we didn't ask for medium rare and it wasn't asked. It's a nice cut of meat, tender and we appreciate the fact that there is a generous amount of vegetables in this with green beans, peas and broad beans as well as potato puree. The horseradish crumble was subtle as I didn't really taste it.
White chocolate and truffle bombe alaska $18
The white chocolate and truffle ice cream sat atop a round of butter cake and was surrounded by a spiky hedgehog of crispy edged meringue. It's surrounded by caramelised roasted hazelnuts which give it a lovely crunch.
And with a farewell to Lambert, we are off in our latest getaway vehicle, the Prius C which is on loan from Toyota. Although the colour is called Sunrise, I prefer to call it orange sorbet. It has all of the features that I like (sat nav, reverse camera). My new favourite feature is where it calculates how much your trip cost in petrol based on $1.50 per litre. And can you see those new plates? I'm now on my green P's!
We check into Country Guesthouse Schonegg (Swiss German for "pretty corner", pronounced shoen-eck) where we are greeted by owner Evelyn who along with her husband Richard owns and runs the guesthouse. Also part of the Poacher's Way trail, it's a popular choice for locals wanting a break as well as interstate travellers and the welcome is warm and genuine. We check into our room, the Shiraz room which is a top tier room. It's spacious with king sized bed, comfortable furnishings and a balcony that looks north to a country side vista (although at these temperatures it's unlikely that we will sit outside! ;) ).
The bathroom is spacious with a two person spa bath and a separate shower. The only thing I could ask for is more toiletries with only a pump bottle of nice smelling liquid soap on offer (toiletry packages are available for purchase). Also the internet does not work from our room and the floor is cold as it is a tiled floor throughout the room and bathroom but a quick search of the cupboards show that they have plush robes and slippers.
We unpack and before we know it, it is canape and wine time! We take a seat in the comfortable lounge in front of the fireplace where we meet the fellow guests at Schonegg who are all very friendly.
There is a warm canape platter including a serrano ham and blue cheese stuffed mushroom, a sun dried tomato and mushroom puff pastry square which is my favourite as well as a rosemary and sage scone with camembert and feijoa paste. Evelyn offers us a choice of wines and we try a local rose. And just as we are about to settle in we realise that we have a date with Grazing!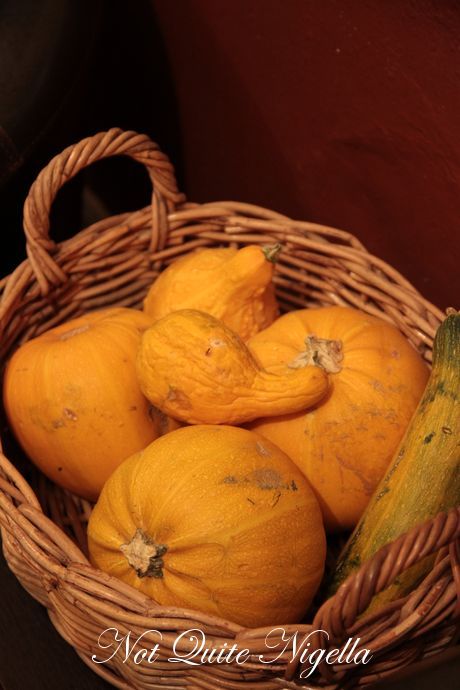 Grazing is the kind of place that I'd like to open. Supportive of the local community, housed in a renovated pub, and with fireplaces a plenty it serves what many say is among the region's best food. New owners Kurt and Tanya Neumann have taken over Grazing from chef Tom Moore. Kurt is the chef and the menu remains seasonal with much of the hallmarks that have made Grazing so well loved.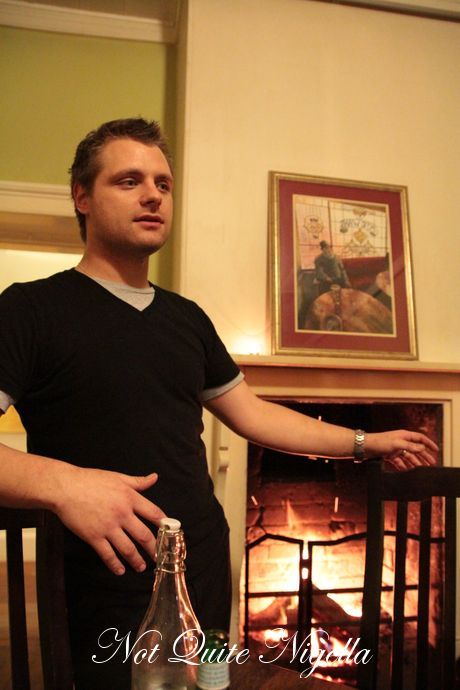 Owner and chef Kurt Neumann
Warm bread with local olive oil and La Barre blood plum finishing vinegar
If ever you need a gift to bring back to people, La Barre's blood plum finishing vinegar is an item that I've bought many a time. I've given it as gifts to friends who love the stuff. Its sweetness reminds me of a beautifully aged balsamic, sweet and tangy and just right.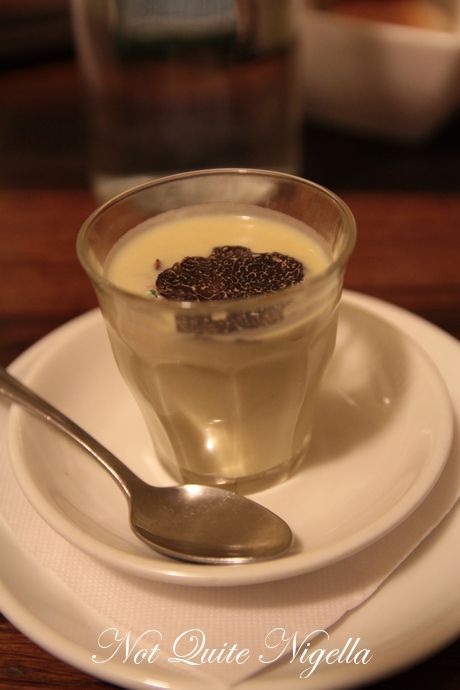 Split pea and smoked pork hock soup with freshly shaved Braidwood truffle
_ _The soup was from the truffle menu and featured soft pieces of smoked pork hock among the smooth split pea soup. The truffle with that very intoxicating aroma sits thinly sliced on the top.
Scallop ravioli
This dish was created for us but a similar version is on the menu made with prawns. This ravioli has a light scallop mousse filling, hazelnut pesto, verjus, croutons and is topped with salmon pearls and a beurre blanc which lends a richness to the delicious ravioli.
Our next course was a three part tasting platter. The quail is a house smoke portion of quail leg, plump with just the right amount of smoke to it. It sits on a thinly sliced celeriac salad.
Next to this was the venison, served glistening and rare sits on  a smear of the smoothest celeriac puree.
And finally, the rabbit roulade slice is filled with prune and pistachio and edged in bacon. It is sweet and savoury at the same time tickling the tastebuds expertly.
Pork croquettes with black pudding and cauliflower
This next dish was a two parter made up with two of the main courses. The pork croquettes is a finely crumbed dark golden cylinder filled with lean pork meat. The croquette itself is a little dry and could use a sauce but the bed of black pudding and cauliflower is creamy and peppery and very moreish.
The second part, the confit of duck is soft and crispy and caramelized on the outside. It is cleverly lightened with a dill, parsley and cabbage herb salad.
Dessert was also a delicious two parter just made for warming up for winter! We started with a bread and butter pudding with a rum and raisin soaked bread and butter pudding with a lovely candied walnut ice cream with caramel swirls and sherry poached grapes in a bed of vanilla custard.
The other part was a baked pomegranate molasses and orange cake which was so soft, warm and tempting with an intriguing flavour to it from the pomegranate molasses and fragrant orange. With our bodies thoroughly warmed, we say a reluctant goodnight.
We sleep well and wake up just in time for breakfast. It's served quite early for a weekend between 8am-9.30am. There is a continental breakfast selection with much of it house made including three of Eveylyn's jams and three of her breads.
I take a slice of the apricot and pistachio bread and try it with the jams. The fig and orange jam is a favourite with the orange cutting through the sweetness of the fig beautifully as I find sometimes fig jams can be a bit cloyingly sweet. I have to resist buying this as we already have so many jams at home waiting to be eaten.
Black Forest Pancakes
Along with the continental breakfast we have a choice of hot cooked breakfasts. Richard is the chef here and he used to a restaurant on the premises but now he makes guests platters to eat in their room. Mr NQN's choice is the black forest pancakes which have cherries inside them, a side serve of sour cream, chocolate and fresh cherries. These are like pikelets rather than syrupy pancakes but a black forest pancake idea is something I'd like to try at home.
Poachie
My poached eggs come with a lovely runny yolk and a generous amount of smoked salmon and herbed creme fraiche on a slice of toasted house baked bread sliced thinly enough so it's easy to cut through.
Check out is at 11am so we go back to our room and enjoy the view. Mr NQN reads a book while I do a little work but before long we're off to Lake George, on our way back to Sydney but not without one final stop at winemaker Lerida Estate. In a building that was designed by architect Glenn Murcutt Mr NQN whispers "It looks like a scene from Avatar" when we walk up to it. The estate has sweeping views overlooking Lake George.
A petanque area is set up outside and the cafe is a recent addition since 2005. It was the idea of Anne while her husband Jim tends to the vineyards on weekends. "It's better exercise than the gym" he says. As we're visiting mid truffle festival there are three truffle dishes on the menu as well as a cafe style menu that changes weekly. Whilst they don't do a lot of the baking here, Anne ensures that they get pies from nearby, truffles from just up the road and supplies come from local suppliers.
Lerida Estate is a premium winemaker that has just retained their 5 star winery ranking by James Halliday for the second year. Jim is a no nonsense sort of guy who talks candidly. "I've lived through four booms and busts" he says he was formerly at the CSIRO developing new grape varieties for the plant industry and horticulture and finds it "immensely satisfying" going from research to wine making.
Jim Lumbers
A business management consultant from Monday to Friday he tells us how he devised to wine club members to give them substantial discounts beyond 10% off (which is similar to what you would get from many bottle shops). Instead club members get between 25%-35% off as well as special invitations to tasting events. "But you've got to love the wine, there's no use only liking two wines" he adds. Luckily people do and the wines are stocked in Vintage Cellars stores as well as restaurants like Quay, Pier, Flying Fish, Bilson's and Catalina.
Hot truffle bread $6
The hot truffle bread is pure heaven. Warm and pillow soft and drenched in aromatic truffle butter you just have to forget the calories and eat. There is no other way (and it's impossible to stop eating it even if you wanted to). They do have the bread available for purchase to heat at home. I try hard to resist buying one to take home with me considering how much we've been eating!
Beef, mushroom and Lerida Estate red wine pie $19.50
The pie comes with a buttery pastry and is filled with chunks of tender beef, mushroom and Lerida Estate's red wine. It also comes with a serve of mashed potato and a dressed side salad. Another comforting meal to ward off the arctic winds outside.
Truffle pasta
The truffle pasta could do with some more truffle, there is one shaving on top and a few bits throughout. The pasta is well cooked and reminds me of egg noodles. It comes with a small serve of parmesan which adds flavour but I'm still craving a tad more truffle and sauce.
The barrel room
Jim tells us there are several events for the August fireside festival including four two and a half hour masterclasses split up into Pinot Noir, Bordeaux blends, Shiraz & Shiraz Viognier and Pinot Gris. Held in the barrel room, participants will be able to undergo barrel tastings and blend from the barrel themselves and taste and benchmark against the great Pinot Noirs from Burgundy.
The classes aim to take away the mystery and make the wines more accessible. Interestingly the blends that the participants make are close to what they would do at Lerida Estate and Jim acknowledges that you should never underestimate people's palates.
Or, their capacity to eat good food while sitting in front of a fireplace.
So tell me Dear Reader, do you eat seasonally? And what do you look forward to most in winter? And are you a hot weather or a cold weather person?
Canberra's Fireplace Festival starts August 1st until August 31st, 2012.  NQN and Mr NQN visited as guests of The Poacher's Way and Australian Capital Tourism.
Lambert Vineyards
810 Norton Road, Wamboin NSW
Tel: +61 02 6238 3866
Opening hours:
Thurs - Sat dinner
Fri - Sun lunch
Mount Majura Vineyard
314 Majura Road, Canberra ACT 2659
Tel: +61 (02) 6262 3070
Opening hours:
Thurs - Mon & most Pub Hols
10am - 5pm
Schonegg Country Guesthouse
381 Hillview Drive, Murrumbateman NSW 2582
Tel: +61 (02) 6227 0344
Grazing
Cnr Cork & Harp Streets, Gundaroo NSW 2620
Tel: +61 (02) 6236 8777
Opening hours:
Thurs - Sat dinner
Fri - Sun & most Pub Hols lunch
Lerida Estate
Federal Highway, Lake George NSW 2581
Tel: =61 (02) 6295 6640
Cellar door 7 days + Café Sat/Sun
& most Pub Hols 10am - 5pm