Canberra is a city where there seems to be enormous growth in terms of hotel accommodation. In the last few years a number of top notch properties have opened up in Canberra giving people an excellent range of accommodation to choose from. If you are coming to Canberra for the weekend and wondering where to stay, come and take a tour of four Canberra hotels with four distinct personalities. If your hotel must haves involve room size, unlimited internet or robes and slippers you might want to take a peek!
For the Quirky: QT Canberra
If you've been to a QT hotel you will know one thing: they're quirky and they're fun and the staff probably have a costume budget that outweighs that of any other hotel. This chain of photo friendly hotels has expanded quickly across Australia. Each hotel has its own distinctive personality based on the location and in Canberra, you may have already guessed the theme: politicians.
From the wallpaper featuring some of our latest Prime Ministers to the selfie wall where you can take pics with a cut out of Barack Obama, have your face reflected in Julia Gillard's hair or stand next to Fidel Castro or Angela Merkel there is no escaping them. And if you need to keep up to date, live tweets from politicians are displayed on an LCD wall.
The QT Canberra rooms do tend to be on the small side-this is a former Rydges hotel and the size does reflect that. The decor is quirky of course with a stool featuring all you need to make an Old Fashioned (one of the drinks they are known for). The mini bar is stocked with unusual treats and items like emergency bow ties and games.
The beds feel somewhere between a double and a queen and it can be a bit poky at times. If you've stayed at the QT Sydney or Gold Coast this is not quite at the same level. There are some teething issues-the day before we checked in we were sent a check-in form where you could specify preferences. We asked for a spacious room and fresh milk in the fridge. We didn't receive either and were given a room right outside the elevator - not ideal for a good night's sleep.
QT Canberra Members Lounge
But if you know someone (usually a politician of note) you may be able to gain access to the member's bar on the 15th floor. This is a bar not open to the public, nor is it a club lounge. It is where deals are made and politicians are interviewed. There are also hidden doors and secret meeting rooms!
Food wise The Capitol Bar and Grill has an extensive steak house sized menu. It's hard to choose but we tried a lot of the menu and it was all pretty fantastic. I would recommend the burrata with pink grapefruit, pickled shallots, parsley and olive oil if you are looking for something light. Another great entree is the "not so classic steak tartare" with hand cut ox beef, smoked shimeji mushrooms, organic yolk and truffle crisp bread. For vegetarians, the truffle risotto is a cut above and for avowed carnivores the only choice is the enormous double rib eye Tomahawk steak carved at the table and served with all the trimmings. The char on the outside is perfect and it is served medium rare on the inside.
You may also want to leave room for desert as the bombolini with syringes of vanilla custard and raspberry sauce are worth breaking a diet for. And if you want some Instagram action, get your camera ready for the "Kubrick Era Dessert". I don't want to spoil things but it is pretty fun and involves melting chocolate (spoiler here). And for after, Lucky's Bar is a thriving speakeasy accessed through the barber shop where a ring master oversees proceedings. See earlier comment on costume budget ;)
**Pros: Quirky, great dinner food, talking points, speakeasy bar, great location, unlimited internet, slippers and robes.
Cons: Small beds and rooms, moderate sized breakfast selection, up and down internet, no spa or afternoon tea. Parking $12 a day. Amenities not replenished daily.**
For the History Lovers: Hotel Kurrajong
Are you a constituent who wears their heart on their sleeve? The Hotel Kurrajong, built in the 1920s has had a steady stream of politicians from both sides visiting or staying. Prime Minister Ben Chifley lived here for many years and his ghost is said to haunt the hotel. Guests can also stay in the room that he lived and passed away in on the 13th of June 1951 (room #181). Some people have reported seeing a man in a grey suit pointing towards Parliament House. Chifley chose that room because he could see Parliament house from the window.
This heritage beauty is elegant from the moment you walk in. The front rooms are all part of the original hotel that included 25 rooms but expanded when the hotel needed to create more well priced accommodation during the depression era. The lobby features rugs by Academy Award winning costume designer Catherine Martin. The location is also very good and within walking distance to Parliament House, the National Portrait Gallery and the National Gallery.
The front rooms are stunning and my executive suite #4 is spacious and well appointed with a Florence Broadhurst print and a becoming colour scheme that matches with the Art Deco look. It looks out onto the garden courtyard which is the perfect place to spend a a sunny day. People can order from the bar menu that features locally sourced charcuterie and house made bread.
And while I mention the strong Labour connection, the hotel was also a favourite haunt of Tony Abbott when he was the Prime Minister. His favourite destination was Chifley's bar where they have a stock of 30 distinguished Scotch whiskys.
The clientele here at the hotel tends to be a little older and appreciate a good single malt. The Balblair Vintage 1989 end release has a stunning bouquet of flavours while the Longrow 14 year old Burgundy cask finish has a distinctively sweet aroma. Even hard to find whiskies like Rosebank ($80 a shot because the distillery have now closed) are served here. Abbott was seen at the bar after he was ousted and made a speech to the diners in the restaurant.
Dinner is all about large servings and hearty food and the menu is more middle of the road. Entrees platters are substantial - a platter for two including prawns, house smoked salmon, house made onion tart and pate with jelly are very reasonably priced at $30 and could be enough for dinner if you are feeling just peckish.
For mains the spinach and ricotta dumplings in a rich slow roasted heirloom tomato based sauce are as good as a hug on a cold evening while the 14 hour slow roasted lamb shoulder is enormous and lusciously soft. It is served with minted garden peas, mash and rosemary thyme jus. I haven't seen sizes this big in Sydney for a while. The divine orange blossom freshly fried donuts are served in a bed of custard with a tangy yogurt sorbet.
**Pros: Elegant and spacious rooms, excellent service, great location, unlimited internet
Cons: Afternoon tea only by request, no spa, limited parking, no slippers and robes**
For Architecture Buffs or Business Travellers: Vibe Airport Canberra
Sydney siders might be slightly prejudiced against airport hotels. In our fair city none of the airport hotels presents a particularly alluring option- they are more places to rest a weary head before an early morning flight or after a late night arrival. But in other cities there are airport hotels that are brilliant-the Fairmont Vancouver Airport and Novotel Hong Kong Citygate are two that come to mind.
Now there is a new airport hotel at Canberra that is jostling to gain their place in a city with no shortage of options. The Vibe Canberra Airport is located just 50 metres from the terminal. It's about 10 minutes from the city centre (we learn that most things are about 10 minutes away from each other in Canberra). It was open in November 2015 and it so new that you get the faintest whisper of fresh paint in the rooms. It's a project that cost just shy of $50 million and designed to take on additional passengers as Canberra airport becomes an International airport in September 2016 when Singapore Airlines commences its new routes.
The atrium lobby is what wows most people. Architecturally it is stunning and employs a 1950's Mad Men sort of aesthetic. The lobby is a popular place for people to work. Some of this may be because your in room free wifi is limited to 500mb a day or because Canberra Airport has no wifi (yes really). The spot of choice is tucked away in the back around the fire pit - ideal for those cold Canberra nights.
The rooms are set out in a circular pattern over six floors and there are four types of room: lower deck, upper deck (the same room as lower deck but on a higher floor), first class and 1 and 2 bedroom apartments. There is no spa or pool but there is a decent gym. If you like to watch the runway ask for an East facing room.
If you are coming in from a long flight, I'd recommend the first class rooms as these are more spacious and have a freestanding bathtub and salts to help you unwind (lower and upper deck rooms are 24 square metres while first class rooms are around 38-40 square metres). The upper floors are also a lot quieter as noise from a conference drifted up to my room. The first class rooms are also just $20 more than an upper deck room on the night that I stayed and you get much more space and quiet.
My room #512 has a king sized bed, spacious seating area, large desk, large kitchen area (no cooking facilities) and a two sink bathroom with a separate shower and bathtub. The shower is enormous with two heads and the towels are noticeably large and fluffy. Oh and a tip: put the do not disturb sign on the door if you intend to sleep in because around 9am there will be a knock at your door asking if you had anything from the mini bar!
The adjoining restaurant to the bar is called Helix and is open for buffet breakfasts as well as lunch and dinner. There's no cocktail menu yet but I am told one is coming. The food menu is also due an overhaul to become more contemporary. At the moment it is quite a safe, middle of the road menu that doesn't quite jive with the modern aesthetics. There is pasta with crab, chilli and snowpeas and the Gourmand salad with halloumi, asparagus, roasted almonds and rocket is a solid, tasty offering.
I suspect that if this hotel was transported in its entirety to the centre of Canberra it would probably be booked out.
**Pros: Architectural hotel, first class rooms are spacious and very well appointed, rooms don't feel like an airport hotel, extremely large and fluffy towels.
Cons: "free wifi" is 500mb of data a day for one device (more can be purchased), daily parking fee $22, without a car the location can feel isolated, no slippers and robes, food doesn't fit the aesthetic of the hotel**
For Modern Families or Long Term Stays: East Hotel
I have this thing. It's about space in hotel rooms. If you do too then you might like East Hotel. Located in the Inner South of Canberra between Manuka and Kingston the hotel is six levels high and service is friendly and efficient. There are eight room types, half are rooms and half are apartments. There's no drive up section, instead you drive around the corner to the park and go up to reception.
We have a one bedroom apartment and this is ideal for a long term stay as there is a dishwasher, washing machine and dryer and plenty of storage room. At 63 square metres there's plenty of room to stretch out in so it makes it the ideal choice for families (or space monsters like me). The apartment is set out like a spacious suite with a separate living room area with contemporary furnishings. There's a comfortable couch and chair with ottoman and a small table for three with Danish design chairs (although these are a little impractical at the work desk).
The bedroom has a comfortable bed with smooth sheets. It's a little minimal in design but is perfectly comfortable and you can partition all the rooms off for privacy. The white bathroom is spacious. There is no bath (you need to go the next level up to a Luxe apartment for that).
Breakfast is a highlight not to be skipped at the East Hotel and is taken care of by the bookstore and cafe Muse that is located just off the lobby. The Sriracha eggs with pulled ham hock on sourdough with hollandaise are divine and you can pair that for a bigger chilli hit with an excellent virgin or bloody Mary.
There are also healthier breakfasts like the brown rice bowl and with sprouts, avocado, beef tapa, fried egg and chilli jam or the coconut chia pudding with poached winter fruit, cardamom and clove syrup and oat and orange crumble.
And then for lunch and dinner there's Joe's Bar. Open from noon til late 7 days a week, Joe's Bar is a smart, stylish bar with plenty of comfortable seating. The nice thing about it though is that you don't need that tight dress and heels to come here. Everyone is welcome and we are seated next to a large three generational family. Dishes are meant to be shared and there are antipasto platters with meats or cheeses primarily from the North of Italy. Chef Francesco Balestrieri hails from Rome and his kitchen is small but his flavours are big.
He changes the menu seasonally and come winter there will be truffles. Other winter favourites coming up are a divine oxtail gnocchi-cooked for 6.5 hours the flavours from the bones enrich the sauce and I dare anyone to leave a single piece in the bowl. There is also a stracciatella di bufala cheese served with nduja and chewy Italian bread, another divine number.
Or you can also stop in just for a cocktail-flick to the second page which is Joe's updates on cocktails. We adored the Black Lavender and the Giant G&T. These come with a big bowl of popcorn with smoked paprika and chilli. Oh and who is Joe? Joe is East Hotel director Dion Bisa's father.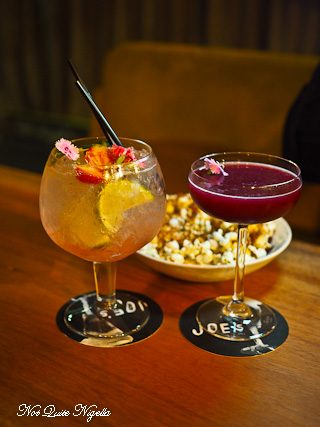 **Pros: very spacious apartments, very reasonably priced mini bar, parking included with room, excellent food and beverage options
Cons: "free wifi" is 100mb of data a day (more can be purchased but it is very expensive eg. 500mb is $20), no afternoon tea or in house spa (although a masseur can be called for an in room massage).**
So tell me Dear Reader, what is the biggest thing for you with hotels? Location, space, price, food, free internet, parking or something else? Do you like to eat in house or do you go out for food? Which hotel suits your personality?
Notes:
A lot of hotel rooms are extremely reasonably priced on the weekend with the average rate for these four properties being $160 a night ($147-$179 at the time of stay). Patrons during the week tend to be business people while on the weekends it is families and couples on a break.
Check when a hotel offers free wifi as it can have limits.
In house day spas don't really seem to be a common thing in Canberra hotels.
NQN stayed as a guest of these hotels but all opinions remain her own.
QT Canberra
1 London Circuit, Canberra ACT 2601
Phone:(02) 6247 6244
https://www.qthotelsandresorts.com/canberra/
Hotel Kurrajong
8 National Circuit, Barton ACT 2600
Phone:(02) 6234 4444
https://www.tfehotels.com/brands/kurrajong/hotel-kurrajong
Vibe Canberra Airport
Airport, 1 Rogan Pl, Canberra ACT 2609
Phone:(02) 6201 1500
https://www.tfehotels.com/brands/vibe-hotels/vibe-hotel-canberra-airport
East Hotel
69 Canberra Avenue, Kingston ACT Australia 2604
Phone:(02) 6295 6925
http://easthotel.com.au/