Happy Spring Dear Readers! I feel like I can truly say it now, even though we've had almost a month of September as the air is now filled with the heady perfume of jasmine and other Spring flowers. Queen Viv is my purveyor of great and fantastical adventures and this sunny Spring weekend just past, we decided to go on a short little road trip down to Caringbah where we would farewell the last of the season's Winter camellias and indulge in an afternoon tea. And long time NQN readers will know that when Queen Viv and I go anywhere, we always get lost and this was no exception...
We park outside and enter the gates and are instantly enveloped in a sweet mix of perfume from all of the flowers. To the right is the Tea House and we are shown to a table. Booking is highly recommended - Queen Viv recalls it being busy even on weekdays. There is a regular menu and then there is a high tea menu. High Tea needs to be ordered 24 hours in advance and a seating lasts for two hours. It is also very kid friendly with a "Littlies High Tea" for $15 per child and there is also a separate kid's menu which they can colour in. On the regular adult's menu there is a choice of breakfast, morning tea including a Yummy Mummy special with two of their flower cookies, a kid's milkshake and a coffee or tea for $10 or a Devonshire tea for $9.50. A blackboard specials board shows the more substantial meals. Once a week on Thursdays there is poet in residence who writes and discusses poetry.
_Afternoon Tea stand for two people $60 ($30 per person) plus two teas and scones
_
But today we are here for afternoon tea! They set the tables with white tablecloth and we choose a couple of teas from the selection. We go with the T2 Girlie Grey and the T2 Lemongrass & Ginger infusion. Our three tier stand of goodies arrives and our eyes widen in excitement. "There's also scones to come!" they tell us placing it down on the table and explaining each tier to us.
We start with the hot foods tier which has crunchy spring rolls, mini quiche Lorraines and tiny little dollhouse sized cream cheese and smoked salmon tarts with little feathers of dill. As much as spring rolls are not a typical afternoon tea fare, it doesn't stop us from enjoying crunching on these and the mini quiches are creamy and flavoursome and just the right size. The cream cheese and smoked salmon tarts are also nice although I thought that the cream cheese could benefit from having chives added to it as it was quite thick and rich.
Our crustless sandwiches are next and there are two types where we get four quarters each. The sandwiches are lovely and fresh and the first one is a multigrain bread with ham, cheese, lettuce and a tomato chutney which really lifts it. The second sandwich is a chicken breast, avocado and mayonnaise sandwich on white bread which is also lovely and downy soft.
We try both the Girlie Grey which is quite a mild Earl Grey with a citrus twist and the Lemongrass & Ginger which is a gorgeous infusion that transports us both back to our tropical holidays past.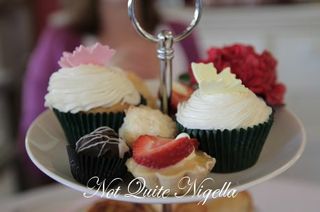 Now the tier to satisfy the sweet toothed in us all. The top tier features some lovely very vanilla and blueberry cupcakes topped with a pretty fondant butterfly and vanilla buttercream. There is also a rum laced chocolate truffle with a smooth, dark centre and a coconut macaron with a chocolate bottom. Lastly there is a lovely tangy but not too tart mini lemon tart with a smidge of cream and a cut of strawberry.
"Are you ready for the scones?" they ask us and we look at each other. We'd been too busy enjoying the tier stand that we'd almost forgotten to leave space for the scones. Thankfully they come out in a miniature version split and spread with whipped cream and strawberry jam. They're a good consistency and I'm glad to see not dry (sometimes with the mini ones, I find that they can be dry) and I manage to pop one in my mouth without bursting at the seams.
Needing a walk we take ourselves down the winding paths and breathe in the gorgeous aromas of the new Spring flowers. We pass by families having picnics (one with an inflatable double mattress rather unusually!), an Italian family who greet us, groups of ducklings and ducks a plenty including two enormous white ducks.
We walk past my favourite part of the garden, the incredibly fragrant Senses Gardens for the visually impaired. Here they have their most fragrantly beautiful flowers for those unable to see their beauty as well as herbs which creates a orchestra of aromas.
"Follow me" Queen Viv says and we walk inside a Weeping Oak tree. "My grandfather used to have one of these and he had a chair around the trunk. We used to love playing under it ". All I can think is how utterly deliciously magical!
So tell me Dear Reader, what is your favourite flower?
The Tea House at the Camellia Gardens
Corner Kareena Road and President Avenue, Caringbah, NSW
Tel: +61 (02) 9540 2018
Open: Mon to Fri 9am - 4pm
Sat & Sun 9am - 5pm