"I know that we're about to go out for dinner, but can we pleeeease stop a shop for some cherry tomatoes? I'm making a tomato confit and it's going to take long than I thought so I have to start it tonight!" I beseech Laura, who has just picked me up for an adventure south. Luckily, she's used to my random needs and this isn't a problem. On our way to Masa restaurant in Sylvania, we stop by a supermarket, fumble through a self serve check out and high tail it out of there with time to spare.
Just after Tom Ugly's bridge in Sylvania, we arrive at a small strip of restaurants. There's Paul's Famous Hamburgers and Seven Lanterns but we're looking for Masa, a Japanese restaurant that had been wholeheartedly recommended to me by Carla who is a food writer that lives locally. The Sutherland shire tends to get excited when there's something good and new in their neck of the woods.
Except, there's no Masa.
We look up our phones and it points us at 28 Princes Highway but another Japanese restaurant sits there called Wayama. There is a table for two with a reserved sign at the front of the restaurant so we walk in and see if they have a booking. Sure enough, our booking is there and we sit down but we have to ask what about Masa? They explain that they've taken over just two months ago. The chef is Noboru Takayama, the former chef at Azuma restaurant, one of the most highly regarded Japanese restaurants in Sydney. He has also worked for the consul general in Sydney for two years and trained in Tokyo for ten years.
And in case we didn't know, a paper sign in the window tells us that he was born in the Yamagata prefecture in May 1970 and he likes swimming, fishing and cooking.
The decor is home spun and cosy and the service is fantastic. We order some drinks and regard the white board. It's a hand written whiteboard that is brought to each table with the specials. I usually don't go for specials because you Dear Reader won't be able to order them as they change so frequently but these have caught our eye as being a bit different from your usual Japanese restaurant and asking the waitress, she recommends a few of them.
Calpis water and Japanese ramune 
We start with Calpis water, that unusual lemon scented, slightly thick sports drink that I've just made sound quite unappealing but it is actually really nice. For Laura, there's the Japanese ramune (Japanese for lemonade) as she's never had one before. The fun in this is of course opening the bottle. You take off the plastic wrap and the two part plastic piece, separate them from each other and using the plunger, press down on the top of the bottle. A small glass marble pushes down and this helps keep the lemonade fizzy. If you're curious to see it in action, here's a youtube video on how to open the bottle (because trust me, it's not exactly apparent).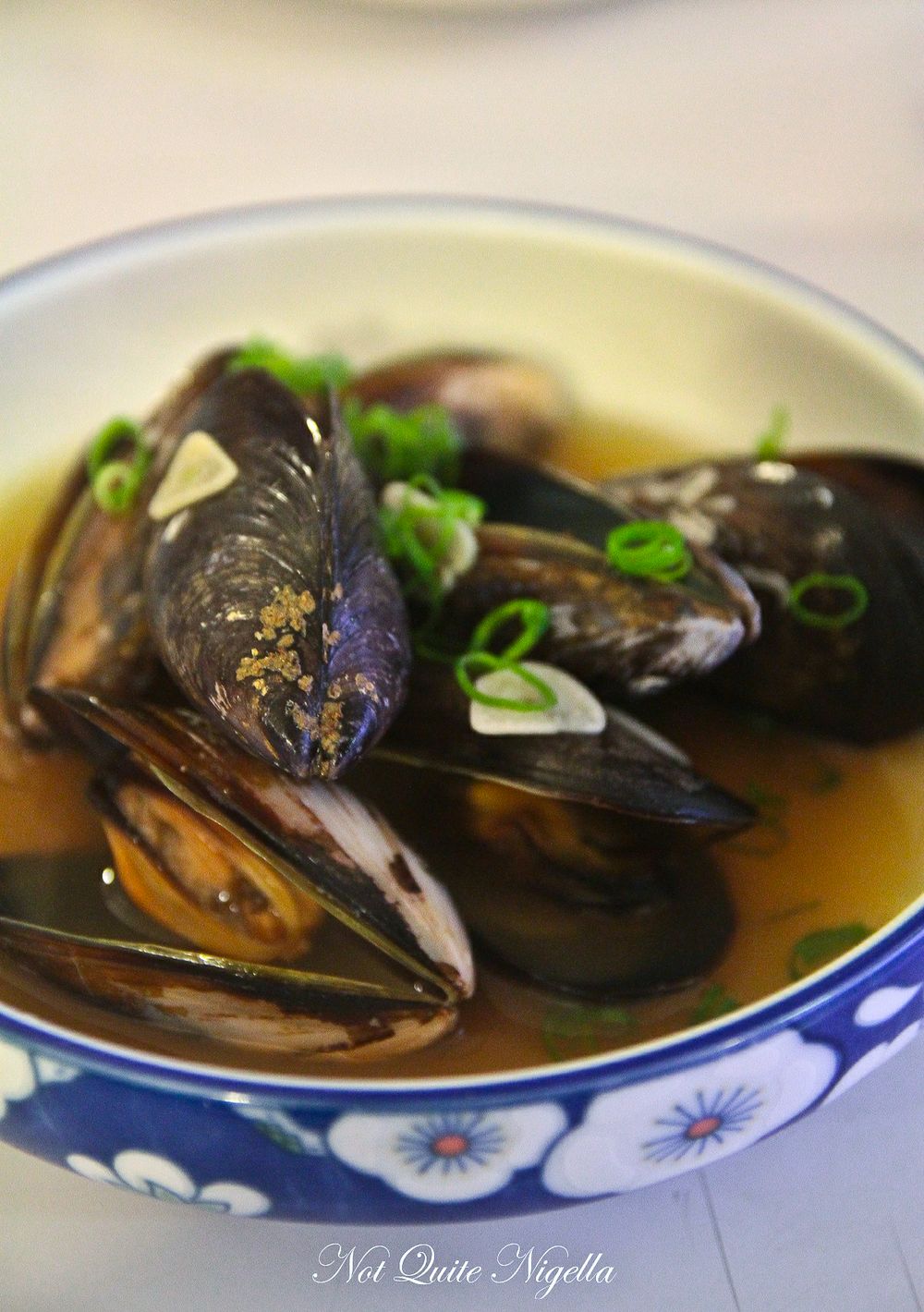 Sake steamed mussels with shallots $10
The restaurant is about half full this evening and there's a couple with a big hot pot between them both stirring the contents and cooking them. The food comes out quickly and we happily dive in. The sake steamed mussels are tender and juicy, the balance of flavour just perfect. The soup itself is quite strong, perhaps too salty to drink by itself but good in a spoonful with a mussel. "I can't believe this place is located here!" Laura says and it's true, whilst the menu has teriyaki, wagyu, tempura and the usual Japanese fare, there are items like magura natto (raw tuna with fermented soybeans), simesaba (seared mackerel vinegar sashimi) and simmered salmon head that you may not see at a lot of Japanese restaurants.
Kaki Fry $10 for 4 pieces
Pescatarian Laura loves seafood and the oysters are coated in panko crumbs and deep fried. They're served with a thick, semi sweet sauce on top. The oysters are soft against the super crunchy panko crumb layer and any intentions to just have one because they're deep fried are quickly abandoned as we sweep up another in our chopsticks.
Garlic prawn, asparagus, celery $12
The garlic prawn dish came with four prawns, slices of garlic and black pepper and almost a black bean sauce. There were also spears of asparagus and celery. The sauce for this was particularly good and I wished we had ordered some rice for it.
Grilled miso mackerel $14 
We both loved the salty, sweet flavour of white miso and the grilled mackerel, an often underrated fish which is perfectly cooked. The skin is of course the prize and the soft meat flavoured with white miso and grilled. It comes with a variety of Japanese pickles.
Shihiyaki $7
The eggplant is a half eggplant, smothered in miso and topped with sesame seeds. They give us a spoon so that we can scoop out the creamy flesh from inside. The top of the eggplant is where the flavour lies while the flesh underneath is mostly creamy but without a distinct flavour.
Sushi and sashimi set part 1 $35
The sushi and sashimi selection came in two parts. There was tuna, salmon, kingfish and scallop in the sashimi selection. They were all fresh with the scallop and salmon being my two favourites, both melting in the mouth like butter.
Sushi and sashimi set part 2 $35
The individual nigiris were fantastic and the rice was a good temperature for the sushi. The small seaweed wrapped maki had a combination of salmon and tuna in them.
Nabeyaki Udon $14
At this stage, we were getting full but after a quick consult we both agreed that we could share one more main and dessert. After all, we were too busy talking about important things like Real Housewives of Beverly Hills and who'd we keep on the show!  The nabeyaki udon comes in a large pot with a soothing broth, a large amount of springy udon noodles (not house made, we asked, but still very good), two tempura prawns, seafood stick, a generous amount of seaweed and Asian vegetables. It's the kind of dish I know Mr NQN would love as it's warming and comforting.
Black sesame ice cream $5.50
I find that black sesame ice creams taste quite different. This one has a distinct sesame taste that reminds me of sesame oil with its savoury smokiness which Laura likes but I'm less smitten with.
Karinto Manju $5
The karinto manju is really interesting. It's a deep fried bun so that the outer is absolutely crisp - in fact we tried tapping on it and it was hard. The outside is made with black sugar and is crispy crunchy and light and inside it is filled with sweet red bean paste. It's really quite good and if it weren't for the fact that we were very full, I would have finished this.
So tell me Dear Reader, do you like to know where chefs have worked and a little bit more about them? Or does that not really matter to you?
Wayama
28 Princess Highway, Sylvania, NSW 2224
Tel: +61 (02) 9522 6995
License and BYO wine only
Open: Wednesday to Monday 6pm-9pm