Karma is a funny thing. I firmly believe in karma, good deeds garner good and bad deeds garner bad and I for one am constantly shocked when I meet nasty people and I often worry about their karma. Thankfully those people are few and far between and I make sure I  concentrate on the many lovely people I meet. When I first met my dining companion Trissa, it was at the Adriano Zumbo Charity cake auction. She had just paid over $100 for one slice of cake and I was standing by the doorway when she came in and asked for a box to put it in. I said congratulations to her and she smiled and said thanks and then asked if I would like to try some.
Trissa from the Zumbo cake auction
She was of course a virtual stranger to me so I was surprised that not only that she offered some to me as she didn't know me but also because she had just paid over $100 for that slab of precious 6 layer mousse cake and was yet so giving of her precious bounty. I declined her kind offer thinking that she must have been mistaking me for someone else but perhaps my eyes betrayed me and she insisted several times that I try it as her husband doesn't have a sweet tooth and she bought it mainly as it was for charity. I succumbed and tried a slice of heaven.
I took a photo of her for my story and gave her my card. She knew of NQN and she emailed me and we corresponded through email and I found out that she had a blog of her own. We became friends after that and had a forensic dinner party and other adventures but I always felt like I should give her something back in return for her initial generosity at the cake auction. So when I was offered a Majestic High Tea for Two at The Victoria Room and I knew that Trissa had never been to High Tea before, I invited her along. Call it karma through cake.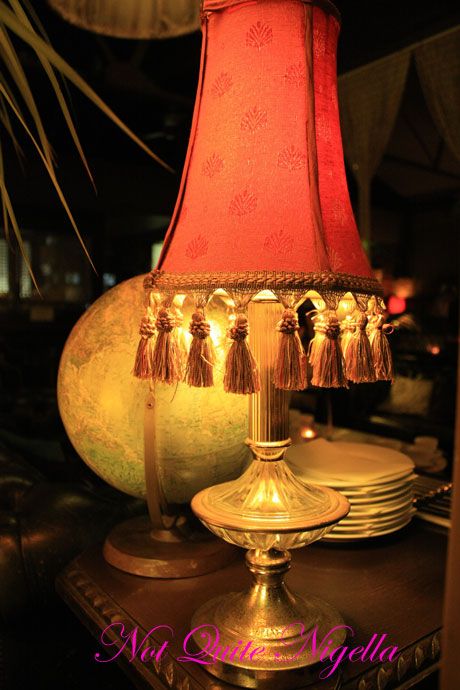 I'm meeting Trissa there and as I walk up the stairs having dodged the rain outside and clutching my umbrella. "Would you like me to take your umbrella?" enquires the polite woman showing me to my table. "Errr" I say clutching my precious Wicked Umbrella shaped in a witches hat. "Ahhh it's a special umbrella" she says knowingly. I told you, people that understand my kind. We're seated at the very sexy, elegant room. It's dark - _very _dark actually and gives you the impression it's late at night. There are beaded hangings, fringing and it's very much like the Singapore Raffles hotel but with Victorian table and chairs and embroidered Louis XIV chairs. There are girls everywhere, dressed up, wearing glittery headpieces (my hat feels less conspicuous here), dark nail polish heels and little clutches.  You can imagine I felt quite at home here.
Piper-Heisieck from Majestic High Tea $55 per person
Tables are a little squishy so we have to do a bit of expert manoeuvring to get seated and we're shown our menu. The Majestic High Tea comes with a glass of Piper-Heidsieck Cuvee Brut NV Champagne which is sparkling but as both of us are on restricted licenses, we mournfully only take a sip or two of the delicious bubbly.
Sandwich tier: Chicken & Wild Herbs; Cucumber, Crème Fraiche & Dill; Smoked Salmon, Rocket, Lemon, Capers and Watercress, Celery, Walnuts & Goats Curd.
Our three tier stand arrives and Trissa's eyes light up. Having never had a High Tea it must be an impressive sight. On the top there are 4 types of sandwiches: Chicken & Wild Herbs; Cucumber, Crème Fraiche & Dill; Smoked Salmon, Rocket, Lemon, Capers and Watercress, Celery, Walnuts & Goats Curd. All of the crustless sandwiches are soft (not those terrible crusted over edges from pre made sandwiches you can sometimes get) and the favourite for both of us is the smoked salmon sandwich.
Turkish Apple Tea
During this time my Turkish Apple tea arrives (there is the option to have it hot or cold) and whilst not strictly a tea, more a fruit infusion, it's absolutely perfectly appley. The pot is small however and only makes 1.5 cups of tea which is a bit of a shame as I could drink several cups of this.
Scone tier: Date & Plain Scones served with Triple Berry Conserve & Chantilly Cream
I confessed to Trissa later that I didn't realise that there were two types of scones as I just thought that one had more fruit than the other so I took the date scone. It's rather good and I add the strawberry jam and Chantilly whipped vanilla cream (alas not clotted or double cream) and savour it.
Cake tier: Dark Chocolate Cup with Chocolate Mousse, Cream & fresh Raspberries; Mini Lemon Tart; Passionfruit Yo-Yo; Hummingbird Cupcake topped with Creamed Cheese icing.
I attack the Hummingbird Cupcakes topped with bright red cream cheese icing. The icing is very fluffy and light and I devour it with much relish as it's lovely and moist and I love cream cheese icing although the icing is a little too much for Trissa who isn't such a big sweet tooth. The passionfruit Yoyo is crumbly and good but not particularly passionfruity. The Dark Chocolate cup with mousse, cream and a raspberry on top disappears in a gulp although I'm not totally in love with the chocolate cup outer. The mini lemon tart has a very short crumbly pastry (me likey) but I'm hitting sugar overload so I leave most of this.
Komodo Mocktail $10.50
Our waitress notices that we've hardly touched our champagne so she offers to bring us a mocktail which is very thoughtful. She comes back with two Komodos. It's delicious and refreshing with a seductive combination of sugar cane juice & coconut syrup, with apple & lime juices with a stick of sugar cane which we chew on while chatting.
We sit and chat for a while longer before we realise we need to do some homewares shopping so we leave the room reluctantly. In one corner there's a wedding party being photographed, and in each and every other corner there are groups of girls perched on chairs sipping their tea and nibbling on daity morsels of food. Yep I'm right at home.
So tell me Dear Reader, do you believe in karma?
NQN and Trissa dined as guests of the Victoria Room.
The Victoria Room for High Tea
235 Victoria Street, Darlinghurst, NSW
Tel: +61 (02) 9357 4488
High Tea is served:
Saturdays  12.00pm - 5.00pm
Sundays       1.00pm - 5.00pm
Bookings recommended
Open 7 days for dinner
http://www.thevictoriaroom.com/