This restaurant has now closed
My favourite time to eat at places with a water view is during the day. Sure the night time might be more romantic especially when you're with your partner but unless it's during Summer when it gets dark late, Winter and Spring dining with a view means missing out on the well...view. But during the day the vista is ablaze with colour and mood. And as much as I travel a  lot, there's no view quite like the view of home, that of Sydney Harbour.
So when Alice, Beau and I are headed across the bridge to Manly Pavilion to try out their new high tea we're all thanking the heavens that the rain that had seemed to drench Sydney for the past week has somehow cleared up, that the clouds had exhausted the sea and given up bucketing us down with precipitation. We nab a miracle park outside the entrance and make our way down the stairs to the restaurant floor. It has been about a year since my last visit and I was smitten with the food and the Italian influence extends to the Italian High Tea or Afternoon Tea. And yes I know the difference between the two but they call it high tea here ;)
We order our tea and take a look at the menu. I was interested to note how different this afternoon tea menu was to a regular one. The tea is $50 for the regular tea or $70 with matched wines. Would Italianating it mean simply including panna cotta and artisan salume in the sandwiches? This one looks very different indeed with the Manly Pavilion modern Italian style in smaller portions and served on a three tier stand-I suppose it's easier for the kitchen this way. The tiers are served with tea, coffee or Italian hot chocolate which we see too late-we've already ordered our tea but we make a mental note to revisit that hot chocolate before we leave.
Our plates arrive along with a plate of fat bread slices and excellent olive oil. Then another bowl of bread comes and it features some crisp savoury crostini and small warm bread rolls. The menu appears more of a guide than what you will receive as from the menu there should be both parmesan _and _balsamic crostini but there is only one.
We start with the bottom tier (although I think that perhaps we should have started on the second tier, the portions there being smaller in size). I just wanted to try the pork belly while it was still warm. It came out thinly sliced after being cooked for 12 hours and was topped with shredded radicchio. The pork itself was unctuously soft and mild flavoured while the radicchio gave it a slight sharpness and acidity.  The raw mushrooms, oh so very thinly sliced were slightly sharp and vinegary and topped with a cloud of grated parmesan cheese. This dish appears on the regular menu.
The second layer holds much promise too-there are little frittata egg rolls filled with cavalo nero (Tuscan kale) and goat's cheese which are moist and well seasoned and on the opposite side are thin ribbons of celeriac pickled in salt and water and then flavoured with chilli, lemon and garnished with celeriac chips on top. This dish also appears on the regular menu.
An extra dish sent out from the kitchen we try the beetroot agrodolce-the term meaning sweet and sour. Here beetroot is thinly sliced, dried and marinated in red vinegar and oil and then toppped with a yogurt granita and a pine cone dressing which marinates for 6 months. I realise that we've eaten a lot of vegetarian dishes today with the exception of the pork and yet it is all handled well and subtly with an excellent balance of flavours and this is no exception with the sweet and sour beetroot and crunchy golden and purple beetroot chips on top balancing with the earthy goat's cheese granita on top.
And then we get to the sweets layer where there is a selection of ten, yes ten Italian sweets and Nonna's biscotti. Now I have to say that there are no scones and a little part of me mourned their absence. Also profiteroles are on the menu but they aren't on today which is very disappointing! So back to the biscuits. There are small rose marshmallows, a currant ring cookie, a nutty ring cookie, a chocolate ganache and walnut stuffed date, a chocolate and nut melting moment, a leaf shaped nutty sable biscuit, mini cannoli filled with vanilla cream, orange and cookie crumbs, small clusters of pistachios in white chocolate and little brownie squares. And you get I tried them all with the cookies being my favourite items.
Before we forget we put in an order for the Italian hot chocolate and it arrives as three tall shot glasses full of dark liquid chocolate. And how is it Italian hot chocolate? Well it uses Amedei 63% cocoa chocolate. I take a sip and warmth instantly courses through the body. It is incredibly rich and whilst at first you might have hoped for a cup full, you realise half way through that it is just the right size. Like Goldilocks said it was juuust right.
One final touch, and this was an experiment from the kitchen that they sent out for us to taste, is the chocolate aero bar. Flavoured with orange chocolate it has holes a plenty and is given a lunar rock like appearance from the silver powder on the outside and because the silver powder hasn't quite set as it is freshly made we all get some tin man lips of silver but they're worth it.
If you're after a traditional high tea, there are no scones with jam and cream, lemon tarts or mini cupcakes so this selection may not thrill. However if you're more of a savoury person and less of a high tea person or just curious to try the food at Manly Pavilion this is a good way to try it as there are two savoury courses and one sweet rather than the vice versa at a regular high tea.
So tell me Dear Reader, what is your favourite part of an afternoon tea? The scones? Sandwiches or cakes?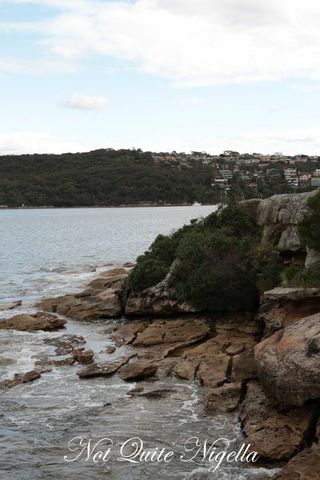 Manly Pavilion
This restaurant has now closed
West Esplanade, Manly Cove, NSW
Tel: +61 (02) 9949 9011
The Italian High Tea is on Tuesday to Saturday 12pm-5pm